Galerie La Forest Divonne has been working with Arthur Aillaud since 2006. In Brussels, the gallery devoted him its first exhibition to after inauguration, in April 2016.
Arthur Aillaud build his exhibitions in a back and forth movement of focal length and points of views, as if the artist's eye, like a lens, alternates wide angles and close-ups. Arthur Aillaud's
business is an excavation, an excavation of the landscape from the abandoned concrete foundations of building sites, with false airs of antique temples, up to squares of earth minutiously scraped by an archaeologist exhuming with patience, the fragment of an ageless object. Sometimes the floor itself becomes the subject of the painting, by translating the
flat area of the floor onto the gallery wall. Leaving only a brush left on the ground or a rulerto give the scale of this image, which could otherwise just as well be a huge desert seen from the sky.
If Arthur Aillaud uses all the means of an omniscient narrator, standing in turn behind the shoulder of his characters, or above the Earth, like an aerial observer, he cultivates in his painting, in his manner and his technique the greatest economy of means, developing what one could call a figurative minimalism.
This is what led art critic Hector Obalk to write during his last solo exhibition in Paris in February 2019:
All the young painters who start painting by sketching the images they have before their eyes, should run to the exhibition of Arthur Aillaud to study closely the liveliness, the sobriety, the economy, the elegance (…) of this series of masterpieces which seem so simple: deep paintings of vanity which draw, from the anecdote of the images found on the internet, the most eloquent pretext.

Unprecedented development of which Brussels will be the first scene : Arthur Aillaud exhibits at the Galerie La Forest Divonne a set of objects constructed from cardboard, wood, wire and drenched in barbotine. Arranged in the gallery in front of the oils on canvas, they complement his pictural researches and feed its narrative like so many objects drawn from the excavations represented in his paintings, unless they should themselves be the subjects of the canvases ? Objects taken out of the artist's imagination, in a form of inner archeology.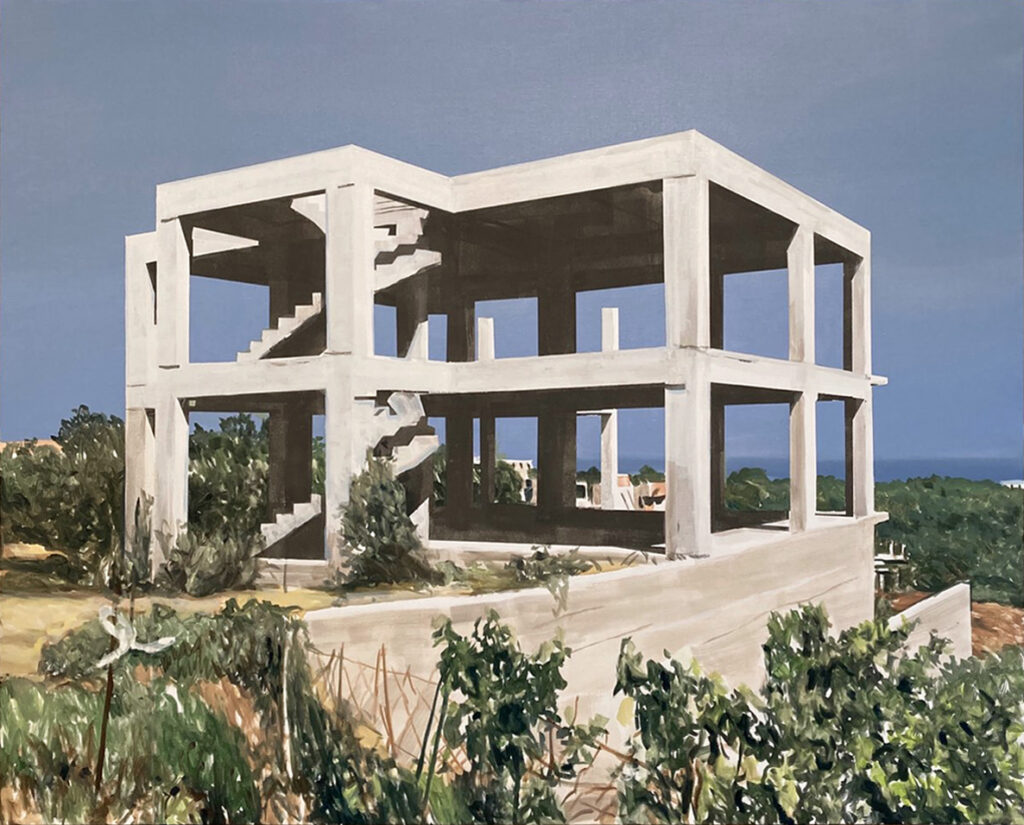 Arthur Aillaud, Archéologue-mèche, 2019