Today, I have an appointment with the owner of Spit It Out – the new queer place dedicated to fetish in Brussels.
This shop is the dream come true of Kriss Stefany, Mister Belgium 2017 and his husband Tosh Angioni. These two flamboyant personalities of the famous rainbow street, rue du Marché au charbon, contribute to reinforcing Brussels's image to the world, that Brussels is the capital of kindness, commitment and diversity.
As soon as I enter the door, I'm greeted by the energetic smile of an enthusiastic bearded guy – Kriss. This is a man that gives everything to make his store a showcase of fetish. Leather, Latex, Puppy Play, Sportswear, Bear, Sm and BDSM – everything is there.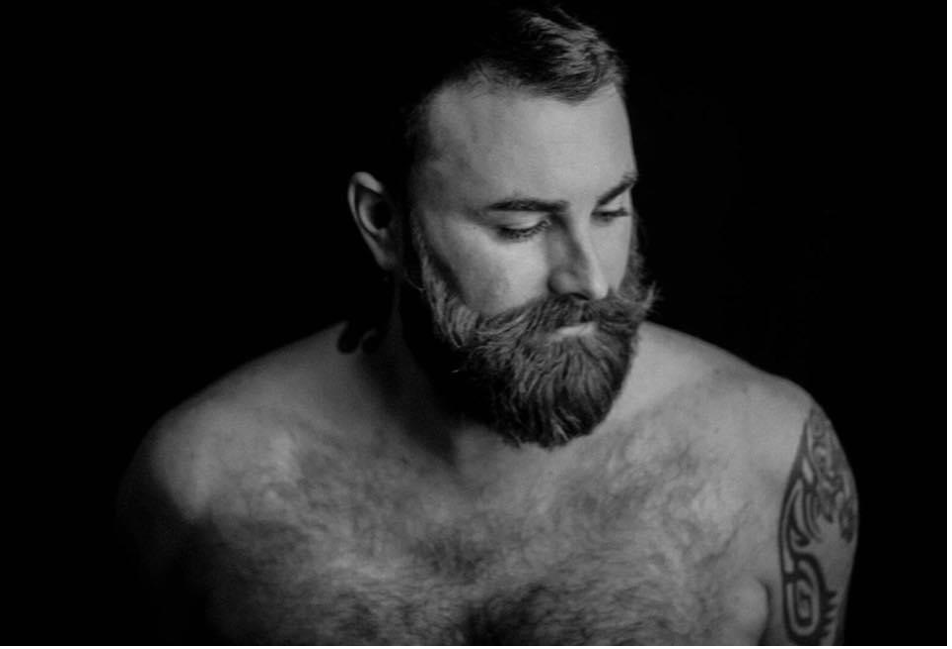 When Kriss is asked to define the concept of Spit It Out, he answers: "At the beginning, when I first thought about the store, I thought about fetishism obviously, but also about commitment and culture. I had the idea of ​​offering my shop as a place of expression where fetish culture could be visible, creative and alive."
That's why, in September, Spit It Out launched its first exhibition – Honey.
Kriss explains this choice: "Honey was created by FullMano. An artistic and friendly guy that made me want to set up this beautiful collaboration."
FullMano is a French artist who loves bears – a passion that is reflected in his art. The exhibition presents bears and honey in a fun, naughty and delicious way.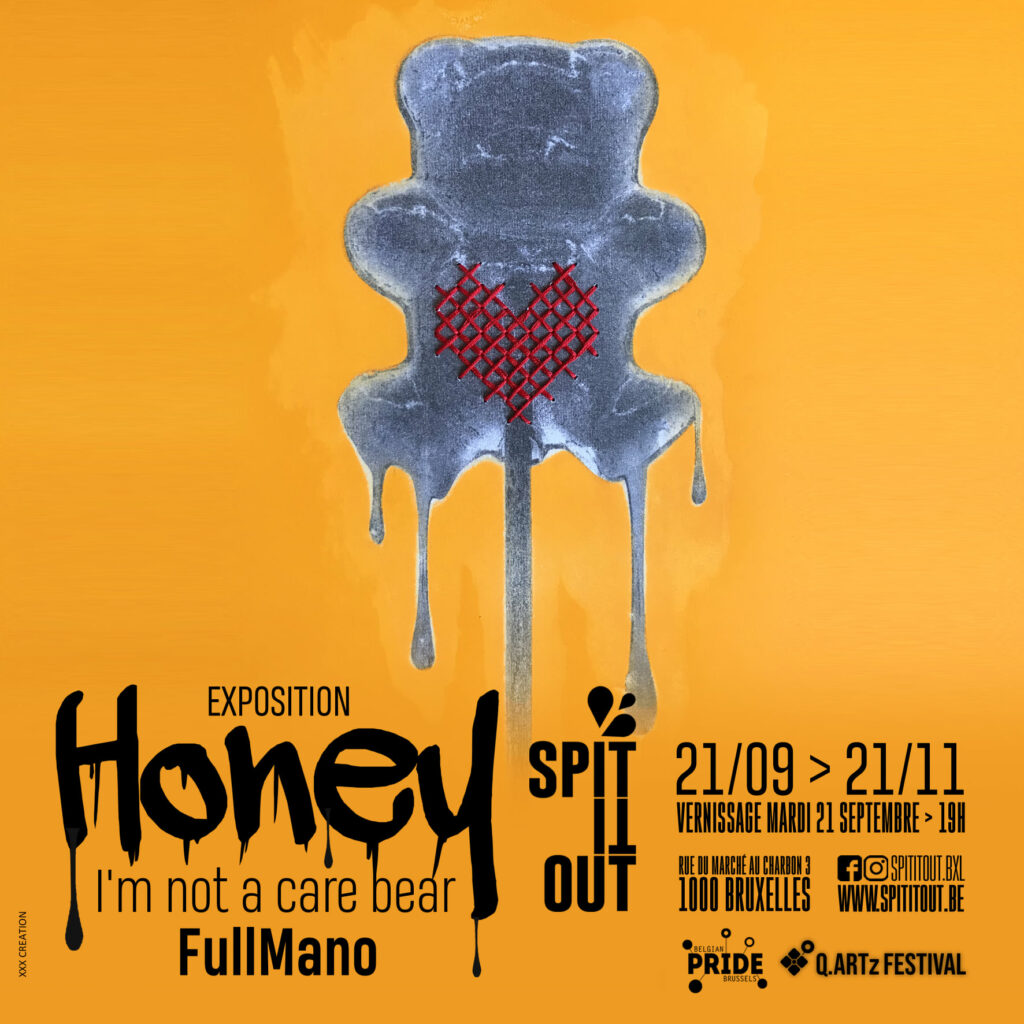 FullMano is known for his mastery of what he calls 'contemporary embroidery'. In just a few years, the artist has managed to create a coherent and kinky body of work that doesn't hesitate to dust off an old-fashioned technique – cross-stitch, free sewing, or taut thread – and put it at the service of an uncompromising representation of masculinity.
The exhibition includes a series of original pieces based on bear imagery. This is a playful, offbeat and erotic representation of the codes of the Bear in the LGBTQ community. Winnie The Pooh Is famous for his love of honey, but is it just him who Is crazy about the sweet treat, or do all bears love honey? Either way, it's going to be a lot of foraging!
When Kriss is asked what makes a special fetish shop, this is what he tells us: "My shop has been designed as a tea room, a cabinet of curiosities where all discussions and topics are possible. Nothing is forbidden. Nothing is taboo. We are here to help people further explore their sexuality, to discover, to be curious."
Ultimately, Spit It Out is a meeting place, a pole of knowledge and expertise, a place of inspiration – for all communities.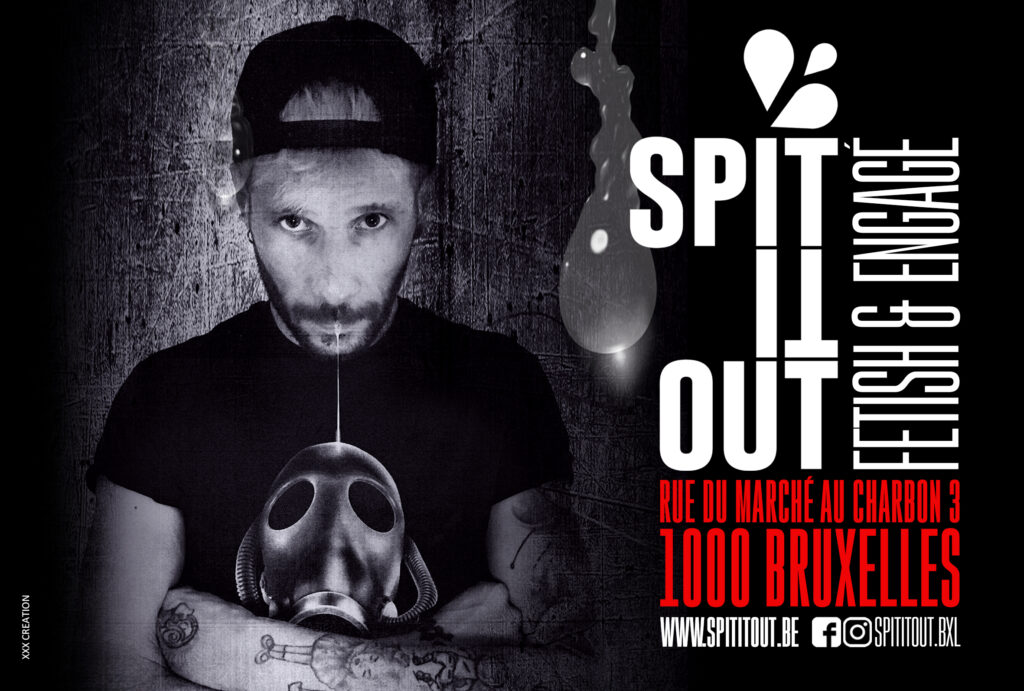 Do not be shy and do not hesitate to push open the door of the Spit It Out store to discover this new shop that proudly defends the colours of fetish culture. You can also admire and enjoy the Honey exhibition from FullMano until 21 November 21.
Immerse yourself in the world of Spit It Out