Main image: (c) EL*C
Lesbiennale is a massive arts festival that showcases and celebrates the work of lesbians, and it was recently held in Brussels.
The festival included a huge range of events – everything from tours to talks to parties and more.
Lesbiennale is an event presented by The Eurocentralasian Lesbian Community – the ELC. The ELC is a lesbian feminist and intersectional network.
We caught up with Leila Lohman – EL*C co director and Lesbiennale coordinator – for a behind-the-scenes look at what went on at the festival.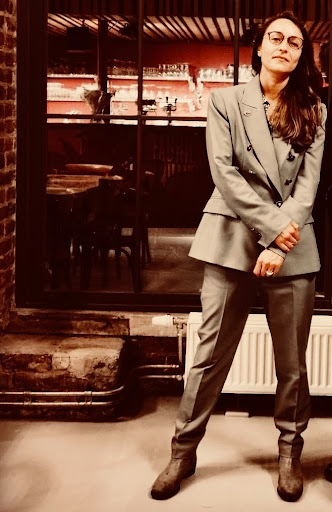 You've talked about how the Lesbiennale has been designed to bring the art-world back together. It's hard to quantify the impact of not being able to get together over the last few years, but do you have a sense of what we've been missing or what we've lost by not being able to connect with each other during the pandemic?
Like many NGOs and as lesbians, we were both professionally and personally impacted by the pandemic. In fact, I think we can all agree that apart from a lucky few, the pandemic has exacerbated structural inequalities that were easier to ignore pre-coronavirus. Via our continued exchanges with the lesbian communities across Europe and Central Asia, we whitnessed how the pandemic caused added strain on so many of us.
With artists and queer communities hit hard during the pandemic because of countless gigs canceled – plus scapegoating, never has art, culture in all its forms felt so necessary!
Organising an arts festival during these difficult times has been an opportunity to engage with artists and cultural makers – many of whom have been strongly hit by the pandemic, primarily because of countless project cancelations. We decided that – politically – this was a good time to curate a lesbian art festival.
We had over 500 works sent in via the open call – everything including photography, video, sound, performance, and sculpture. We could see how eager artists across Europe, Central Asia and beyond are to get back out into the world again after the two year hiatus.
There was a huge range of events and activities included within the Lesbiennale – how do you go about designing a festival like this?
For this first edition, EL*C took the curatorial decision not to impose a theme on the Lesbiennale beyond the keywords: Arts, Culture, Politics.
Our intention was to promote diversity and an open space – a platform for art works and cultural productions – critically showcasing what it entails to experience the world as a lesbian, bi, queer, trans woman, regardless of media or art form.
The festival program was a mix between pre-selected and pre-curated works, and talks and submissions sent in following an open call for art works.
With the Lesbiennale, our goal was to foster this sense of community brought about by lesbian art and culture. This is why we invited artists, writers and major figures of contemporary francophone feminism – such as Alice Coffin, Iris Brey, Tahnee Regent, and Joëlle Sambi Nzeba.
We also wanted to organise a more serious talk about lesbophobia in public space and in the media, with politicians like the Belgian Secretary of State for Gender Equality, Sarah Schlitz.
Although the pandemic has caused many hardships overall, it has forced event curators to rethink and be creative in the way we work. Having to organise much online this past year has made us more aware of the potential in outreach and in scale that comes with it.
When you reflect on the history of the ELC, is the Lesbiennale a natural evolution for the organisation?
We have always curated a dedicated space to showcase visual art works during our conferences in Vienna (2017) and in Kyiv (2019). We also make sure that cultural events – such as performances and concerts – take place throughout the programme.
But, having to limit the number of artworks displayed somehow frustrated us – we wanted to show so much more. Hence the idea of the Lesbiennale – a whole art festival dedicated to celebrating creations by lesbian artists.
So, after two successful large-scale conferences, we decided to focus our next event on celebrating the vast amount of radical and political art created by lesbians in the past and present.
Expanding in this way feels very organic for EL*C: Both radical lesbians and artists historically have tested, challenged and many times proposed alternatives to the ways societies have been organised. At times when censorship or even criminalisation was in place, folks have had to be extra creative.
The possibility given by artistic expression to propose new options for the way things could be has attracted many queer folks – including lesbians – into making art. In this sense, art becomes a medium, like a bridge or perhaps even a form of subversive language employed to express new ideas and make new proposals, which oftentimes carry the potential to generate reflection, questioning or even paradigm shifts.
It feels like we're experiencing a rise in homophobia across Europe, often combined with political oppression. As you'd expect, women are at the forefront of fighting for equality and challenging oppression. Does an event like the Lesbiennale empower women to work together to demand change?
​​EL*C itself started in 2016 following the realisation by a group of lesbian activists that 'we are best off addressing our own issues ourselves'. It's good to start by acknowledging the existence of 'lesbian issues' which lie at the crossroad of structural androcentrism, misogyny and homophobia. The mixture of these stigmas gives rise to lesbophobia.
The stigmas at the root of lesbophobia also explain how lesbians are paradoxically sexualised (misogyny) and ostracised (androcentrism) oftentimes simultaneously in society. This paradox in turn greatly impacts lesbians' position in terms of societal power relations.
With all of our projects we aim to redress the consequences of lesbophobia – invisibility, restricted access to rights, violence, or lack of resources.
An event like the Lesbiennale serves as a powerful platform to raise awareness on these issues with different participants, and public authorities. Additionally, artistic productions put into the world by lesbians make for precious cultural heritage. These productions represent our shared and collective alternative vision of society and serve as 'social glue' for lesbians. In this way, the Lesbiennale serves as a prime space to strengthen our bonds and create and widen our alliances among feminist, lesbian, intersectional social justice activists.
For the organisation of the Lesbiennale, EL*C were joined by local lesbian collectives to act as venue and programming partners. That so many Brussels-based lesbian and queer collectives and venues decided to join forces for the first edition of the Lesbiennale proves that such types of projects become great opportunities to get to know like-minded groups and together to build something meaningful for our communities.
Why was Brussels the right city to host the Lesbiennale?
Brussels was the perfect location for our inaugural Lesbiennale for the following reasons:
A plethora of feminist queer-lesbian-intersectional collectives enrich the city's cultural landscape.
Brussels is also known for its uniquely vibrant art scene – one that both showcases highly compelling works of art but also fosters 'home-grown' artists & curators.
There is tangible support from local public authorities.
The city is home to the EU's political institutions.
For an international feminist and lesbian network like EL*C, Brussels offered the right ingredients for a thought-provoking first edition of its Lesbiennale.
Ultimately, our ambition is for the Lesbiennale to become a recurring international lesbian art festival, which like our other events, would travel to a different location for each edition.
Photos from Lesbiennale 2021