Vincent River is a play written by Philip Ridley. Set in East London, the play explores an inter-generational encounter between two strangers, connected by the murder of a young man.
Playing in Brussels until 13 November, this production of Vincent River is directed by Robert Chevara and stars Jo Castleton and Jake McDaid.
For a behind-the-scenes look at the production, I caught up with Edward McMillan – Artistic Director of The Bridge theatre company.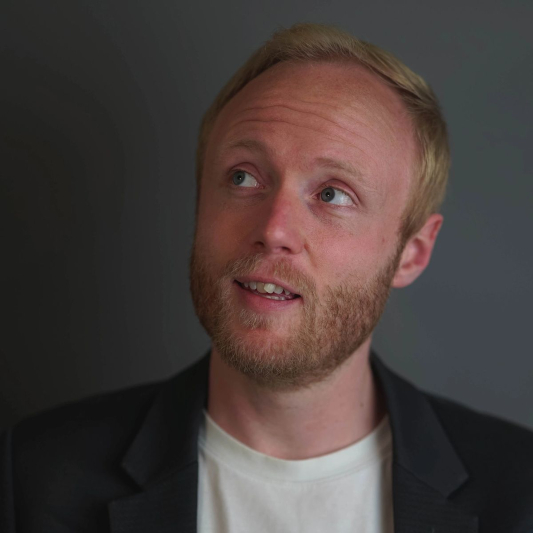 Why was Vincent River a production that you wanted to bring to Brussels?
Through The Bridge Theatre, we aim to bring to Brussels theatre that is socially relevant and engaging. Vincent River certainly ticks both of these boxes. In fact, when I first read it, I found it so good that I read it again straight away! The writing of Philip Ridley is just so engaging and, as a gay man, I could certainly relate easily to the content.
On the face of it, Vincent River is an exploration of hate crime against gay men. While hate crime is not something that many gay men can expect to experience in such a gay-friendly city as Brussels, it does still happen. For me, it was important to stress this to a relatively liberal theatre-going audience. In addition, I wanted to use the experience of gay men as a case study for all "othered" communities, be they trans people, black people, muslim people. Society has a dangerous way of taking out its own anger on people who are different in some way and I believe it is important for us all to have this in our minds when we go about our daily lives so that we are prepared to counter it when we see it.
Although the surface of the play is hate crime, the heart of Vincent River is the mother-son relationship and how this is complicated by the son being gay. This tends towards the universal and the misunderstandings and the differing perspectives are something that everyone will relate to, be they a parent or an offspring.
The play explores homophobia in London. You've organised some post-show discussions to look at homophobia in Brussels. What are some of the parallels that we can draw in the experiences of LGBTQ people in these two cities?
Both London and Brussels are, in general, very gay-friendly cities, situated in countries that have relatively good legislative protections for gay people. At the same time, both cities are very diverse, contain pockets of conservatism, and experience hate crime against gay men, as well as against other people.
The post-show discussions are aimed at giving an extra perspective. They are a chance for the theatre audience, which has so far been extremely international, to get more acquainted with the subject matter through real-life experiences, rather than filtered through art. I'm actually hoping that our speakers will be able to tell us, better than me, about the parallels and differences they see between the world of the play and their own lives.
Vincent River is part of the pilot season for The Bridge – why does Brussels need a permanent English-language theatre such as The Bridge?
The fact that we are having this conversation in English already says a lot. At least one third of Brussels speaks English well or very well. I've been told that Brussels is the second most internationally diverse city after Dubai.
We all know that English plays a hugely important role in this city, and yet there has not yet been a permanent place for people to enjoy professional theatre in English, unlike in other cities around Europe, such as Frankfurt, Vienna and The Hague.
The Bridge Theatre hopes to fill this void and contribute to the diverse cultural ecosystem that Brussels offers. A theatre that produces work in English will make Brussels a more attractive city to live in and a more attractive city to visit.
What are some of the next steps in your campaign to establish The Bridge as a permanent English-language theatre in Brussels?
Two simple steps are next – finding a venue, and finding start-up capital. Both of these are in progress and we are entering talks with a particular venue which we feel could be the right fit for us.
At the same time, we are looking for individual and corporate partners to enable us to make the leap from an overworked and unpaid small team to a properly resourced outfit that is able to deliver further high quality professional theatre, such as Vincent River, as well as community engagement activities, such as our community show of musical theatre song, All Together Now.
What do you hope that people feel when watching Vincent River?
Two things.
First, I hope that they are amazed by the performances of our two incredible actors, Jo Castleton and Jake McDaid. It is extremely rare that you get to see such powerhouse performances at such close proximity and from all angles – the play is in-the-round, meaning that the audience sits on all four sides. This is a truly special performance and Brussels is very lucky to have this.
Second, I hope they come away with some kind of catharsis. By the end of the play, both characters have understood a little better what it is to be a mother and what it is to be a son. They have understood what happened on the fateful night of Vincent's death and have learned something from each other. I think we can all carry these thoughts into our own familial relationships and act consciously and empathetically in our relationships with our loved ones.
Vincent River is currently on in Brussels and will run until 13 November