You cannot live in Brussels or be passing through the Belgian capital without having strolled down Avenue Louise for its luxury boutiques. However, there is a discreet place a stone's throw from the hustle and bustle of the big brands that is worth a detour – for the pleasure of the eyes, for flower lovers, Billie At Home on rue de Stassart in Ixelles.
More than a florist, Billie At Home offers a store concept with a very strong identity that sets itself apart from a simple neighbourhood flower shop.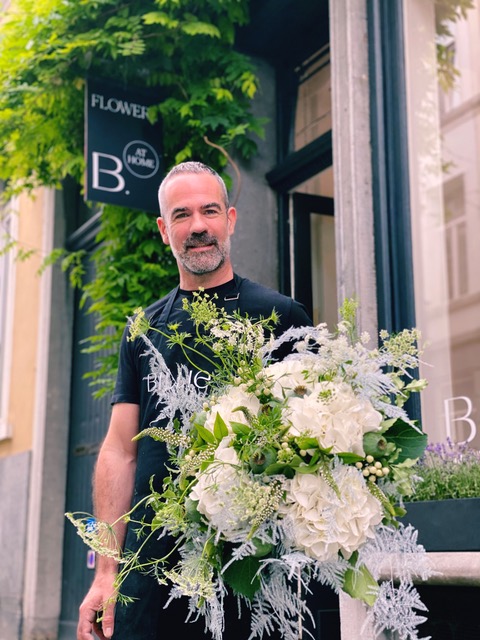 So, when we ask Dries Verhaeghe to tell us about his company, this is what he tells us:
"Here, you will never find red roses for Valentine's Day or potted chrysanthemums for All Saints' Day. Billie At Home breaks the rules. We appropriate traditions to reinvent them by offering a selection of unusual cut flowers. Sometimes unique. Sophisticated."
And when we contemplate the window, we can see the audacity of the products offered. The selection of flowers is sharp. Harmonious. Neat. Diverse. Floral creations are beautiful, creative, innovative.
Dries chooses his flowers instinctively, in an almost animal way, without knowing in advance how he will be able to sublimate the plant and structure his bouquets. This is not a business choice, but an artistic choice.
When he builds a bouquet in a classic way then the flowers that compose it will be exceptional. Conversely, if the flowers used are more traditional, it is the construction of the bouquet that will be very elaborate and complex. Monochrome, repetition, symmetry and asymmetry are the hallmarks of this atypical florist – Dries Verhague is a floral architect.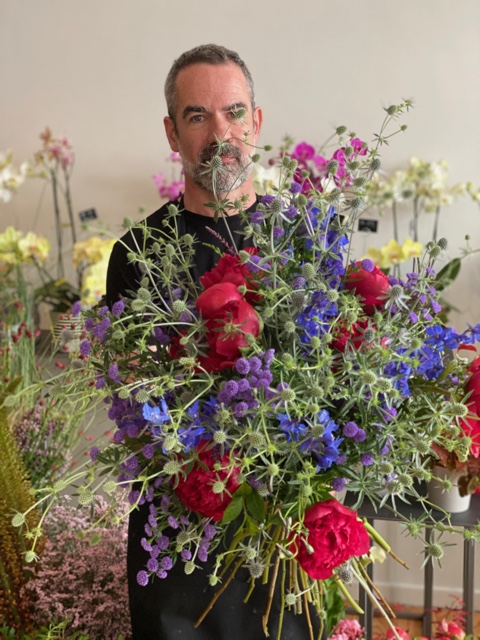 Dries explains that the perfectionism and the creativity that he demonstrates in his flowers was developed from the experience he acquired on the sets of Belgian television productions. He began his career at VRT, then on to VTM where he worked as an Executive Producer on major productions such as Eurovision, Pop Idol, Love Island, and Dancing With The Stars.
It was during the onset of the Covid-19 pandemic and the subsequent lockdown that Dries began to consider alternative career paths. Television productions had all ground to a halt. On the advice of a friend, Dries decided to become a florist, but not a traditional florist – he wanted to be contemporary and environmentally conscioius.
Dries trained at McQueens Flower School in London. On his return to Brussels, he launched his online flower company, Billie At Home.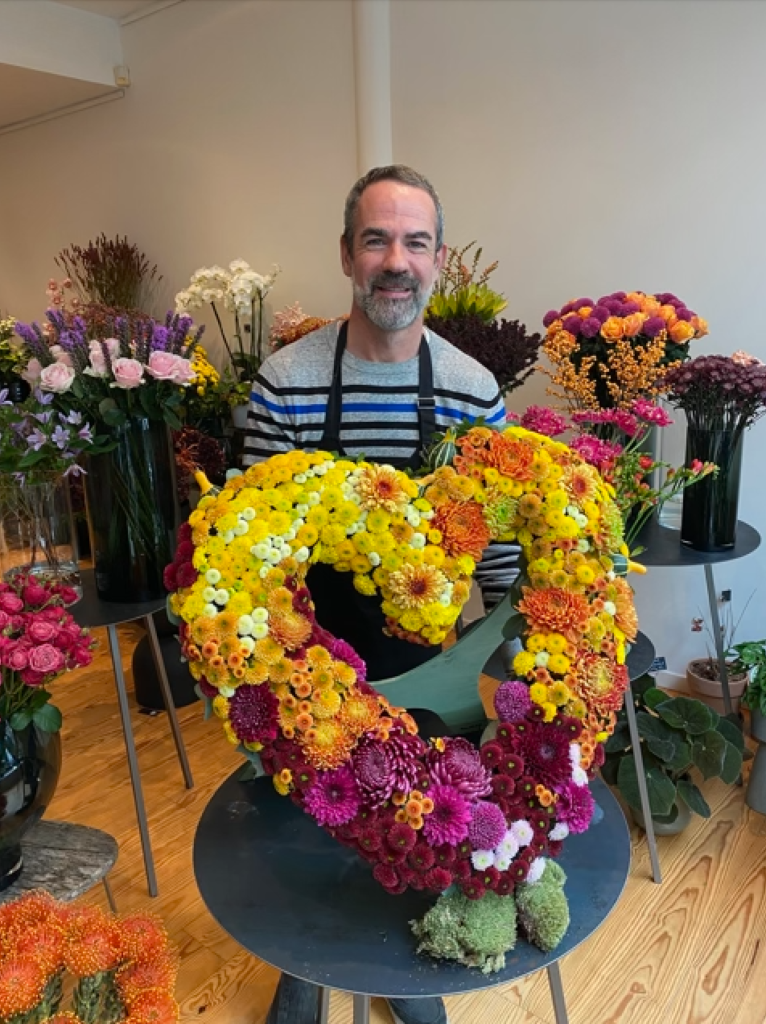 So why Billie?
"Billie Holiday, Billie Jones, Billie Elliot. All these 'Billies' are a part of me. I fed on it. They have given me a lot artistically. Billie naturally came out on top when I had to come up with a name for my shop. It's masculine. It's feminine. That's a pretty word for flowers."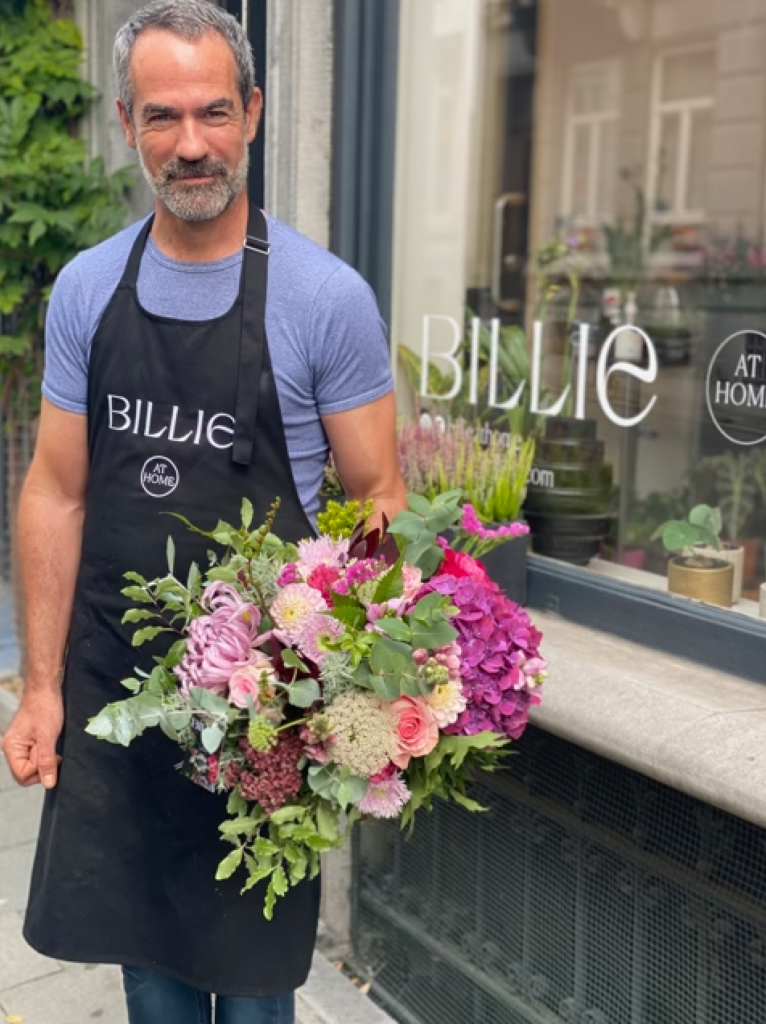 When we ask Dries about the choice of Brussels – when he is Dutch-speaking – he declares:
"Obviously, I could have moved to Antwerp, which is a port city of international stature. But Brussels is a cosmopolitan city where 1000 nationalities come together. It's multicultural, artistic, and dynamic. That allows you to be daring, to have ambition and make your dreams come true."
"Eliminating the traditional red rose from my flower selection is a risk, but I don't care. You wouldn't ask The Beatles to play a song by the Rolling Stones – they would tell you to fuck off."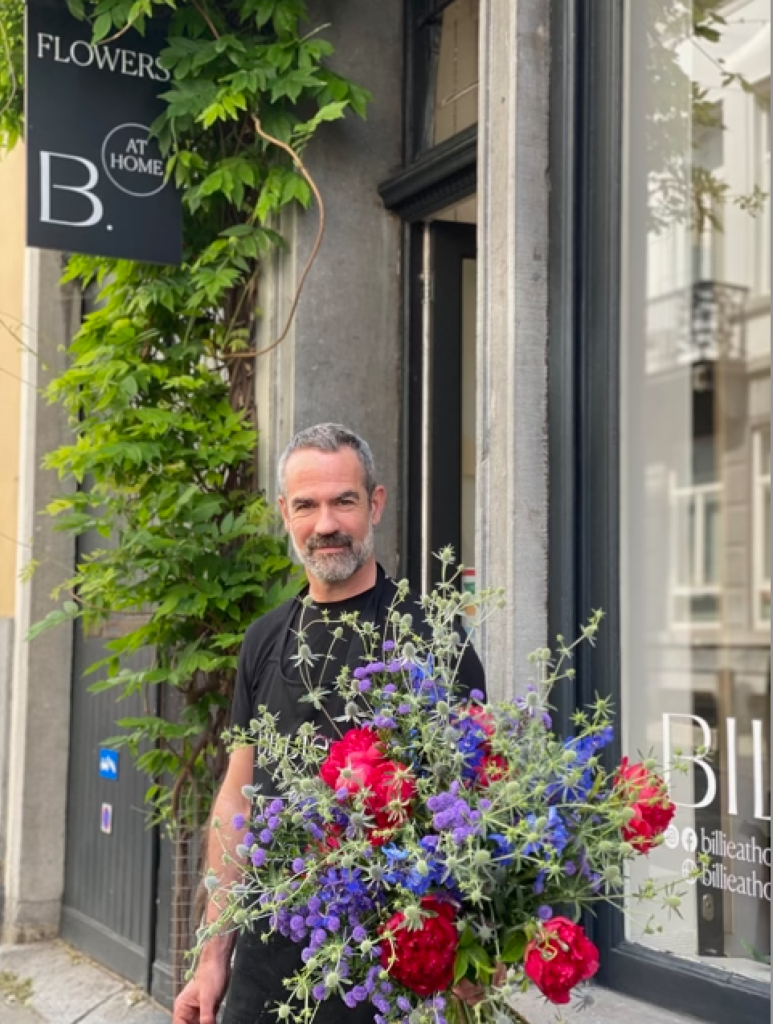 Dries Verhaeghe's tips and tricks to keep our bouquets longer
Do not cut the rope that binds and holds the bouquet.
If the cord is cut, the flowers will absorb more oxygen and wilt more quickly.
Trim the stems to extend the life of the bouquet.
Avoid direct exposure to the sun.
Keep fruits away from the bouquet – they give off ethylene which accelerates the ageing process of the flowers.
Discover the flowers of Billie At Home
Follow Billie At Home on Instagram