While most of us have happy memories of celebrating LGBTQIA+ Pride in the streets of Brussels over the weekend, reports are emerging of a number of homophobic attack that are of concern to the queer community.
Larisa
Instagram user Larisa (@_.brdlaa) has posted on her social media her account of what happened.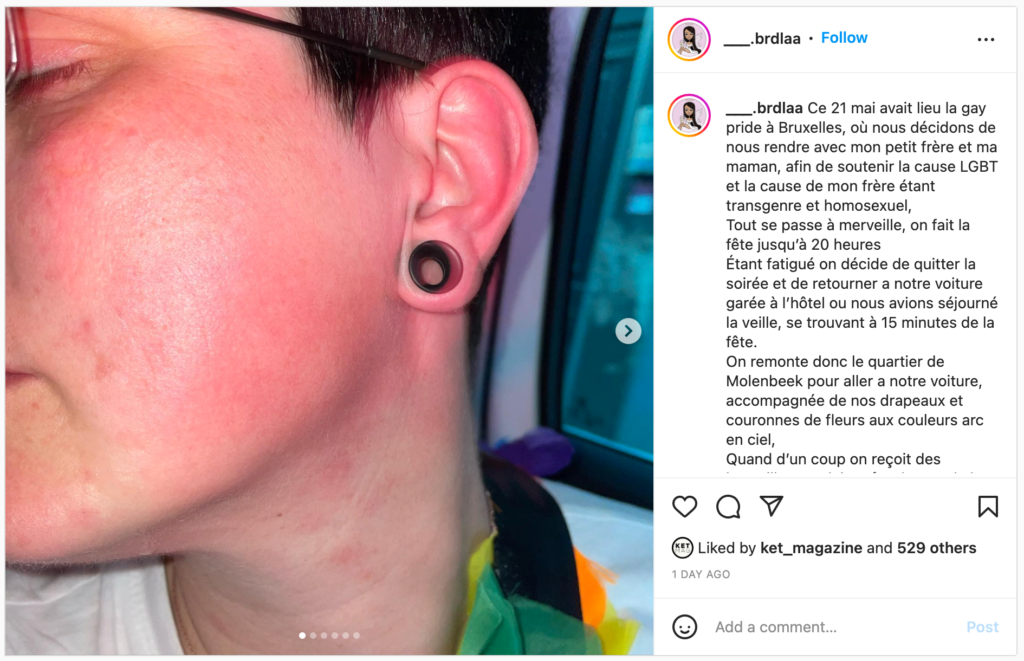 Here is the translation of Larisa's post:
"On May 21, gay pride took place in Brussels, where we decided to go with my little brother and my mother, in order to support the LGBT cause and the cause of my brother being transgender and homosexual. Everything is going wonderfully, we party until 8 p.m. Being tired we decide to leave the party and return to our car parked at the hotel where we had stayed the day before, being 15 minutes from the party. So we go up the Molenbeek district to go to our car, accompanied by our flags and wreaths of rainbow colours. When suddenly we receive bottles in the head, throw from 3 young men on the sidewalk in front of us telling us that there is no place for us here and that we are only a bunch of fat whores. We gently put them back in place but these become directly violent by putting a fist in my arm then one in my mom's cheek. I don't know how but a herd of about twenty men are forming around us and threatening us, because once again apparently there is no place for LGBT people here. One of them then caught my brother and burnt him. Then they attacked my mom, hitting her in the jaw and the thigh and wrecking her cellphone. After that, the local women protected us by forming a circle around us, then the police arrived. We spent the night at the police station and in the emergency room, before reaching our home at 3am. If I share this it is to denounce these aggressors, these people who attacked a 13-year-old child and a mother in front of the helpless eyes of her children. All because they realised that my little brother was gay. That it's not in your beliefs, values, ethics – it's one thing, but don't attack women and children because they don't fit into your boxes. Take care and share this story as much as possible so that it can be heard and that this kind of homophobic act doesn't happen anymore."
We have reached out to the police in Molenbeek to try and verify Larisa's account and to determine what further action is being taken.
Nathan French
Gallery-owner Nathan French shared his Pride experience on his social media.
"Happy Pride? Not really…" wrote Nathan French. "Thank you to my beautiful friends who looked after me, and a few strangers who had to protect me. I was threatened and chased by teenagers, things were thrown at me, I was called names and I was not allowed in bars because my outfit was too revealing."
Syringe attack at Pride
Organisers at the Belgian Pride have confirmed that they've been made aware of an alleged syringe attack during the event.
"That person went to the hospital and has not yet filed a complaint with the police…" said Belgian Pride president Laurent Mallet. "The victim had participated in the parade and was also on the scene in the evening. It didn't happen in the Pride Village, but around there."
There is increasing concern regarding these types of assaults – unsuspecting people are pricked with a hypodermic needle. The intent is usually to drug the victim.
While this type of assault was first identified in the nightlife scene, it's also taken place during football matches and now at events such as Pride.
"Belgian Pride would like to inform you that cases of syringe pricks have been reported to us…" organisers posted on social media. "If you have been the victim of this practice, we urge you to go to the nearest hospital."
How does Belgium compare to the rest of Europe?
A recent report by ILGA Europe ranked Belgium third in Europe in relation to a number of measures around quality of life for LGBTQ people.
While third is a good result, it is a drop from the previous year when Belgium was ranked second in Europe.
One of the primary reasons for Belgium's drop in the European ranking was a rise in homophobic assaults.
With these latest incidents reported during the Pride celebrations in Brussels, it seems that we still have plenty of work to do.
We have reached out to Sarah Schlitz – Belgian Secretary of State for Gender equality, Equal opportunity and Diversity – for comment.