You'll find The Crazy Circle on Rue du Prince Royal – in the Ixelles neighbourhood of Brussels.
If you were trying to list all of the things that make a great LGBTQ venue, then this place ticks a lot of boxes.
I caught up with Laïla and Axelle for a behind-the-scenes look at The Crazy Circle.
Why was this space the right venue in which to launch a lesbian bar for the LGBTQ community in Brussels?
We took over this bar in early 2019. The location seemed ideal for our lesbian, queer, feminist bar project.
The space is cosy, warm and has a stage that can host performances. It was important for us to have a stage on which queer artists could express themselves.
We were looking for a bar located in Brussels and easily accessible by public transport. Ixelles is a part of the city we like a lot – very lively with its many bars and restaurants, it just lacked a lesbian bar!
The bar is in a street that's a bit sheltered from 'prying eyes' – that's also a plus for our project, it helps to keep the space safe.
What sort of response have you had since you launched The Crazy Circle?
The bar has been slow to make itself known to the LGBTQ community. We didn't do a press release when we started the project. We did very few interviews.
The clientele was formed little by little – first our friends and their friends. Thanks to word of mouth, the Crazy Circle began to make a place for itself in the community.
We also co-organised a lot of events with lesbian associations – such as EGOW, L-Tour, Match, Activ'elles. This helped a large number of people to discover the place.
The bar is open to anyone with an open-mind. All profiles, all nationalities, coming from all over Brussels, Wallonia and Flanders. There are also tourists and expats who 'stumble upon' the bar after searching on Facebook or the internet.
The variety of events we have means that there is something for everyone – quiet evening such as board games and exhibitions, or more festive events such as parties, karaoke, and cabaret. Depending on the event or the theme of the evening, the audience can be different.
But, in general, we could say that 90 percent of the audience is female/non-binary/transgender, and would mainly identify as lesbian or bisexual. The age range goes from anywhere between 20 to 75, but the majority are between 25-45.
Today, we can say that the Crazy Circle has been 'adopted' by the lesbians of Brussels and surrounding areas. It has become the HQ for many people.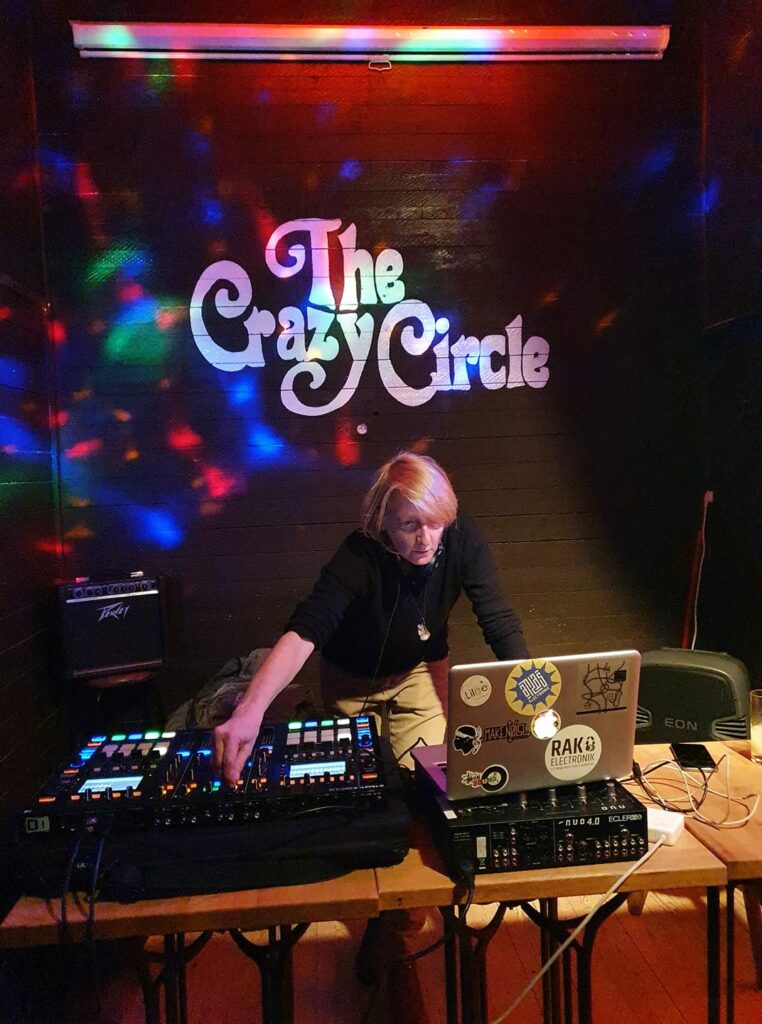 Are there any drinks that are particularly popular with your customers?
Our best selling cocktails are the classic Mojito. We also have our signature cocktail, the Crazy Kick – this is a mix of Ginger, Rum, Hibiscus, and Lime.
We also have several 'solidarity' beers:
the Transition, which is brewed by Mothers & Daughters – proceeds go to a trans solidarity fund.
the 100PAP beer – profits go to support the right to housing for homeless people.
our draft beer, the Crazy Pils – part of the profits go to LGBTQ associations.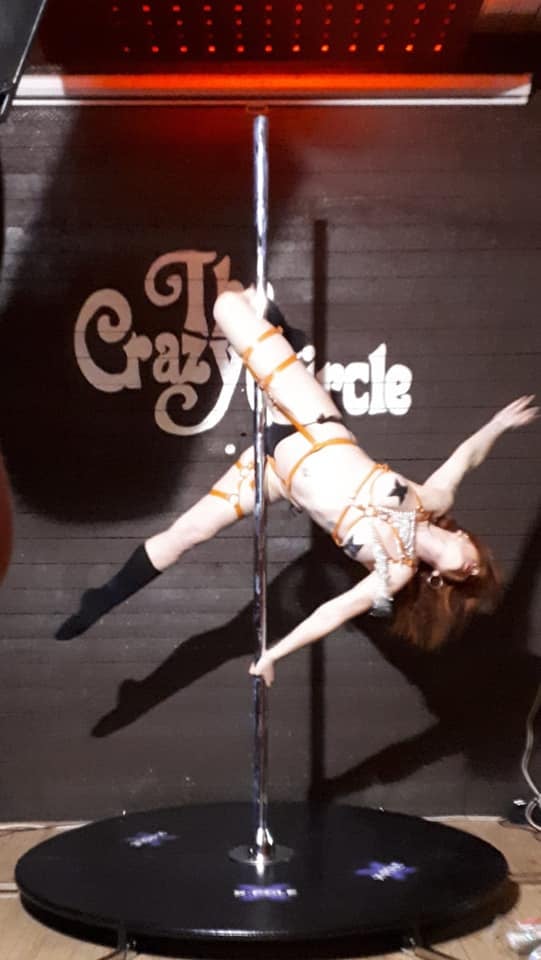 The Crazy Circle is also a performance space – how do you decide what type of performances will connect best with the crowd at The Crazy Circle?
We welcome artists for whom we have a crush.
There are no defined 'criteria' – we try to spotlight artists in different fields and styles, whether that's music or art.
Our slogan is "we love diversity". We give priority to women, queer artists and people with a diversity background.
The Femme Jam is an open stage reserved for people who identify as women or non-binary. At the beginning, we organised mixed gypsy jams, but we noticed that women did not feel at home there, or didn't dare to participate. The idea came up to reserve a jam for them, in a caring and safe environment, to give them confidence, and to empower them. The stage is just for women but the audience is mixed. It happens every Wednesday and is a huge success.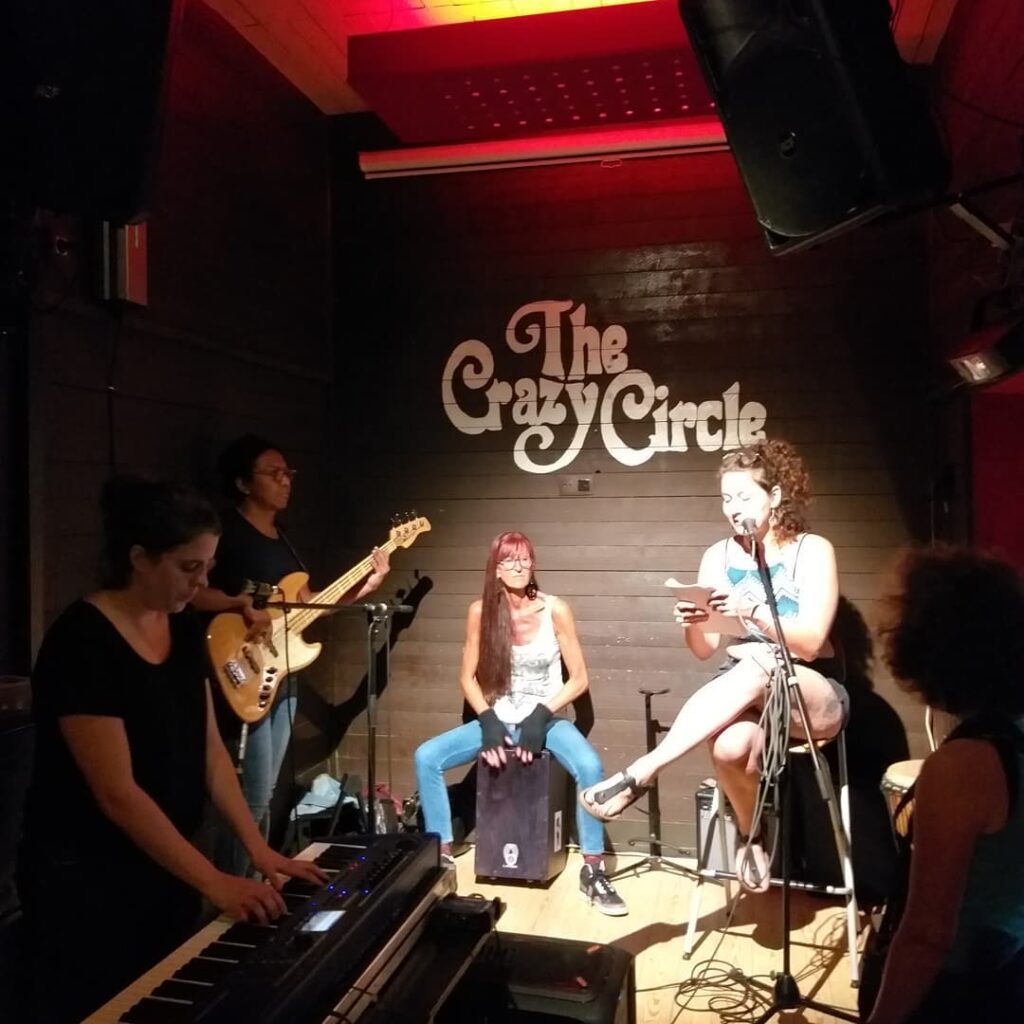 What do you hope that people feel when they're at The Crazy Circle?
That they feel in a "safe" and friendly place. A place where they dare to be themselves.
We want people to feel "at home" because this place is theirs. We have created this place for them.
Find out more about Crazy Circle