One of the strengths of an event such as EuroPride is to see representatives from cities across Europe, coming together to support the local host LGBTQ community – this year, the host city was Belgrade in Serbia.
A large delegation from Brussels was one of the most visible in Belgrade, participating in the human rights conference, hosting panel discussions and receptions, and facing down homophobic protestors to take part in the Pride march through the streets of the city.
Pascal Smet – a Secretary of State of the Brussels-Capital Region – has been instrumental in building this alliance of support from the Belgian capital.
Passionate, enthusiastic, and energised, Smet's belief in the importance of Brussels taking a leading role on LGBTQ equality is infectious.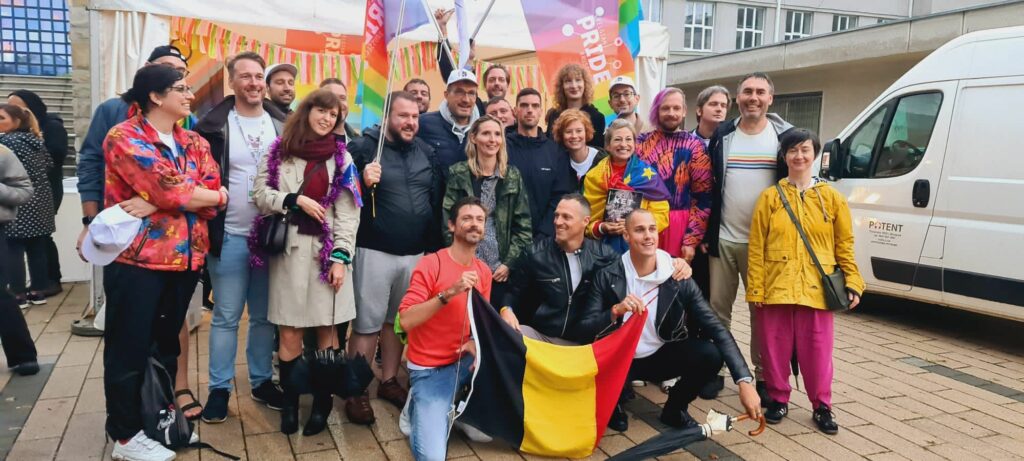 I sat down with Smet to discuss what brought him to Belgrade.
"At the beginning of my political career, I was closeted…" explained Smet. "I never talked about my sexuality – I was afraid that others would find out about it. At that time, the context was a little different. I lived in a rural community. I was part of a progressive party but they were still conservative on issues such as LGBTQ equality."
"I was afraid that my sexuality would be used against me. Looking back, I can't point to any specific moment that my sexuality was actually used against me, but at the time – when you're in the middle of it – it's always in the back of your mind, over-thinking it, afraid of what other people will say."
"When I was 28, I decided to leave the countryside and go and live in Brussels. Then, I didn't hide my sexuality – people knew that I was a gay man. I only mentioned it when I felt it was necessary in my political work – I didn't want to be 'the gay politician' but I wanted to control the narrative about my sexuality."
"Being able to talk about my sexuality enabled me to become a better politician – I became more trustworthy and more authentic. I also saw the personal impact – I received lots of emails and messages from young queer people who said that I was a role-model for them."
Realising the power of authenticity is one thing, but taking on the mission of advocating for LGBTQ equality in countries other than your own is a step out of the comfort zone for most politicians. I asked Smet why he was so passionate about ensuring that Brussels was represented at EuroPride in Belgrade.
"We are an open-minded city – we always have been…" replied Smet. "People come to Brussels so that they can be themselves. We're not perfect, we still have issues, but our city is incredibly diverse in terms of culture and language – diversity is part of our DNA."
"We are also more than Brussels, the capital of Belgium. We are the capital of the European Union – that's something that's recognised around the world. We have a responsibility to play a leadership role in supporting people who need us and to relay a message of hope."
"Personally, it makes me feel proud – it's an honour to be able to represent Brussels at an event such as EuroPride, and to feel that our voice is being heard. For me, this makes me feel like I'm giving something back and contributing to a more open society for other LGBTQ people. That's the payoff for me personally – even small contributions can make a positive difference to the world in which we live."
It's difficult to assess the success of an event such as EuroPride. Did a queer march through the streets of Belgrade help push Serbia towards an embrace of LGBTQ equality or did it further enflame an already polarised country? I asked Smet what he hoped that the presence of the delegation from Brussels would achieve.
"I hope that the LGBTQ community here in Belgrade realise that they are not alone, that they know that people in Brussels are watching and supporting, and that they realise that the capital of Europe is there for them."
"By nature, I'm optimistic. I feel that good will always win – eventually. But, in the meantime, we have some challenges."
"It is more complicated in some countries. Acceptance of LGBTQ people becomes part of a broader identity debate when some politicians play on the fears of people – referencing traditional values and identity. It's an understandable reaction to globalism that people go back to a form of localism. When localism is inclusive, that's not a problem, but when it becomes exclusive then it becomes a problem – it can be used as a political tool to gain political power."
"It's important that we, as European Union members, react in an intelligent way. We have to show empathy to the fears of people. The fight about equal rights is a human rights issue but that can be a bit abstract – we need to talk in everyday terms and focus on emotions and feelings."
I was interested in Smet's plans beyond EuroPride in Belgrade – whether this kind of outreach mission would become part of an ongoing equality campaign by the Brussels-Capital Region.
"I really want to position Brussels as an LGBTQ-friendly city…" confirmed Smet. "LGBTQ people are welcome in our city – as a tourist, but also to live and work and invest."
"We will also continue to support LGBTQ communities across Europe where it is difficult to hold events or establish queer media publications."
"Plus, we will continue to demonstrate to LGBTQ people across Europe that they are not alone. That's really powerful – that's an important contribution that we can make to build a better society for us all."