Filmmaker Hippolyte Leibovici puts the Brussels drag scene where it belongs, that is nowhere else than on the silver screen. His film 'Mother's' premiered earlier in 2019 and captured the wondrous world of Brussels' local leading lady of drag: Maman and her drag daughters Mademoiselle Boop who since then founded the famous Cabaret Mademoiselle, Loulou Velvet, and Kimi Amen. The short documentary movie recently was awarded a Magritte. Hippolyte decided to make his work available for everyone on Vimeo.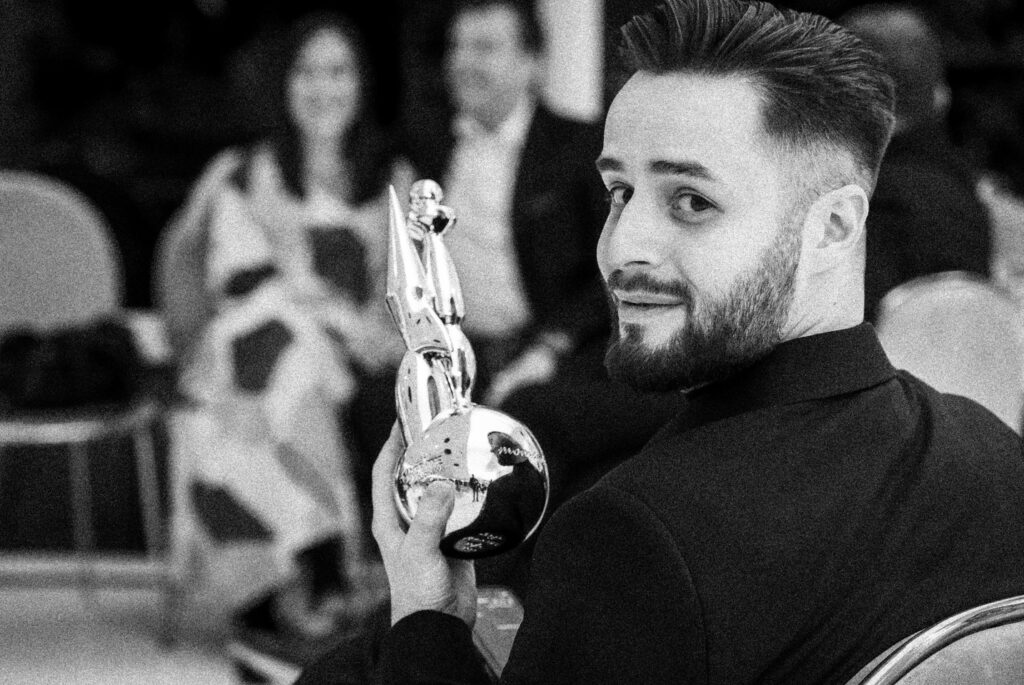 We met with Hippolyte to talk about this journey:
Since the launch of Mother's in 2019, your short documentary movie made a big way and was present at many festivals nationally and internationally. Could you tell us a bit about that journey?
Everything went very fast. We shot the movie, edited it, and after that, as you say, there were many screenings. It's a bit hard to explain. During the first ones, I was very emotional, and after 20, I started to make the movie presentation funny. I was repeating myself, always answering the same questions, so I wanted to have fun interacting with the audience. Now, I'm very exhausted when I have to present it. I had to stop. The film had a beautiful life, it is truly helping people around the world, but it's more than time for me to move on and shoot another movie.
It also received awards at festivals such as BAFF, Court Mais Trash, or BSFF and was present at queer festivals such as Pink Screens and Tels Quels. How does it feel to be recognized by the Brussels cinema community as well as the Brussels queer community?
You know when I was younger I truly wanted to be recognized by the cinema community. I wanted to be awarded. This film got many distinctions, but what I can tell you today, is that awards don't buy happiness. I miss the contact with the audience more than all, I truly do. It was fun meeting people everywhere. I don't know if I'm recognized by the Brussels queer community, but the movie certainly is. They truly changed my life, I'll be grateful forever now. I want to give back everything they gave me.
How did it feel to be awarded at the Magritte cinema awards?
I will get a bit deep about it. I never talk publicly about that. When I was 12, I thought that I would be happy by making movies. I did, but I was not happy. I thought then that if those films were good, I would be happy. I still wasn't. « Maybe if those movies would be awarded? » I wondered. Well, no. « But with a Magritte… ». Of course, you may have guessed already. It doesn't change anything. The thing is, that has been my dream for a while. And a person who doesn't have a dream anymore gets deeply bored. It was hard the first days after the ceremony. I didn't move from my couch. I had an emotional block. Again, it's hard to explain. When I explained it to some people, they didn't understand me at all. They thought I was going to be truly happy. It made me question the relationship between happiness and cinema. I have never been happier than when I was shooting MOTHER'S. Why? Because it's a useful film. It has helped people around the world, to come out, or simply to be more trustful in themselves. I get to the conclusion that I don't care about happiness in my job. I want to be useful. This is truly the best feeling I have experienced with cinema.
Do you have any new projects we want to know about?
I have two big projects coming up. One is a musical short film. The story again happens in a cabaret. We have a beautiful team and we can't wait to start but we're still waiting for some funding. The other project is my first feature film, but I can't say more right now!
How old were you when you first met a drag queen? Do you remember what impact it had on you?
I was 21. It was Edna Sorgelsen at Cabaret Mademoiselle, a queer cabaret in the heart of Brussels. I was immediately mesmerized by her humor, her costumes, her make-up. Simply by everything about her. I went back the next day to see her. It is, in a way, thanks to Edna that I have been able to make the film 'Mother's'. It was almost like falling in love.
How important are drag queens in your personal life?
They have changed my life. This film is the first one of mine that actually does well. And above all, these queens have become true friends. Especially the queens at Cabaret Mademoiselle, where I worked as a bartender and a bouncer.
How important are drag queens for queer life in general?
I think they have allowed a lot of people to demystify and deconstruct gender. And not only in the queer community specifically. Queens can change minds just by performing. I truly think that their art will always make things move.
What have drag queens, the ones you filmed and the ones you know, taught you about life?
Mademoiselle Boop, she's really something else! I think she has taught me a lot about humanity, we're bound by something so profound but at the same time, we're very different. She's more experienced than I am, and that's how she showed me a lot about life. For the better! I think I have gained a lot in maturity since becoming friends with her. She gave me a job, she gave me advice, she taught me how to talk in heels. Sincerely, I don't know what kind of person I would be now if I hadn't met her. I don't know if one day I will be able to give her back everything she did for me.
Interview also from Tim Devriese