Diana Dobrescu is a non-binary transmedia artist. From video and sound to make-up and outfit, their performances span across media and formats. Diana's art is multiple in form, clear-cut in substance. It is about staging the difference, owning it.
'I want to help people stand for their strangeness and queerness.'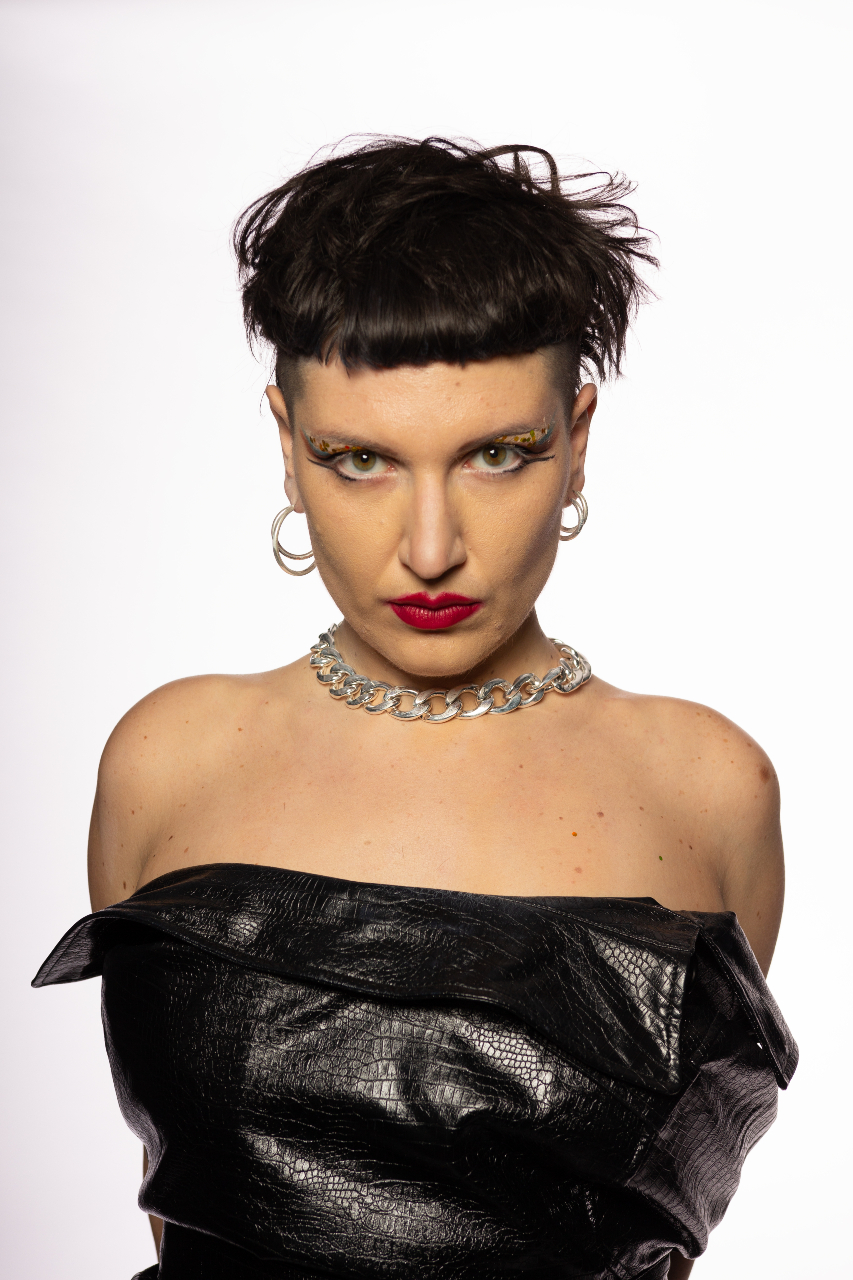 Both a performer and music producer, Diana Dobrescu is also an astrologer. Through this ancient art, somewhere between the sensible and the intelligible, they explore the power of intuition to build new narratives of love.
Diana performs under three identities that transcend the gender binary. Distinct yet intertwined, Monica Kinolta, Dance Divine, and Cyborg Amazone engage in the joint undertaking of exploring the healing power of the voice.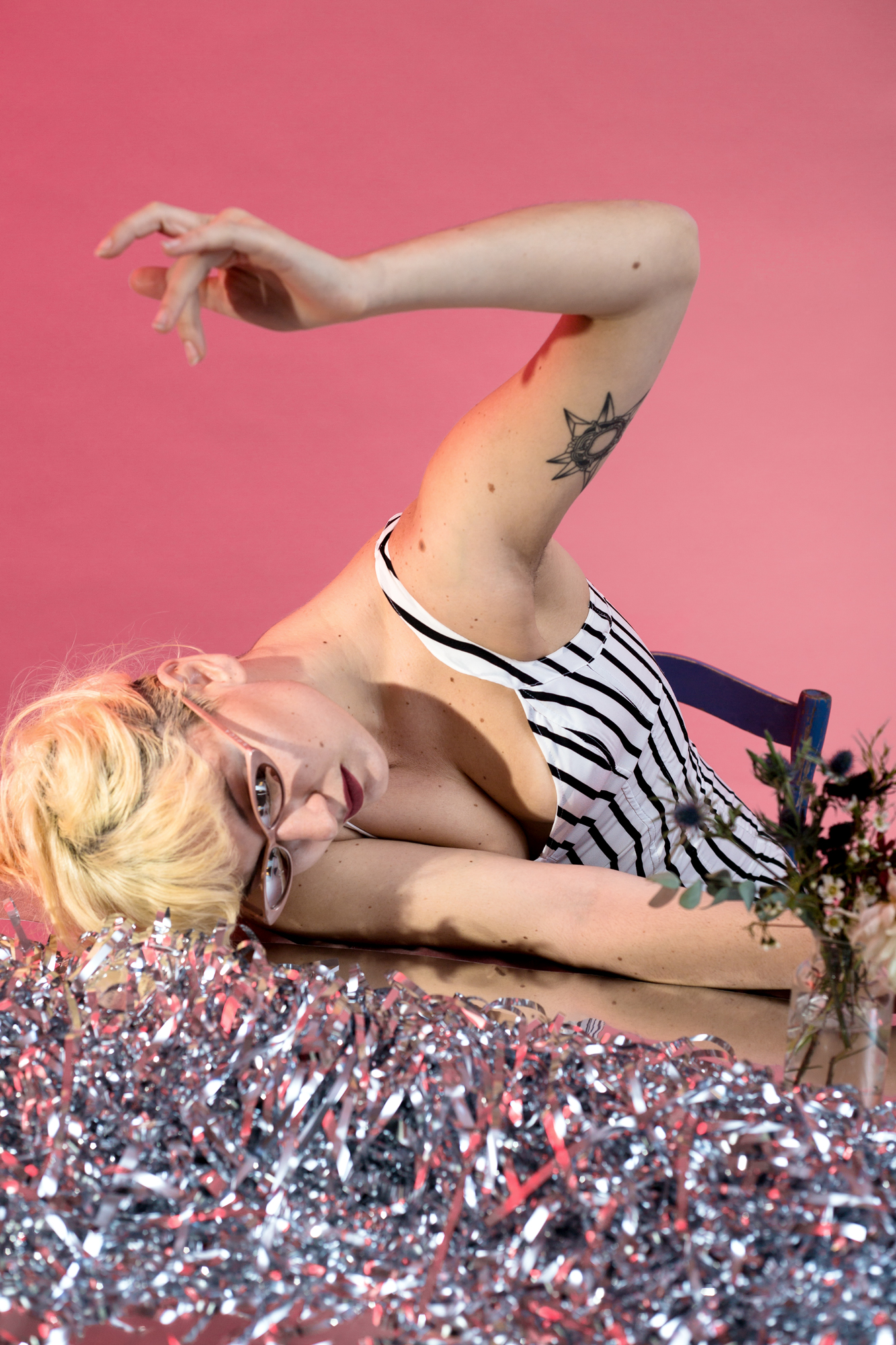 Monica Kinolta is an analog witch. As she navigates the spaces between electronica and witchcraft, her deconstructed EBM sound resonates with the painful facets of love. You'd see her on stage carrying weapons like amulets as she digs into her bodily memory and sets forth her feminine identity. She is a warioress championing her matriarchal lineage, an introvert who asserts intimacy while staging vulnerability.
Kinolta's raw performances are echoes of the violence within. She sings, whispers, and screams – in eight different languages – to face the violence around.
Her live sets are half programmed, half improvised, thus probing the interplay between organicity and machinery to heal past wounds. For Monica, violence that is expressed is violence that is being resolved
"I produce my music to manifest healing," she says.
At distance with Monica Kinolta and her introspective grappling with the past, Dance Divine is an invitation to seize the fleeting present. The extrovert performer often shows up in drag and embarks the public on a 150 BPM techno ride, rhythming the dance to volatile instants. Anchored in lunar cycles, Dance Divine's sets explore sexual energy and its potential for awakening.
Dance Divine's intergalactic journey started at the Brussels-based Kiosk Radio in 2019 as a pop project with drums, piano, and machines. Their performances then shifted somewhere between Acid Techno and Hard Dance.
When asked to specify their music genre, Dance Divine says:
"I don't do techno. Techno is a political movement that doesn't exist as such anymore. What I do is storytelling. I invest drums and kicks with meaning and bring the music back to the voice as an expression of courage. My stories are an invitation to dance as a way of healing."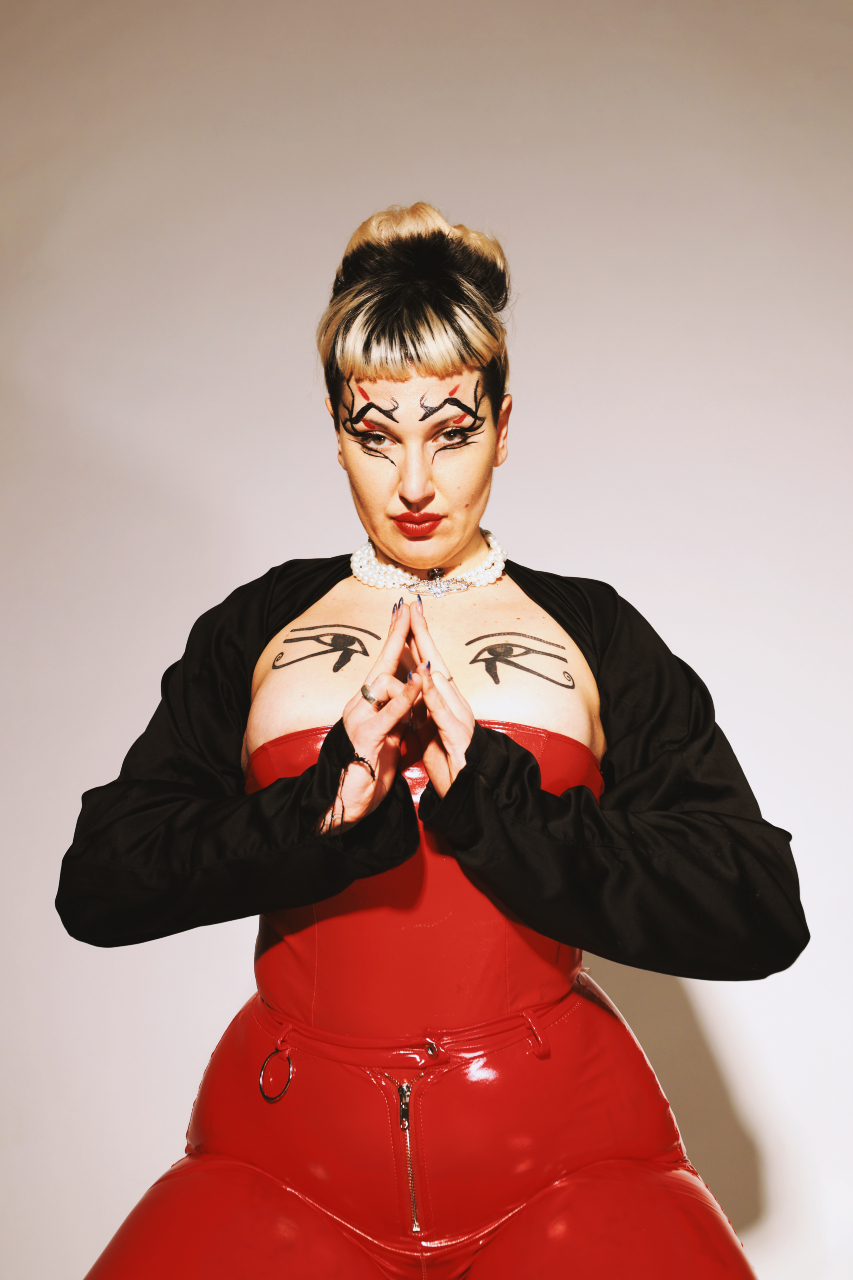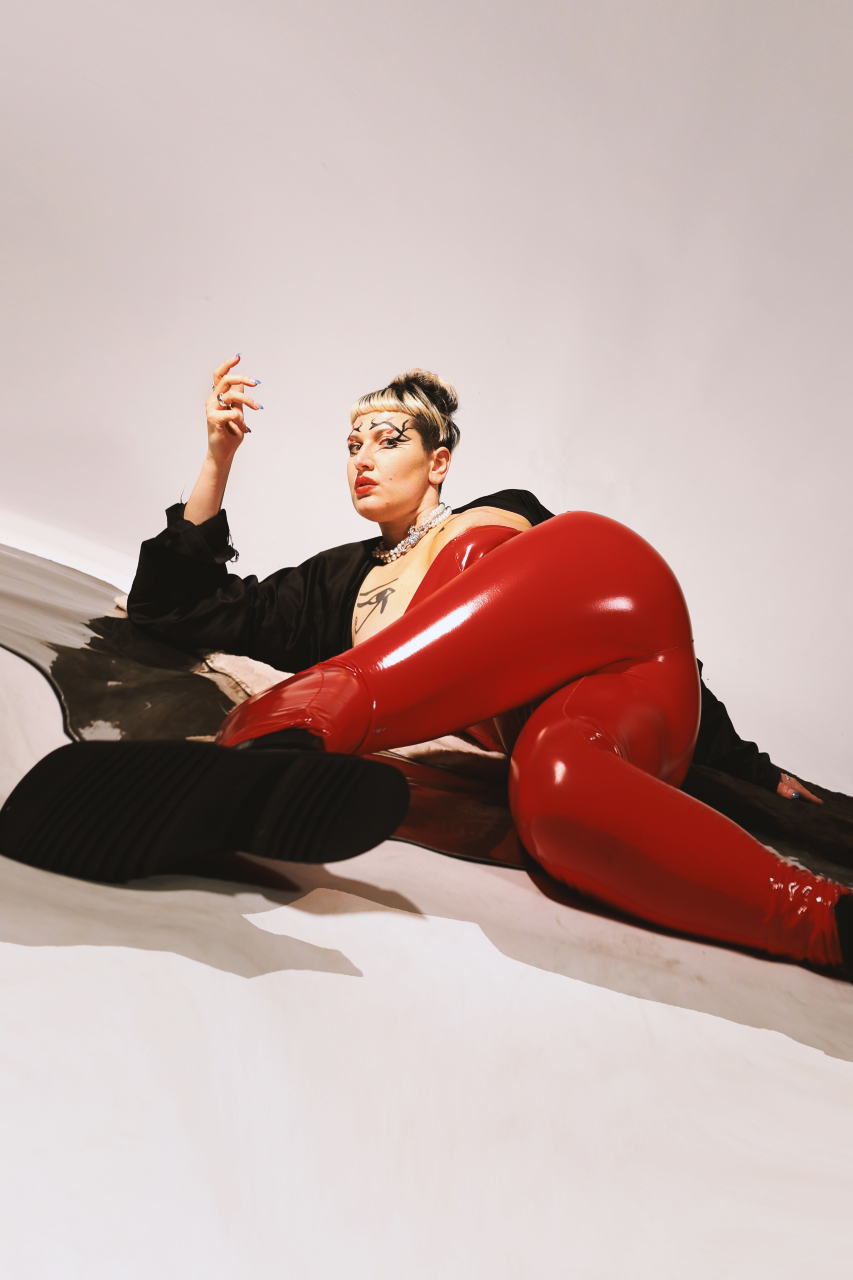 Cyborg Amazone is a leap forward from the past and present into the future. Creating immersive sound and visual experiences, their performances are removed from the comfort of the familiar. Strikingly weird and purposefully uncanny, they incite the audience to question the obvious and challenge the normal.
Referring to Donna Haraway's Cyborg that embodies the orderly, mechanical, and commanding aspects of patriarchy, and to the Lesbos Amazons, the community of female warioresses, Cyborg Amazone is an inquisitive oxymoron.
The Queer 4.0 takes the stage in a shield that carries controls modulating the voice, a Human/Machine setting mirroring the Male/Female binary. As the techno-human performance goes, Cyborg Amazone stages the male-female interplay. The binary frontiers are blurred, spaces between them redefined, and possibilities beyond them set. Cyborg Amazone's glimpse into a non-binary future is a journey of transcendence undertaken with the audience as the public's movements influence the sound and shapes the performance.
Both engaged and engaging, Diana Dobrescu's art questions our representations of reality. Monica Kinolta, Dance Divine, and Cyborg Amazone's artistic expressions are rituals to heal past wounds, celebrate the present and tell new stories of the future. While performing, they invite us beyond here-and-there, away from this-or-that, in an activist overtaking of the binary.