The latest initiative from Sing Out Brussels! is Dance With Pride.
The show will be presented on 11 June at the Cultural Centre of Uccle, tracing the LGBTQ community's use of dance as a form of advocacy, expression of identity, and visibility.
"All the songs in the show have a link with the theme of dance or emancipation…" explain Christophe Cordier, Kelci Wilford and Marina Belotti – board members of the choir. "Dance with Pride also has a strong Brussels anchorage since our common thread is based on audiovisual archives filmed in Brussels in the 70s and 90s. The songs and videos will trace the path of our community from the discretion of closed places to freedom in the public space."
"The municipality of Uccle is proud to support the organization of this show and to reiterate its partnership with an LGBTQI+ association in Brussels…" says Maëlle De Brouwer, Alderman for Equal Opportunities and Gender. "Uccle is indeed committed to fighting against structural discrimination, regardless of sexual or romantic orientation, gender identity or expression".
Find out more about Dance With Pride
Portrait: Christophe Cordier
I caught up with Christophe Cordier for a behind-the-scenes look at life in an LGBTQ choir.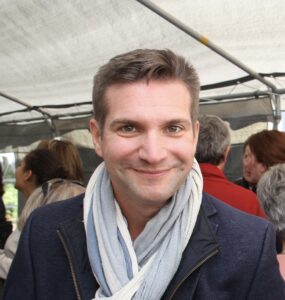 When was Sing Out Brussels! established?
We established the choir in 2018.
Our founders had been part of other choirs, but we wanted something that had a bit more freedom.
How many members do you have?
We currently have 65 active singers. We also have some members who used to sing with us but have remained with the choir to volunteer and support our activities.
Do you have to be a really good singer to join Sing Out?
You don't have to be able to read music or have any specific skills, but you do need to have a good voice.
We communicate in English, French, and Flemish, and our rehearsals are in French and English. We have a number of people in the choir who only speak English.
We recruit new members each summer – there's an audition process.
It's all detailed on our website, but we ask that people send us a self-tape of a song that they have prepared. We then invite people for an in-person audition to ensure that they're a good match.
We have a waiting list – each year, about 70 people apply to join. We usually accept between 10 and 20 people each year.
When did you discover and start to explore your passion for singing?
I was 10 years old when I started to sing in choirs.
As a gay kid, I wasn't good at sport or comfortable with other boys. When I discovered singing, it was like a liberation for me – I was good at it, and it helped me a lot to get some self-confidence and to make friends.
Music and singing are really important for my wellbeing.
What's involved in preparing for the Various Voices festival?
We have to plan everything. The festival is organised by the local choir. We have to book venues, plan the concert, organise the hotel bookings, and we have to look for sponsors.
We have a lot of partnerships for this project, so we're not alone. But there's a lot to do.
What do you hope that people feel when they're part of Sing Out?
There are a lot of choirs out there, but not a lot of LGBTQ choirs.
In an LGBTQ choir, you can really be yourself.
We choose songs that are relevant for our community – we think a lot about the lyrics of the songs we want to sing.
Sing Out is a safe space for LGBTQ people – it's a good place to meet people and make new friends.
All of our members bring something special to the choir – not just their voice – but they also get a lot back, such as wellbeing and community spirit..
Find out more about Sing Out Brussels! and the Various Voices festival