After the huge success of Drag Race France, the cast of Season 1 are undertaking a European tour.
They'll be arriving in Brussels for a show at the Cirque Royal on 13 September.
Hosting proceedings will be Nicky Doll. Nicky came to the world's attention as a contestant on the US edition of Drag Race, and then stepped up to anchor the premiere season of Drag Race France.
As the host of Drag Race France, Nicky demonstrated that she's not only drag excellence from a visual perspective, she's also warm and funny and engaging as a host.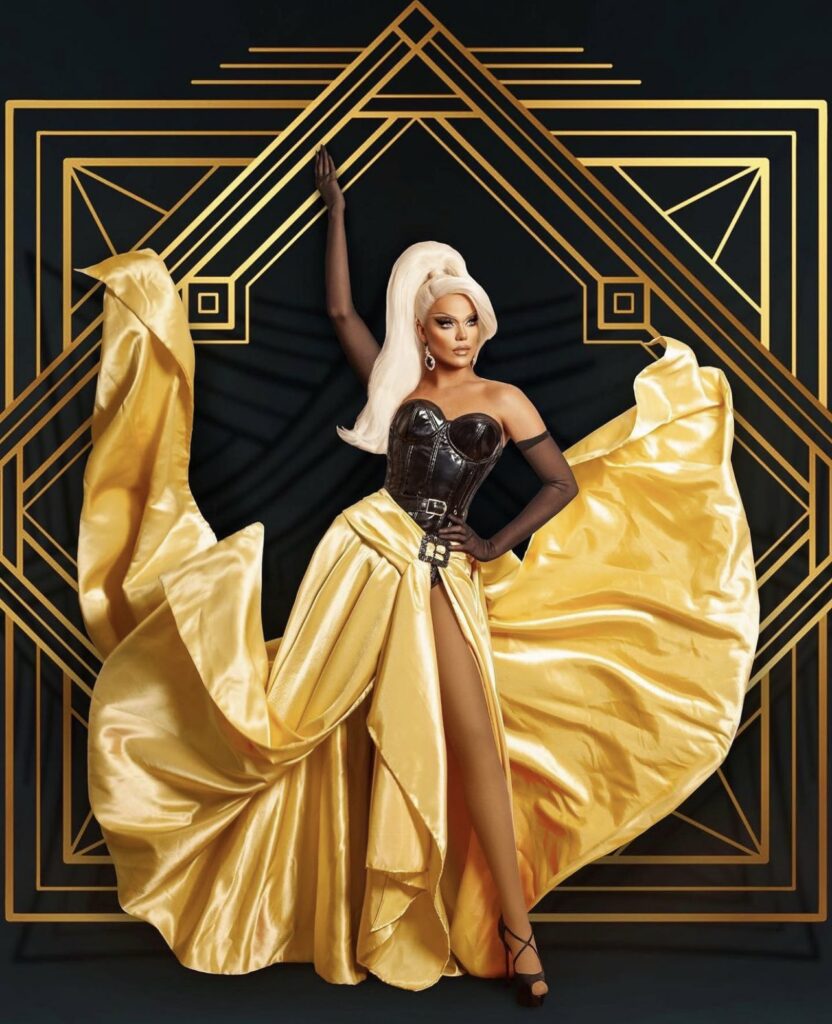 Ahead of the tour arriving in Brussels, I caught up with Nicky by phone for a quick chat about what we can expect from the cast of Drag Race France.
The tour is just getting underway, what sort of reaction are you getting from audiences?
Everyone is very happy to see the entire cast – to see them perform. It seems to make everyone feel very alive and very loud.
Every girl has their fanbase, but perhaps Lolita Banana gets the biggest cheers from everyone.
For me personally, Drag Race France feels like my biggest accomplishment to date – as the host, to be a vessel for a platform that highlights performers in my country and delivers some much-needed queer representation – I'm very proud.
Congratulations on your single, Attention. Are you performing to that track on the tour?
Yes – to be able to perform my own single at Casino de Paris, where Josephine Baker performed, was a bit surreal but amazing.
Normally, we're lip-syncing to someone else's music – we're creating art around someone else's work. But with Attention, it's all me – it's a lot of emotional investment in making sure that everything is perfect. Thankfully, everyone so far has responded really positively.
There's more music on the way – the next track is going to be a bit darker and clubbier.
The tour runs all the way through to November – it's a long time to all be together, performing the same show. What's your strategy for avoiding any backstage dramas?
We're always together, and we're having fun. But when I need to chill, I put my sunglasses on and my headphones in and then everyone knows – the bitches need to shut up.
As the host, I pour a lot of emotion into every show.
The tour is coming to Brussels next week. Is Brussels a city that you've spent much time in?
I've never performed in Brussels, and I've only briefly visited once before. But my best friend is from Brussels, so I know that it's a city that knows how to party.
We have Drag Race Belgium that will be on our screens fairly soon. Do you think that we're starting to reach the limits of the Drag Race franchise?
I think that queer people kind of enjoy Drag Race like sports fans enjoy soccer games – you love it, but when there's too many fixtures you can get a bit tired.
But for me, the important thing to remember is that each franchise is lifting up and celebrating the performers and the queer community in that country. That's really powerful and really important.
Besides, if you don't want to watch, you don't have to!
What do you hope that people feel when they come to watch a performance of the Drag Race France tour?
I want people to be able to enjoy the talents of our cast and appreciate the art form of drag.
Drag is political, and the show is all about promoting self-acceptance and tolerance. I want our audience to realise that we need to stand up for each other.
Book tickets for the Drag Race France tour in Brussels
Attention, by Nicky Doll