Meet Filippo Deorsola, Belgo-Italian queer artist, pianist, improviser, and composer born and raised in Brussels. Filippo left town for some years to pursue his passion for music at Rotterdam's Conservatoire. He's now back home in the Belgian Capital, composing for small and large ensembles and exploring through different mediums of expression what role queer artists can take in today's society and how art and music can be a force for change.
He spearheads the Belgo-Italian-Singaporean Trio Anaphora, which has released its first album, Lexicon I, in April 2022.
The trio will be having a week-long artistic residency at the Jazz Station in Brussels and will be presenting brand new material resulting from this week of music-making at the Italian Institute of Culture on Friday 3rd March.
We've interviewed Filippo to get an exclusive look into his work and his residency with Anaphora.
How did you start piano and music and how is your artistic journey unfolding?
Everything started quite by chance. As a kid, I was very clumsy. I remember turning bottle-caps the wrong way –maybe because of being left-handed? — or not being able to tie my shoes and other very basic manual things. When I was six, my Italian grandma said something like: "it's not possible that this kid cannot do anything with these hands." So that's pretty much why I was signed up for piano classes as a child. It's quite ironic that it was this that then led to starting piano. I haven't stopped since then. It's also my grandmother who, when I was a teenager, pushed me to start taking jazz classes.
So, I am extremely thankful to my Nonna for having given me these important musical inputs in my life.
Projects are slowly unfolding too:
Apart from the work with my trio Anaphora, I have a Piano Solo project with electronics, objects and my own spoken-word texts that is slowly taking shape.
Another band I'm very happy to be a part of is Kinestatic. We do a lot of electro-acoustic things, often with audio-reactive visuals and spoken word. We try to integrate debates and reflections on digitality, surveillance and community with the help of other artists and mediums.
I started M.A.D. Collective (Mutually Assured Deconstruction) together with Italian saxophonist Andrea Leone. We try to bring together artists and thinkers from a range of disciplines, origins, and backgrounds to discuss and produce together. Since the pandemic, the collective has been unfortunately on hold.
It is very important for me to try and bring together more theoretical visions and reflections together with concrete practices and experiences from a diverse background both in terms of artistic discipline and of identity, in the many shapes it may take.
How do you reflect upon your queer identity in your work?
I thought a lot in the past years about how to present myself publicly as a queer artist. This was for my own personal reasons of working through and accepting myself, but also because I could not connect my music to my identity in a coherent way until recently. How far contemporary classical music and jazz have been institutionalised, as well as originally working only instrumentally within improvised music, made it somewhat challenging to integrate a meaningful take on queer identity.
I guess it also felt illegitimate to present myself as such specifically as an artist. I was lucky to be raised in a progressive family and environment. A lot of the issues I faced were with myself, with inner emotions that took me very long to work through. All these toxic images about what we "should" be, about gender and sexuality that populate our minds and our society, and which always have very concrete, violent, and tangible effects.
It was only in the last three years, also through precious encounters in the Netherlands, that I was able to accept myself fully and come to terms with parts of my identity. It's always encounters with other bodies, other souls that can change your own direction in life. This notion of community is very important in my work because it has been very important in my life. In creating a queer artistic gesture, it is fundamental for me to return to this notion of community, if maybe on more aesthetical terms.
You talk about a Queer artistic gesture, but what do you mean exactly? Can you tell us more?
I have been getting more and more into Queer philosophy and gender studies, especially Donna Haraway (which I warmly recommend anyone to read, her work is incredible), Judith Butler and David Halperin. I think Queerness relates to lives and experiences outside of institutions, at the margins of what is considered "normal" or "legitimate". I think it's from these margins that powerful stories can and have been told. These stories can redefine the boundaries of what is 'legitimate' and what is 'normal'. Jazz, in this sense, was also a sort of queer gesture.
Let me first say that we should absolutely acknowledge the problematic attitudes towards LGBTQIA+ that have populated parts of Jazz music throughout its history. But I think we at the same time must also recognise that in its origins, Jazz was a music created by Afro-American communities that could not fully, if even at all, affirm themselves within mainstream (ie.white, cis-heteronormative ) political and cultural institutions. Jazz was the affirmation of identities at the margins, and it created a space where marginalised people could come together and express themselves in a radically unbound way, through improvisation, which heavily highlights a musician's own language and identity. Improvisation is such a positive affirmation of one's life and identity in so many ways that I cannot develop here. Furthermore, there is also a large history of LGBTQIA+ musicians active within Jazz (Fred Hersch, Gary Burton, Billy Strayhorn and Bessie Smith to name a few).
Regardless, just making art, that changes something. New things become possible, through bodies getting together and creating collectively. For example: what changes for a little white kid in a segregated America 50 years from now when he sees an Afro-American playing trumpet in the most beautiful and elaborate ways? Or when Drag Queens come into schools to tell stories to young children? Or with Brussels event such as Propaganda? What things become possible; what changes become graspable?
There is a nice thought from French philosopher, Gilles Deleuze, that goes something like this: art and philosophy do not have any 'power'. They are not institutions. They cannot exercise violent control like a state-apparatus (segregation, gender-based discrimination, limits to bodily autonomy etc.). The only thing they can do is engage in pour-parleys. Discursive and creative guerrillas so to say. And that's the tremendous potential of art and philosophy. It creates lines of resistance from which new metaphors and images about who we are and can be, and how we exist together on this earth can be thought of.
One last question: can tell us a bit more about the direction that you want to take with Anaphora during its residency at Jazz Station?
We've been having this idea with the band to move towards more meditative and slow-moving musical structures. Taking a lot from Japanese Gagaku Music and Indonesian Gamelan, so we are trying to think in rhythmic cycles and repetitions. This has led me to research a little bit into the notion of Ritual. A Ritual is a set of fixed actions (chanting, bodily movements, rhythmic cycles, repeated in fixed ways) that are sedimented through historical practices. We are interested then in seeing how this idea of ritual can be subverted, displaced, adjourned, and put into question. I wonder: is not traditional gender images and binary identity a kind of ritual as well? One that has settled in our society? How can we disturb this sedimentation?
We don't want to give a definite answer to these questions, but rather open an entry point of discussion, through music, to these themes. A collective pour-parley.
I guess you'll have to come to the concert at the Italian Institute to find out all about it! The concert will be followed by a discussion, where we really want to engage these questions more thoroughly together with the audience and especially the LGBTQIA+ community, which I think has a lot of important views to share on these topics. So, we're hoping to see you there on Friday 3rd of March!
Free and mandatory reservation: Tickets Here – Concerto "On the Grammar of a [Bloom] " del gruppo Anaphora Biglietti, Ven, 03 mar 2023 alle 19:30 | Eventbrite
Facebook Event: https://fb.me/e/2fgK92HdI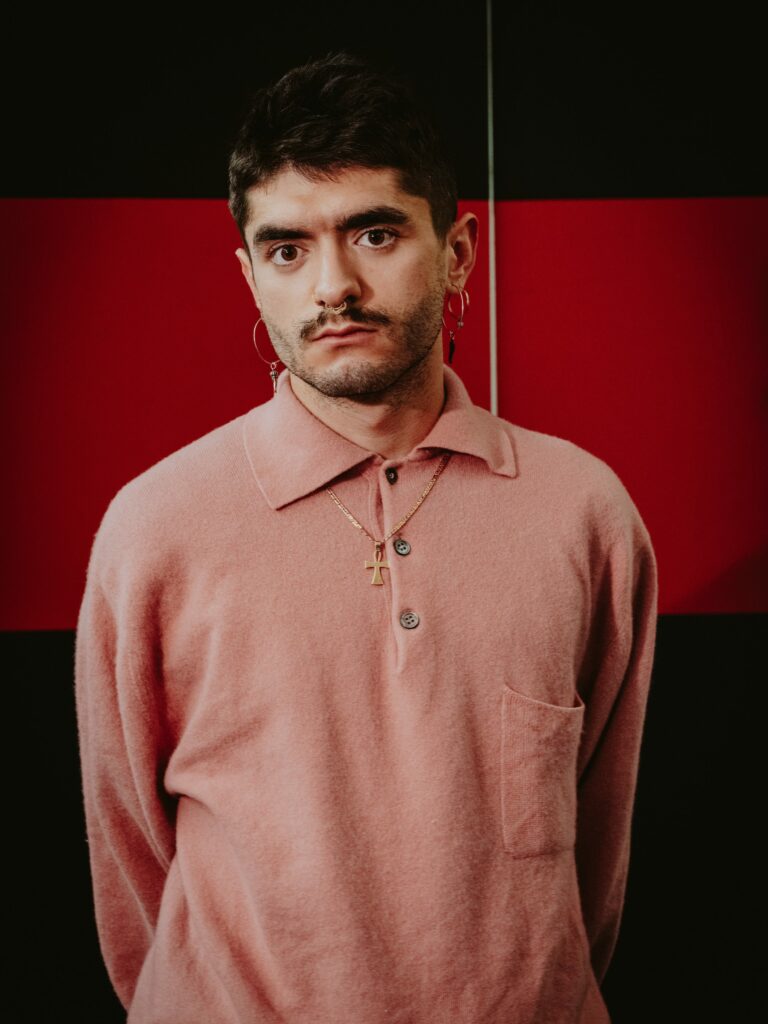 You may also like
| | |
| --- | --- |
| | If you are a fan of electronic dance music, mark this Saturday, 15 July, in |

| | |
| --- | --- |
| | Jakub Jankto, revealed his homosexuality in a video published on Monday on the social network |

| | |
| --- | --- |
| | Studio Venus is a new party where freedom of expression will meet music on an |