Attention, readers! The highly anticipated new issue of KET Magazine is here, and it comes with an exciting twist. In a vibrant display of our unwavering commitment to inclusivity, this edition proudly presents not just one, but six different covers. Why, you may ask? Well, as we approach Pride week, we wanted to capture and celebrate the incredible diversity and strength of the LGBTQIA+ community right here in Brussels. Each cover represents a unique facet of our community's tapestry, symbolizing the kaleidoscope of identities, experiences, and love stories that make us who we are. So get ready to embark on a captivating journey through the pages of KET Magazine as we honor 20 years of Marriage Equality in Belgium and showcase the remarkable resilience and unity of our LGBTQIA+ family.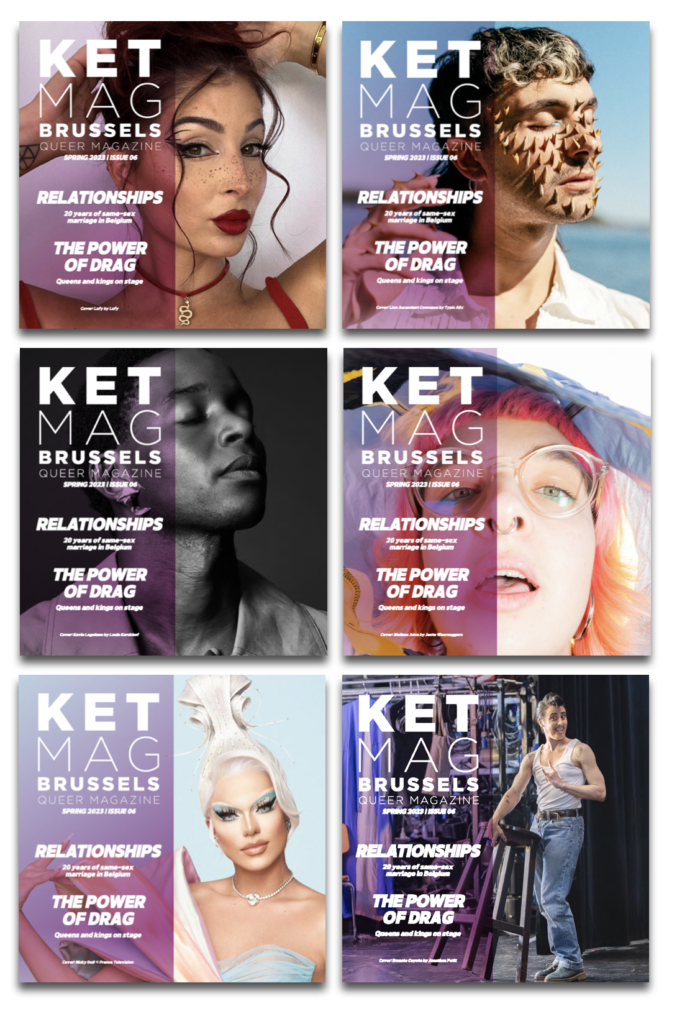 Marriage is not the only path to a fulfilling relationship
While marriage is undoubtedly a significant step for many couples, it's crucial to remember that it isn't the only path to a fulfilling relationship. Marriage Equality empowers same-sex couples by offering them the choice to wed, should they desire to do so.
Relationships, however, manifest in various shapes and sizes, transcending the need for a marriage certificate. Queer individuals have been pioneers in exploring diverse relationship dynamics, crafting their unique paths alongside the people they cherish.
A captivating glimpse into the lives of some extraordinary individuals in Brussels
In curating this issue of KET Magazine, we had the pleasure of delving into the love lives of a diverse range of individuals. While the couples showcased in these pages do not represent an exhaustive list of all queer relationship possibilities, they do provide a captivating glimpse into the lives of some extraordinary individuals in Brussels.
Remember, living your best life doesn't necessitate being in a relationship. Being single is a valid and fulfilling option. As we bid farewell to the winter's darkness and welcome the impending arrival of summer, our city's vibrant Pride celebrations beckon. Will you be proudly parading through the streets, waving your rainbow flag?
Pride events like these serve as powerful reminders that our progress towards equality must never falter. While Marriage Equality has become a reality for the queer community in Belgium, our journey toward complete equality continues. We must also ensure that everyone is included in this march towards progress. Discover the inspiring efforts of Forbidden Colours, who explore the legal recognition of same-sex relationships across Europe.
In an uncertain world, celebrating love is a timeless and impactful gesture. Let us embrace self-love, cherish one another, and exemplify the transformative power of love in creating a better world for all of us.
Experience the love-filled pages of KET Magazine's sixth edition, and enjoy a heartwarming journey through stories of resilience, acceptance, and joy.
Available in safer spaces in Brussels
The KET#6 is available in most of our safer spaces in Brussels. Click here to find the map.