From 6-10 October, the 4th edition of Nuits Sonores will be presented – in the fabulous setting of Bozar, in the warmth of C12, in the welcoming and unifying walls of LaVallée.
For five days, the festival will offer an exploratory and innovative musical program – where a contemporary electronic artist like Max Cooper can meet post-modern composer Bruce Brubaker for a tribute to Philip Glass, where institutional music will be heckled by a new guard of subversive musicians, like the neo-classicism defended by Polish musicians Hania Rani & Dobrawa Czocher, where music will flirt with dance, cinema and performance, notably with the creation Deep See Blue Surrounding You, a project by video artist and visual artist Laure Prouvost, who will invite musicians such as Flavien Berger and Lafawndah on stage. Fans of Rokia Bamba will also be happy.
A special night by Queer Future Club is happening on Sunday 10 October – a mystical experience including a performance by Judassime and Djs Cherry B Diamond, Gamine, Azo, Tarots by Coco Chamel and Installation by Never Sceno.
The European Lab forum works closely with the Nuits sonores Brussels festival to select and interconnect European artists, activists, thinkers and journalists who firmly believe that culture and the media have the potential to transform our ailing societies; that thought is a celebration; and that art and activism are the answer to present-day challenges. Organised in collaboration with Bozar, the 4th edition of European Lab Brussels will focus on two urgent issues: hospitality and equality.
Programme: 
Wednesday 6 Oct.
CONCERT Max Cooper & Bruce Brubaker present Glassforms + Hania Rani & Dobrawa Czocher
At Bozar
Thursday 7 Oct.
EUROPEAN LAB BRUSSELS at Bozar
CONCERT Nala Sinephro at Bozar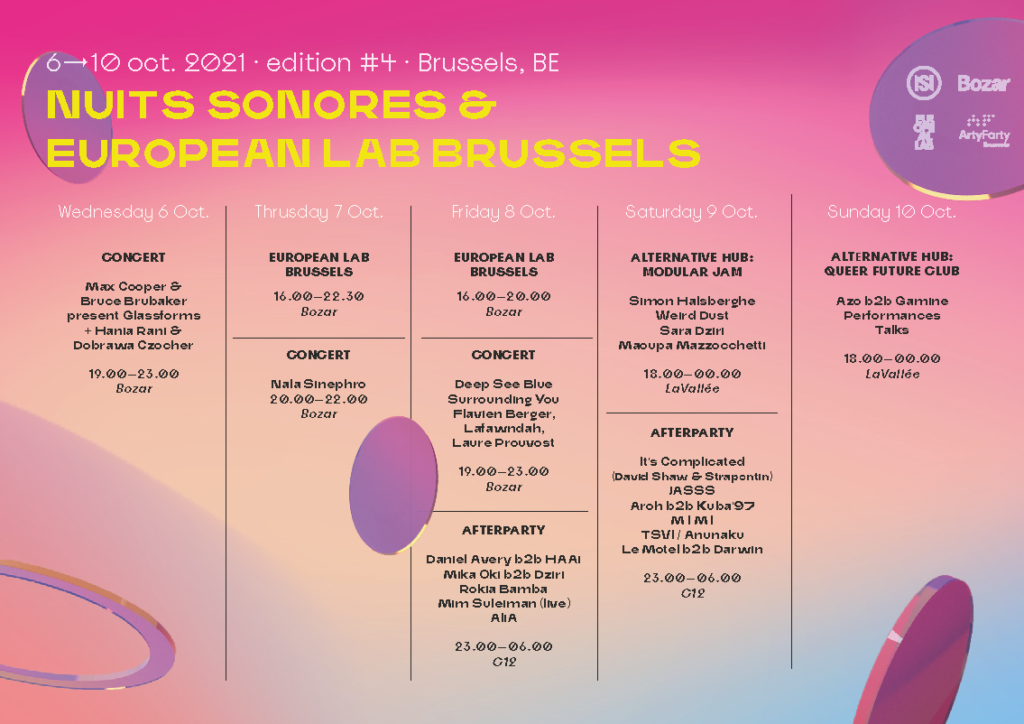 Friday 8 Oct.
EUROPEAN LAB BRUSSELS at Bozar
CONCERT Deep See Blue Surrounding You, Flavien Berger, Lafawndah, Laure Prouvost at Bozar
AFTERPARTY Daniel Avery b2b HAAi, Mika Oki b2b Dziri, Rokia Bamba, Mim Suleiman, AliA at C12
Saturday 9 Oct.
ALTERNATIVE HUB – MODULAR JAM Simon Halsberghe, Weird Dust, Sara Dziri, Maoupa Mazzocchetti at LaVallée
AFTERPARTY It's Complicated (David Shaw & Strapontin), JASSS, Aroh b2b Kuba'97, M I M I, TSVI / Anunaku, Le Motel b2b Darwin at C12
Sunday 10 Oct.
ALTERNATIVE HUB – QUEER FUTURE CLUB Azo b2b Gamine at LaVallée
Talks include Alexandra Jouclard, An Vandermeulen, Apotome with Khyam Allami, Camille Louis, Cyril Tomas-Cimmino, Fatima-Zohra Ait El Maâti, Judith Depaule, Maja-Ajmia Zellama, Marie Walter-Franke, Nicholas Kumba, Rojin Açilan, Sara Prestianni