that's what x said is a socio-politically engaged art space and shop striving for systemic change based in the Marolles neighbourhood that organizes exhibitions and events. This art space is aimed at highlighting the Belgian queer art scene, as well as a selection of international artists sharing the values ​​of the project. We met with Rébecca Prosper and Elisa Huberty to discuss this new project.
Rébecca, can you tell us a bit about the duo behind that's what x said ? How did you and Elisa meet and what is the genesis of the project ?
"Elisa and I met in our last year of high school almost ten years ago. We immediately became friends and started dreaming about opening our own art gallery someday. We then parted ways, Elisa moved to the UK to study History of Art and then a Masters in Art Business, while I studied History of Art in Brussels and then The Art Market in Paris. We never lost touch, keeping the dream alive. Over the years we deconstructed a lot of our systemic biases and generally got more upset about everything going on in the world. Opening an art gallery for the sake of it just stopped making sense to us, we wanted to try and make a difference. We came up with the idea of opening a socio-politically engaged art space that would go beyond the art itself and attempt to educate and deconstruct people."
The first exhibition was "Moon in Vertigo" by Clara Lane Lens and it looks like it is a success. What are Clara-Lane's and your feelings ?
Clara : "This has been one of the smoothest collaborations I've ever been involved in. Every practical thing was taken care of with respect and consent from both parties. The feelings and memories I'll keep from this exhibition will be nothing but positive."
Elisa: "We were so happy when Clara-Lane accepted to be our inaugural exhibition. Her work and personality fit perfectly with what we want to communicate, and her paintings are incredibly powerful. The response to that exhibition has been overwhelmingly positive and we can't wait to work with her again in the future!"
that's what x said is a socio-politically engaged art space and shop striving for systemic change based in Brussels that organizes exhibitions and events. Since the exciting opening in September during Q.artz Festival by The Belgian Pride, a workshop with Bye Bye Binary and Laura Conant about inclusive typography and a meet and greet with Clara Lane Lens happened. What kind of events or actions can we expect in the future ?
"Our next event is "The Queer Point of View : Gender identity, cultural backgrounds, and femininity vs the cishet mass". We invited Collectif Les Bastards for a panel conversation on gender identity. For the occasion, four of their members; Nina Fafchamps, King Kovaci, Gigi the Bastard and Belligerency will come and talk about their own experiences and knowledge on the subject."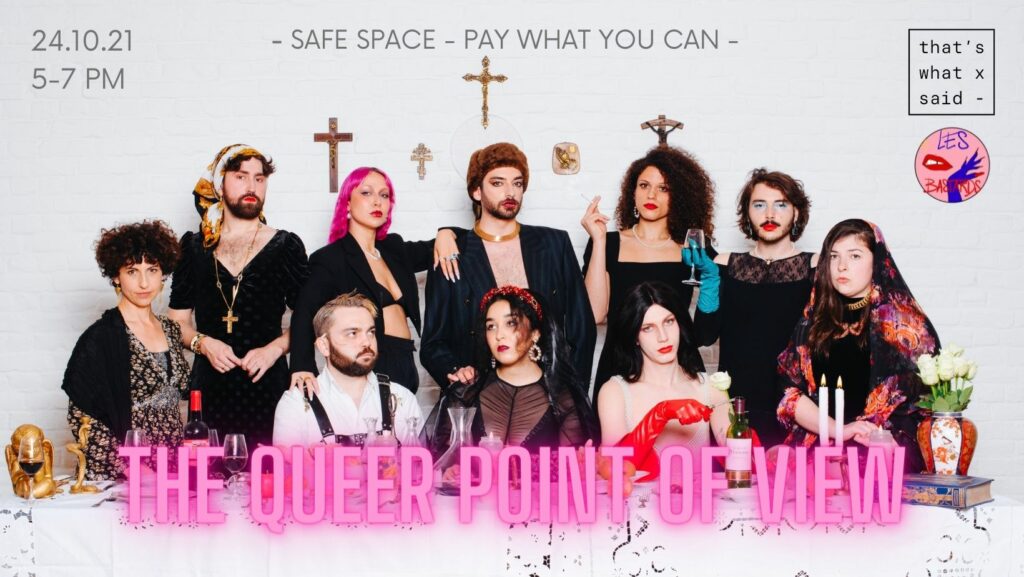 "We will organise events to discuss the issues introduced in each exhibition. We will organize conferences, workshops, projections, and many more. Our aim is really to offer a safe space in which people can come, ask questions, and start the process of deconstructing themselves. We are in touch with a lot of collectives and individuals such as Tétons Marrons, Les Sous Entendu.e.s, Sumaya Chekkali, The Fat Zine, etc."
Rami Hara will be the artist exposed for that's what x said's second exhibition with an opening on October 28th. Can you tell us a bit more about this collaboration ?
"We met Rami at the very beginning of our process, we discovered his work and immediately fell in love with the colours and composition in his photographs. For his series Hooyo, that will be at the centre of our upcoming exhibition, Rami translates his personal history into images to deconstruct systemic biases against headscarves. In Belgium, there are still too many negative stereotypes attached to headscarves, women who wear them are not allowed the same freedoms as others by our government and this needs to stop. With that exhibition and accompanying events we hope to shed light on the positive and empowering aspects of headscarves."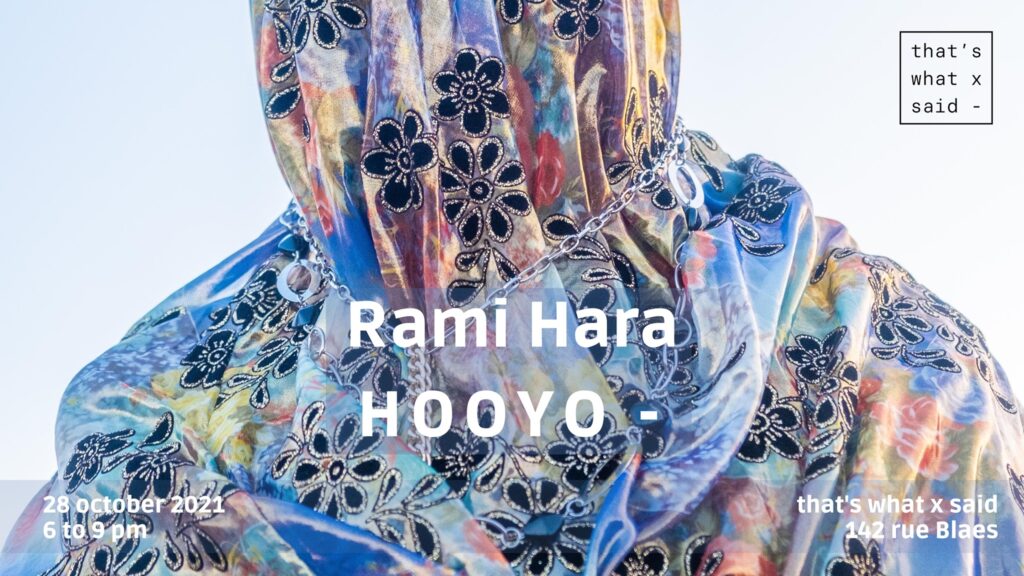 At KET Magazine, with kind of have a crush on Joseph Kai's work and book "L'intranquille". You have the chance to have him in your artists panel, don't you ?
"I mean, we also have a crush on L'Intranquille (and on Joseph too let's be honest!). Joseph is indeed one of our amazing artists. We have four of his prints in our shop and we'd love to work with him more in the future. His work is poetic and nostalgic but also politically engaged. Through his drawings, Joseph wants to represent the LGBTQIA+ community as well as bring to light the situation in Lebanon and the realities of its inhabitants."
We noticed that you are exposing many Brussels artists. (Laetitia Bica, Charlotte Chauvin, Roxane Decremer, Ivonné Gargano, Yaqine Hamzaoui, Rami Hara, Iota, Jean Biche, Barrack Rima, Maud Samaha, Léonie Stolberg, Sophie Vanhomwegen, Ugo Woatzi, Zyle) Can you tell about some of them and the way you proceed to select your collaborations ?
"It was super important for us to support the Belgian art scene when we started talking about what that's what x said would be about. We feel like we have so many amazing artists in our small country, and we wanted to also be a place gathering all of the talented artists we have here. When we started we contacted a lot of artists whose work we already knew and loved from social media, from then on we got to discover more artists. The process is very simple actually, when we see something we like and speaks to our philosophy we contact the artist."
There is something about the location of that's what x said that feels like it's right in its place. What is the story behind the choice to be right in the center of the Marolles neighbourhood ?
"We're so happy you think so too! We knew from the start that we wanted to be in the Marolles. To us, this neighbourhood really represents Brussels in its essence. We want to be able to impact as many people as possible, and not only a cis-white-hetero privileged audience, so it made sense to us to be in the Marolles."