If you don't know Joëlle Sambi yet, you must read "Caillasses". This first poetry book filled with militant positions and political commitments; she wrote it with her guts. It is addressed to minorities as well as their oppressors. This collection of 35 poems published by L'Arbre De Diane is also being adapted on stage with the help of Sara Machine so stay tuned.
I met with Joëlle to chat about her art, opinions, collaborations and projects: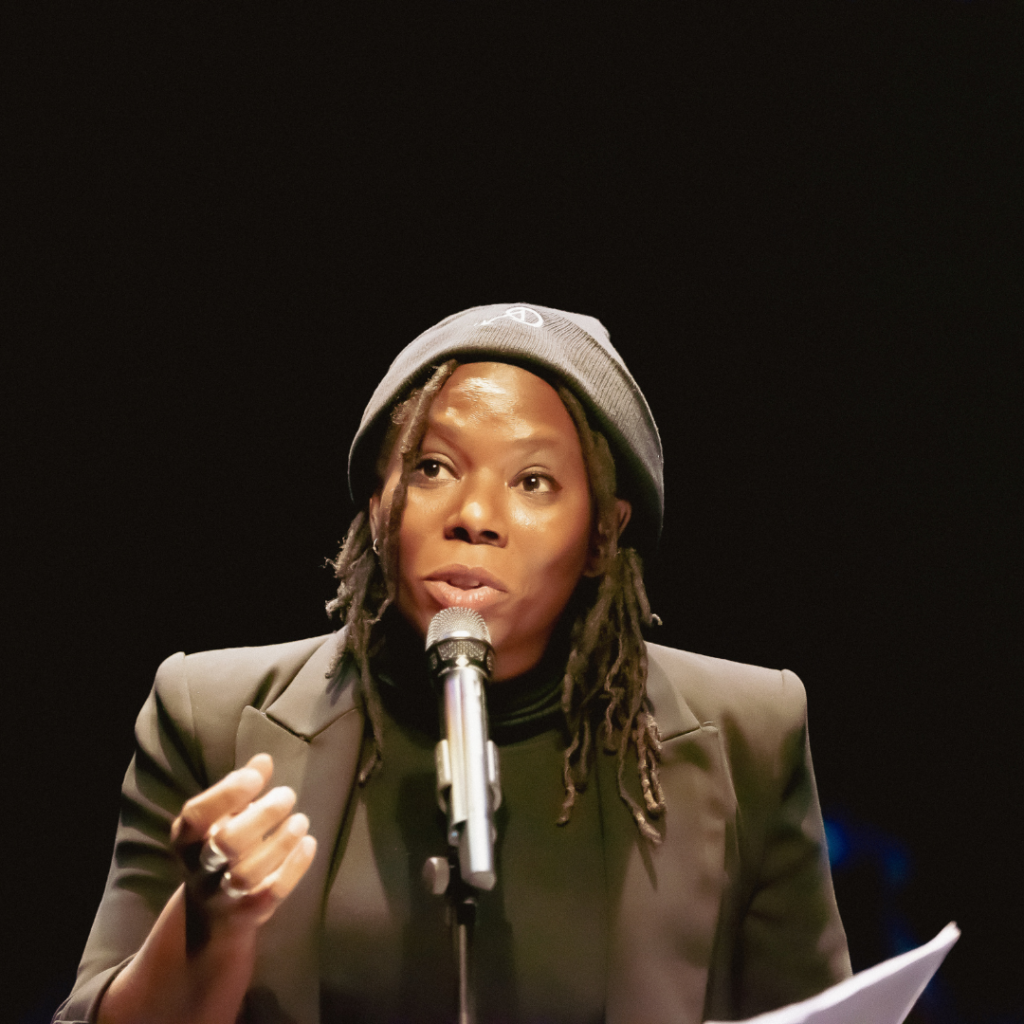 Joëlle Sambi, your first poetry book "Caillasses" just received a literary award from the SCAM. How do you feel about it?
I feel very happy about it and to be honest I felt very surprised at first. Actually, the prize that I received is for my entire literary career meaning my lifetime achievement in the literature field. As you know I wrote several fictions before "Caillasses" such as short stories and one novel. Even if I think that the enthusiastic reception that "Caillasses" my first collection of poetry meets is not without counting in the attribution of this price. I feel very honored as well because the SCAM is a group of fellow artists and writers. To get that sort of recognition or at least to be noticed by your fellow writers is always something nice.
Can you tell us a bit more about "Caillasses" How much of yourself can we find in those poems?
That's a good question. I would say there's everything about myself in it and then also nothing. It's really a book that I wrote with my guts if I can say so. The different topics that I explore in the book are very much linked to me being a black woman, me being a black lesbian and me living between Belgium and Congo. Moreover, I also talk about commitment and activism which are very important topics for me. But it's not just any topic, it's important aspects of my life, my interactions, my questioning, the decisions – good or bad – that I make. My political commitments, my actions, and my militant positions are not just an aspect of my daily life, no, they encompass every aspect of my life and that, whether I like it or not. One of the types of feedback that I get about « Caillasses » is: "There's a lot of rage in your writing, a sort of anger in the way you express things but at the same time there's a lot of softness.". I like this double-face aspect of the book because it also translates what I am but beyond that, more widely what others like me are and/or are going through. I think it really says things about how we navigate as a minority, as a woman, as a black woman, as a lesbian, and as just a citizen, a migrant citizen, as a person who believes that we are all equal, or at least that we should be.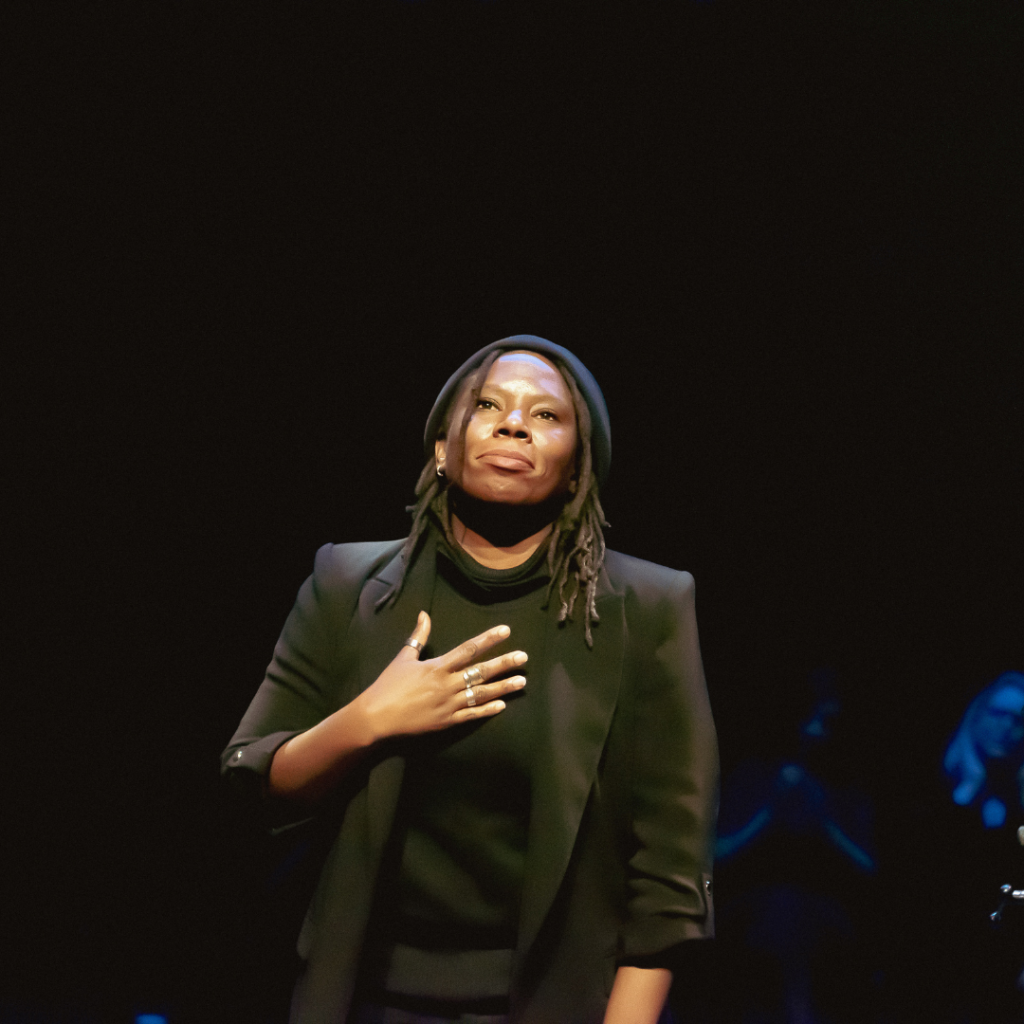 Can you explain the choice for the title "Caillasses"?
"Caillasses" are the gravel, the stones or bricks that have been reduced into small pieces. There is at the same time the idea that we are what one tries (in vain) to reduce to the state of dust but also this mineral element which makes damage when one throws it to your face. It hurts, it leaves traces… a bit like the traces left by "Le Petit Poucet" ("Hop o' My Thumb" in English) this little boy who drops stones on his way so people can follow his path. It is not at all the idea of going up the road (each one traces his own road) but more the idea of leaving a trace, like a way of saying "we were, we are". Not that I consider myself as a person to follow. It is more like there are different paths that we can take and it's up to each of us to explore them. For those whose experiences and accomplishments are constantly erased, reduced to dust, there is an urgency, an imperative of memory. "Caillasses" is also something that you can throw out of anger, that you can break or use to break things that are actually hurting you. For those whose experiences and accomplishments are constantly erased, reduced to dust, there is an urgency, an imperative of memory. There is a double aspect in the meaning of the word that can be perceived as positive or negative.
This is not your first published work since the novel "Le monde est gueule de chèvre" came out in 2008. How much has your writing evolved since then?
Oddly enough, poetry was the first form of writing I practiced, and this, from the moment I started writing frantically at the age of 12. However, I abandoned poetry and immersed myself in fiction, drawing boundaries between these genres that don't need to be drawn. Then, as my artistic practice progressed, I reduced – consciously or not – the gaps between my writings and their forms. I am currently working on my next novel. I had never considered poetry as something that would have an influence on me or play a role in my writing. As I started to go on stage in 2015 using slam poetry or spoken word, I realized how poetry may become something I could use, in fact, I was already using it. I became aware of the extent to which poetry already permeated all my words, my productions, etc. There's no real frontier between essays, poetry, and fiction seen here as literary genres. All these types of writing can affect each other. I do believe that poetry is everywhere and that you can write a very powerful academic and balanced essay in a very poetic way that touches much more people. I think that's where I stand now. I like to read, and my writing got fed by the work of Toni Morrison and Audre Lorde. Toni Morrison is a fantastic novelist as well as an essayist. She wrote an essay about self-love just before she passed. It is a series of articles and interviews she gave that is very powerful and poetic. If you read a Toni Morrison novel, and then you read that essay, you realize that there's no real difference in the writing. You can see that it's the same person and how powerful her writing is. She doesn't let the barrier that we usually put in a different kind of writing stop her. I like the idea of having poetry affect everything that I do. Since I wrote that first novel, I allowed myself to be freer in a way.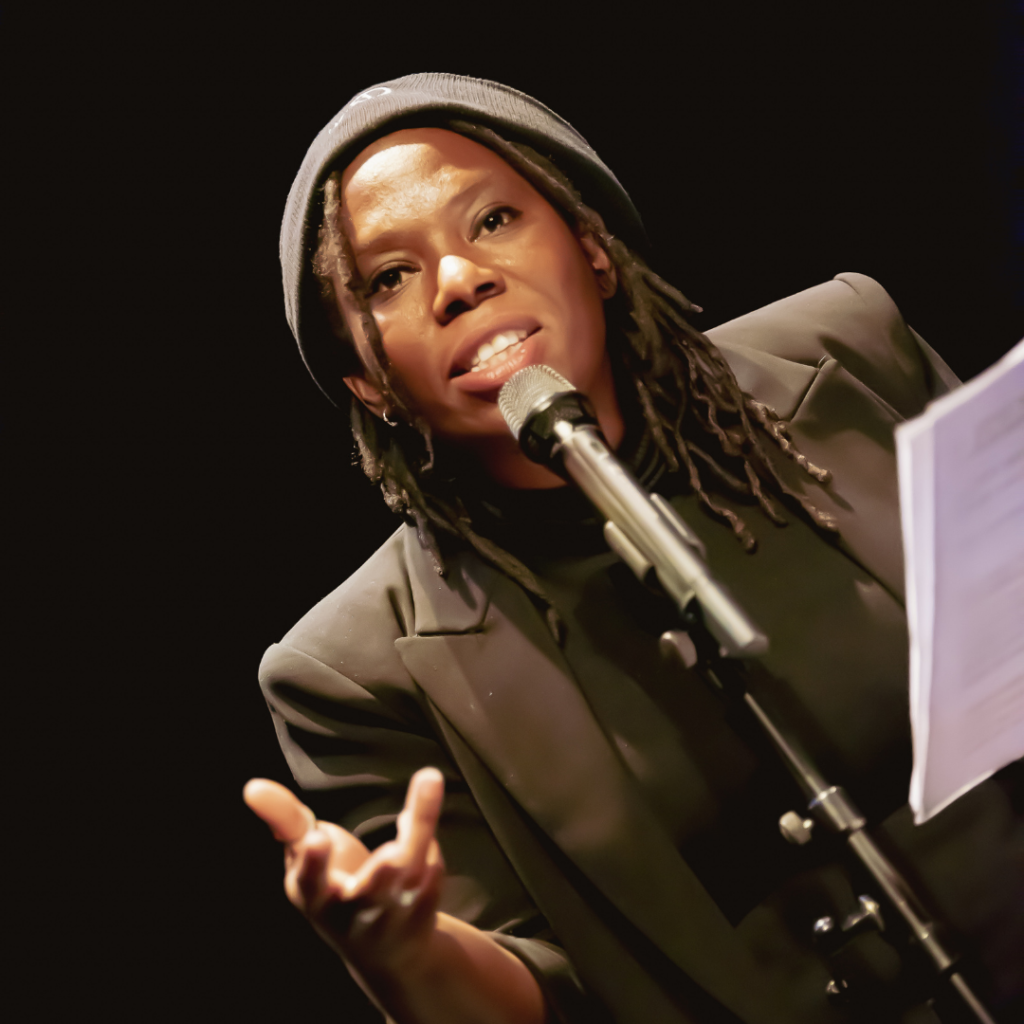 You are a multi-talented artist! Slam is the media we can see you perform on stage. You collaborated on many shows (Congo Eza, Fusion, Angles Morts, Koko Slam Gang, Witches on stage). You are also jury at the Belgian Theatre des Doms in Avignon Can we expect you back on stage soon?
I will, "Angles Morts" is my first scene created as a director, "Fusion" is a creation mixing slam and krump with dancer Hendrickx Ntela and "Koko Slam Gang" is slam poetry with Congolese grandmothers, Lisette Lombé and me and has been directed by Rosa Gasquet. I am working very much on going back on stage and besides that, I have this specific project that is linked to "Caillasses". It's kind of the same aesthetic as a concert, but it's in fact slam poetry with electronic music. We played two weeks ago at the "Witches On Stage" event. I will be on stage very soon, this summer with "Caillasses" probably at a big festival. In the next year, I'm planning on going more back to the theater kind of stages. There's no frontier for me whether I do a slam poetry show or do a theater piece. The important thing is being on stage but talking my truth on stage.
You are a queer afrofeminist militant and activist, co-president of EuroCentralAsian Lesbian Community, member of the Belgian Network For Black Lives, resident at Café Congo. Does this intersectionality really enrich and empower your work?
Well, it's who I am. I think there's a link between all those places. As I said before, I am a lesbian. A black migrant lesbian. And because I'm a lesbian, I think I try to find spaces and to navigate within spaces that are not too hurtful for me. That's why I end up at Café Congo which is a decolonial queer feminist self-lead space. We get no subsidies, but we have this space for all of us to get together. We pay our rent and then we have a space where we can work and create. It's like a maquis, a place where you know you can go to and then just create, debate, make whatever you want to do in order to fight the patriarchy. On a more "institutional" side, I'm the chair of Euro Central Asian Lesbian Community, which is the first European and Central Asian lesbian feminist and intersectional network. Our goal is to build a movement and a platform for lesbians by lesbians, to address and to change the lack of funding for lesbian-centered projects and lesbian-led organizations throughout Europe and Central Asia. The idea is to shape connections, share knowledge, find common languages and understandings of our diversities, building bridges that reach and impact far beyond the time and space at which they take place. I'm also part of "Mothers And Daughters" which is a Brussels lesbian and trans collective and bar. I always believe that poets and artists are part of society. For instance, I am not writing science-fiction, I write about our conditions whether they are made of happiness or sadness. It's just our regular life. All these incredible queer, lesbian, trans people that I meet within those spaces are the ones giving me such inspiration to tell stories. Their stories give me strength to keep going or anger to write about. I think nowadays it's not so easy to find spaces where you really feel able to develop and grow. Those are the spaces where I can do that, and which enrich my work.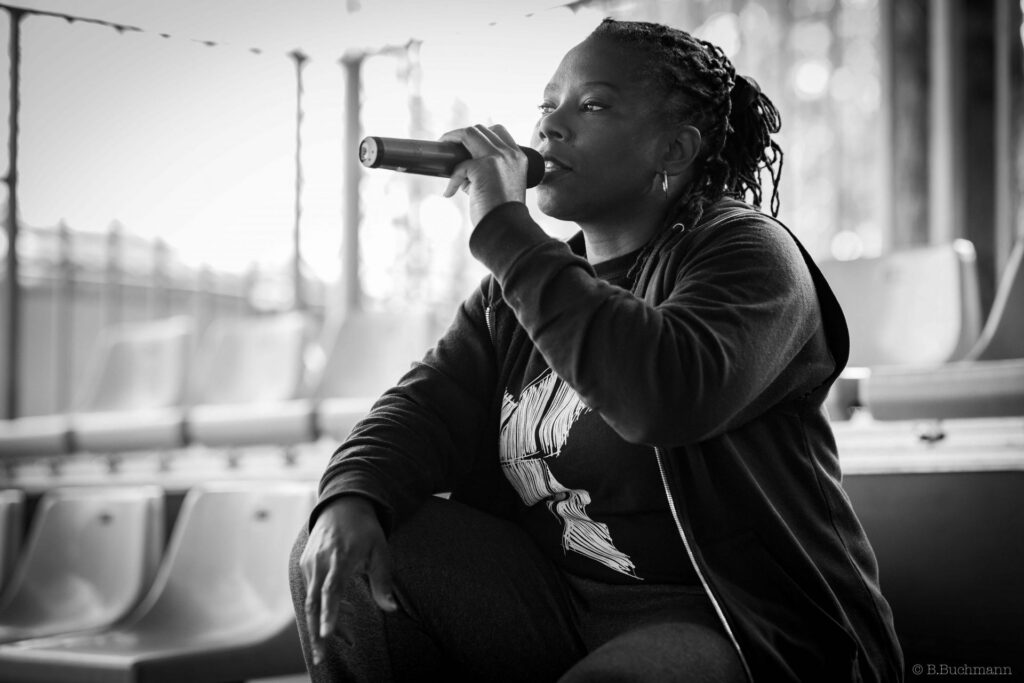 You are really involved in the Brussels queer community. You are taking part in many events. Are there any future collaborations we want to know about?
I'm this year associated artist at Theatre National. That's a big deal for me. It's a big jump from more alternative spaces to a more institutionalized space. It's a challenge for me for the five upcoming years. There is also the collaboration "Caillasses" on stage with the artist Sara Machine. During the day she's a beekeeper, and at night she makes afro house and electronic beats. We will be on stage together this summer and I'm very happy about that collaboration. I'm also collaborating with La Balsamine (Bruxelles), Théâtre de l'Ancre (Charleroi) and the organization Lezarts Urbains on a solo slam project. There are many other collaborations that I will have but so far those are the one I want to talk about. Also the upcoming return of the FatSabbat collective in Brussels. It's a collective by women for women, by queer for queer, by POC for POC. Can't wait, stay tuned !
What about your "Pinkshasa Diaspora" documentary project? Tell us everything about it!
It has been moving a lot since I started in 2018 and now my aim is to use this next year to finish it up. It took me awhile because videos and filmmaking are not really my field. I really took time to learn and to sort of construct the way I look at things in order to find the right material. I made many incredible interviews and images, here and in Kinshasa. The project is still evolving also I found a way to include poetry in it. I'm almost in the last step that will be choosing and picking up the images that will make it to the final edit. Hopefully, the aim is that the movie will be finished in 2023.
Picture credits : Philippe Braquenier, Tulitu, Sophie Souklas, Lyse Ishimwe, Barbara Buchmann-Cotterot