I recently met up with one of the Belgian rising stand up comedian. If you don't know her yet : she's Brussels, she's queer, she's Dena and she's the best. When she's not on stage at Kings of Comedy Club, with her one woman show "Dena Princesse Guerrière", she keeps being hilarious on her social media (Facebook : @denacomedy, Instagram : @denadivah). But this is not all, next to being funny, she is also committed to multiple causes such as the queer community of Iran and she has a lot to say. So many topics discussed in her new talk show "Le Moment Dena" on Proximus Pickx+. Meeting her was the chance to catch up and chat about her projects, her feelings and her beliefs.
Dena, you are back on stage at Kings of Comedy Club with your One Woman Show "Dena Princesse Guerrière". You have now your first talk-show "Le Moment Dena" on Proximus Pickx+ and you just came back from Cannes Film Festival. This is a lot of new projects?
Well, I'm feeling wonderful because of all the things you just mentioned. I'm very lucky to have had all of these projects going on. It was actually a nice break for me not to be on stage for a while because it's such an intense lifestyle. I enjoyed the break because it gave me time to relax and think about which direction I want to go and what I want to say. I did more research about the topics that I find important to talk about, like the LGBT policies in Iran which are absolutely horrible. It gave me a lot of new material to write comedy about and most of all, I feel like now that the cultural sector opened, I have a new energy. I also can feel the positive feedback from the crowd that is going wild (laughter). I feel like this is because I am feeling so much better in my own skin, in my own sketches and in my own comedy. It's just a nicely balanced package.
For our KET Magazine readers who didn't have the chance to catch up with your talk-show "Le Moment Dena" yet, could you tell us a bit more about the concept? What kind of topics and guests can we expect ?
Yes, so it's on Proximus TV (Pickx+), so you need to have a subscription to their service. It's not on national TV yet but it's a talk show like we are used to see with Oprah you know (laughter). I invite two people on every episode to have a chat and I have amazing guests of all types. The first episode was a special episode because it came out during pride month. We had Renaud Delauvaux from Cabaret Mademoiselle and Tom Devroye who is responsible for Maison Arc En Ciel Wallonie. Later I had DJ Rokia Bamba who is an incredible human being, Bruce Blanchard who is a choreographer and DJ, Maja Ajmia from Bledarte and Elisa Vandekerckhove, both filmmakers. There were illustrators, artists, cooks and even people from reality-TV. They were awesome and I loved to hear about their experience. It was really a nice mix between captivating moments, emotional moments and hilarious moments. Every season is 12 episodes and we are going to record season 2 soon and who knows who is going to be on the guest list!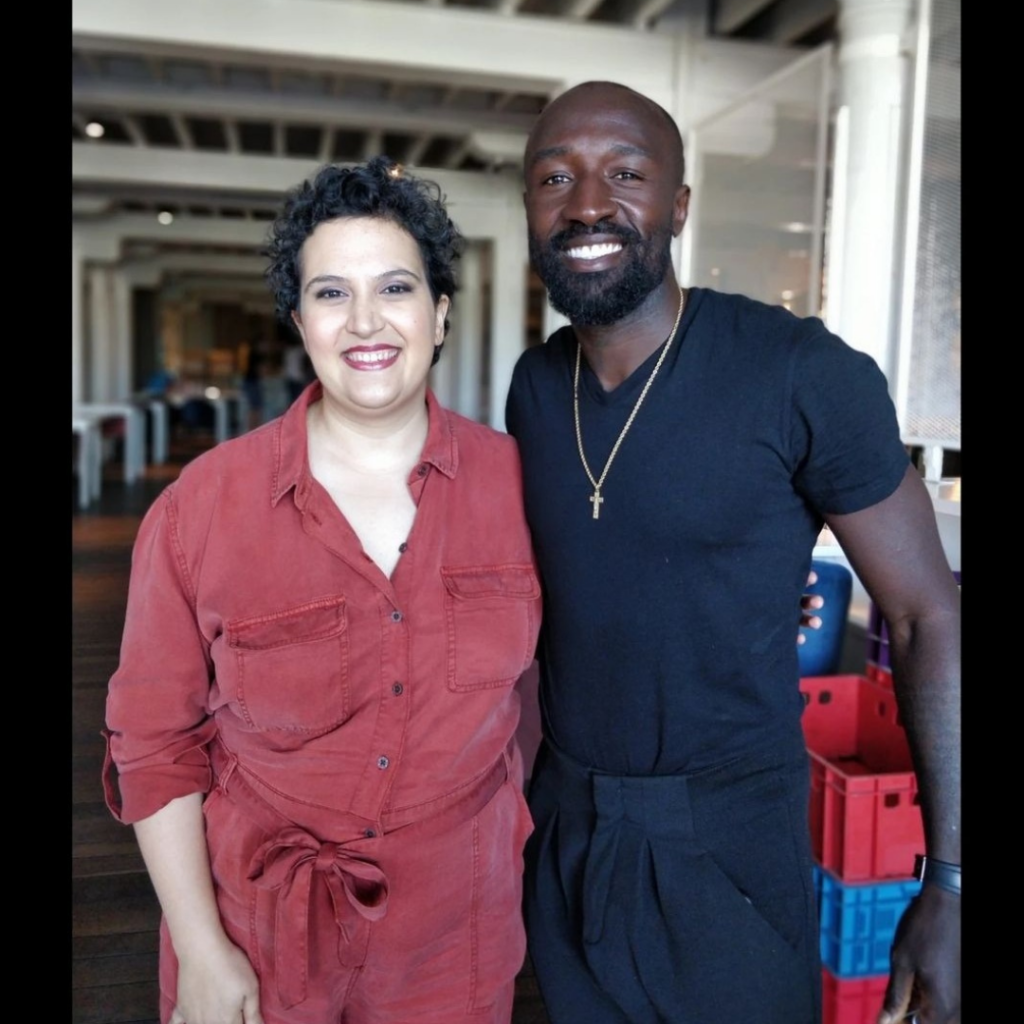 I even heard that you were on your turn invited in programs from your guests?
Indeed, it's such a cool exchange. For example, I invited DJ Rokia and she invited me to her private showcase. My first guest Renaud also invited me to take part in his podcast "Boop and Edna" for a special episode about Belgium. It's super fun because it's recorded with a live audience at Cabaret Mademoiselle with my friend and colleague Fanny Ruwet. I am happy we have these moments again. Altogether, the COVID break was a moment to take some time for myself, but I absolutely needed to be back on stage. Back with people and back with real laughter.
Do you feel it is true if we say you are "nen echte brusseleir" as we say, since you are even bilingual in your profession ? Not a lot of comedians are performing their art in two languages such as French and Dutch. How did this all happen ?
It's true, I absolutely consider myself as a real brusseleir. I was born and I live in Ixelles. We can even say I work in Ixelles since I'm often performing at Kings of Comedy Club. I really feel Brussels because I have this typical Brussels' bilingual aspect being omnipresent in my life all the time. And at the same time, I feel very European, too. Plus with my Middle Eastern baggage, even if it looks like a cliché, I feel like a citizen of the World, which is why Brussels suits me so well. I am super proud to be able to do my show in two languages. When I do my show in French or in Dutch, it gives me a new vision on my own show every time and this is the benefit about doing comedy in different languages.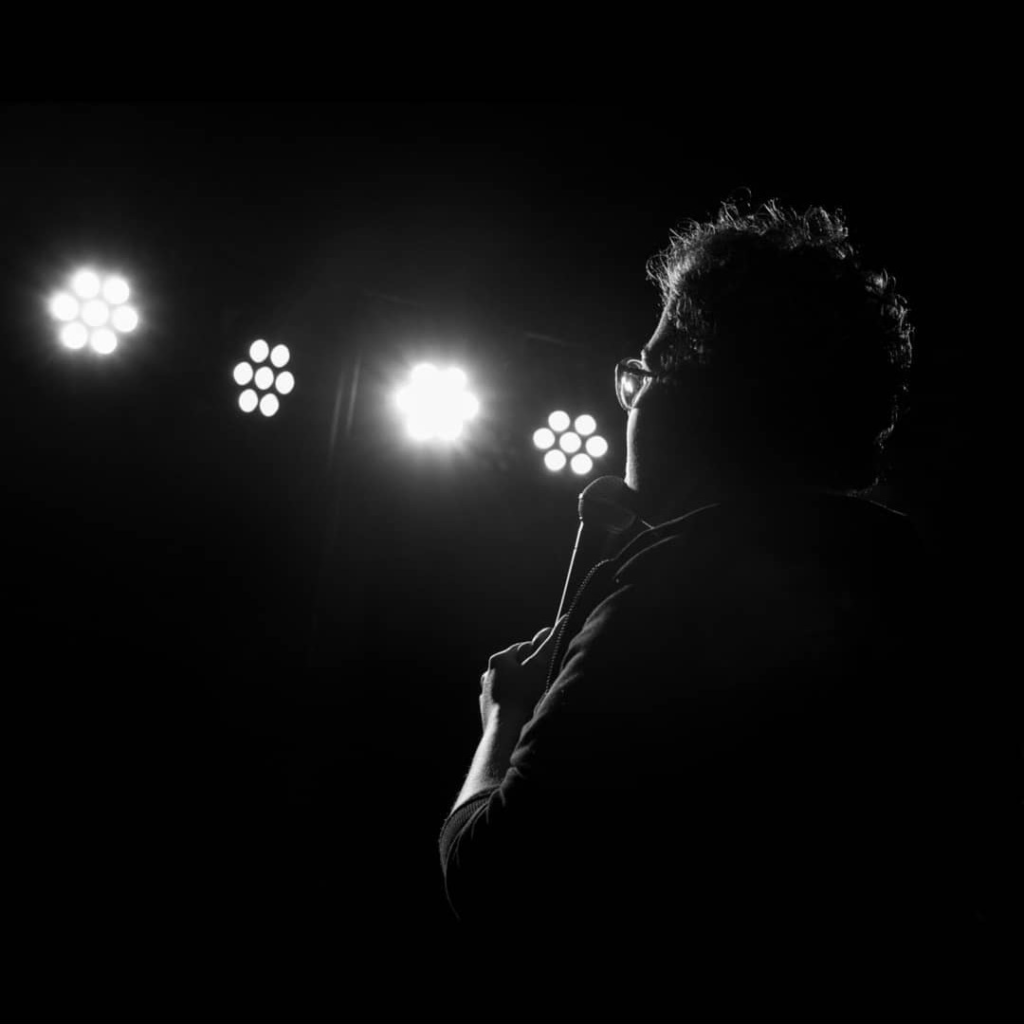 In "Dena Princesse Guerrière", you mention your queerness a lot on stage. How is it to be a queer comedian in Brussels. Could you tell us how it is important for you to be involved in the Brussels queer community ?
I am very proud about my identity and this is a fact : I love saying that I'm Belgian, Persian, and lesbian. I think it's very important to raise our voice and say it out loud. I hope it will echo from here, in free Brussels, where I'm standing, to places where people are not free to be lesbian, places where you risk your life to say it out loud. It's for those people that I scream my gayness. I think people want to hear about our stories. I'm lucky, my story is positive. I'm in Belgium and not in Iran, so I have this freedom and I can explore my orientation. I can talk about it. I really like to be a part of the Brussels queer community because it's very welcoming. In Ixelles, for example, when you go to the communal house, there is an LGBT+ flag and there are information panels about it. Those little steps are already huge. Especially for me, as a Belgian Persian, if I compare this to the Iranian way, it's another world.
You also often love to talk proudly about your Iranian roots. It also must'nt have always been easy as a queer woman. What are your thoughts about the situation of queer people and women in Iran ?
So again, I am lucky to be born here. A lot of people who are queer in Iran suffer from the inhumane measures. I have no words. It's not OK at all. Everything is underground, everything is hidden, everything is secret. You risk your life for being who you are.
There is sometimes confusion over there between homosexuality that is forbidden and gender identity and transgenderism that is allowed. How do you understand this ?
Yes it's confusing. You can be a trans person, it's completely allowed. I even talk about it in my comedy show. It has been allowed because the Ayatollah was touched by the story of a trans person. That's the only reason, there was no research. This makes no sense at all. In my show, I say that it is unfortunate that the Ayatollah is dead, because otherwise I would have invited him to my show and maybe he would have been touched by my story and allow Persians to be at least lesbian. There is so much work to do in Iran. It's a horrible situation, but I feel like the new media, especially Instagram that is not allowed but still used widely in Iran, puts a little spotlight on the Persian queers. And there are more and more Instagram pages to help those people over there, even from outside of Iran. Of course I love to support them, follow them with the hope that one day they will be able to be free.
As we said, you had the chance to go to Cannes Film Festival this summer. How was your experience?
It was super hot (laughter). Hot because the weather was, but also hot because it was, you know, so wow, so glossy and so hashtag fashion, and it was unbelievable : The dresses, the make up, the stars, everything… And then, I got a wink from Adèle Exarchopoulous who is the hottest movie star I know. I will never get over this moment. I am still playing it in my head over and over again. I'm happy my head doesn't have a battery because otherwise it would already be dead playing it so repeatedly. Cannes was a phenomenal opportunity for which I want to thank Proximus TV again. We were there to make a documentary episode about the Festival. I feel like I had a view on the backstage of Cannes Film Festival as a sneak peak for when I will officially go (laughter). Now, I'm even more prepared to go. I cross my fingers. One day, if I walk as a star on the red carpet, I will know what to do.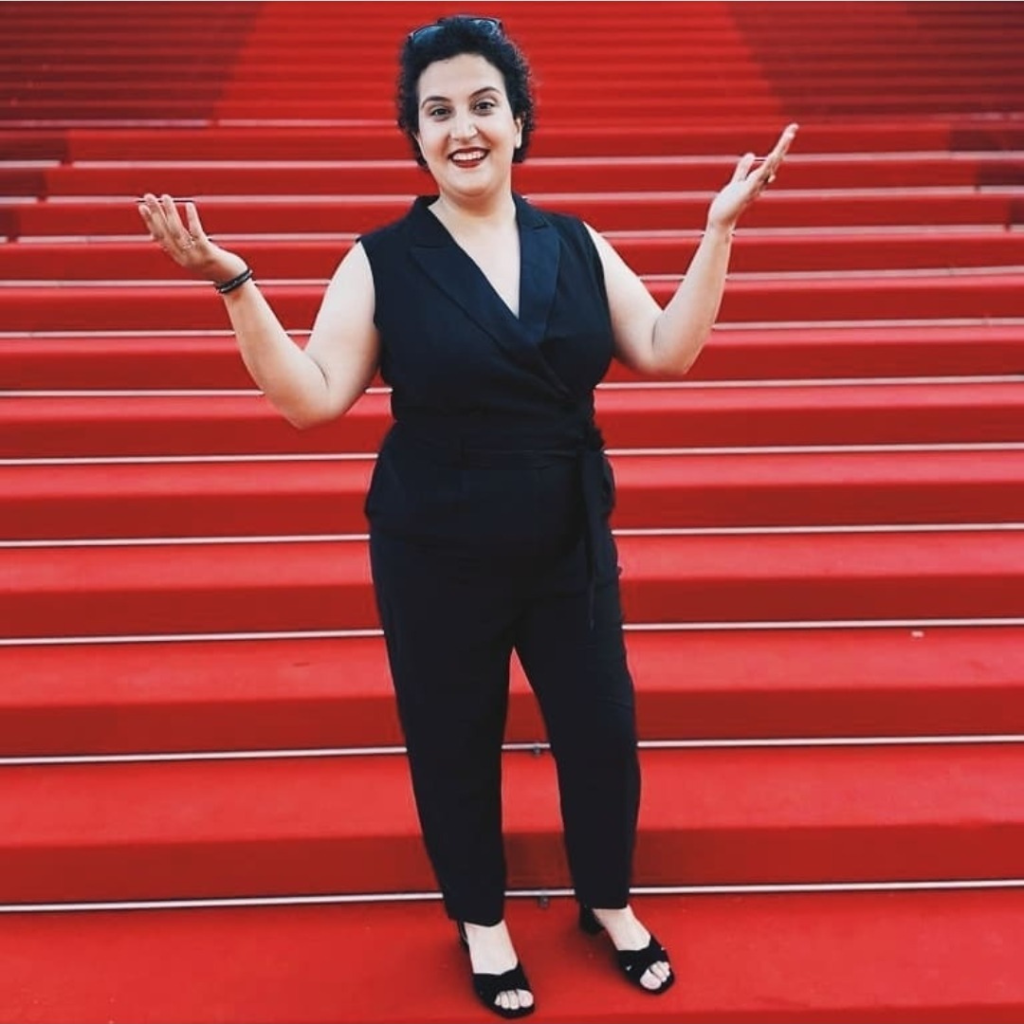 What do you think of the Queer Palm selection and jury ?
I love Nicolas Maury, the head of the jury. I have loved him since I saw him in Dix Pour Cent (Call My Agent!) on Netflix. I think he's fantastic. I discovered it's about almost 10 years that they do this Queer Palm but it's the first time I personally heard about it, which is a sign that it needs more exposure . Compared to all the other sections of the Cannes Festival that have been talked about, I almost saw nothing over there about the Queer Palm except in a super small article.
To finish, since KET Magazine is also about Brussels. Could you tell our readers something about your city that makes it special to you (place, memory, feeling, advice, …) ?
If there is something that I always tell about Brussels, it's that Brussels for me is like the face of Jacques Brel. When you look at him in the first seconds you don't think "oh he's hot!" or "he is good looking!". No, you say "ooh he has a weird facial architecture…". But the more you look at him, and the more you listen to him when he starts to talk and to sing and to show his talents, the more you fall in love with him. At that moment you think "Oh my God, he's so beautiful, he has so much charm!". And for me this is exactly the same for Brussels. When you look at the city for the first time, you're like, OK, nothing special. You have some places and spaces, but you're not especially overwhelmed like you could be in London or Paris. But then you get to know her. You get to know Brussels and you're like "Wow, so much charm!". You feel like you have known her since forever and that's why I love my city so much.