Written by Leon Gabriel
Sometimes in people's lives there are fortuitous encounters that become lasting relationships. That's what happened between the French photographer Marc Martin and LaVallée in Molenbeek, a community of artists and creative entrepreneurs who offer a varied cultural program as well as spaces for rent.
In 2020, Marc came to LaVallée to present Les Tasses – a multidisciplinary work revealing the hidden side of public urinals. His exhibition met with immense public success and the artist was awarded the Prix Sade for this work.
Recently, Marc Martin and his team were back in Molenbeek for the shooting of a music video around Othmane's reinterpretation of "Mon CRS", a song by Annie Cordy first recorded in 1977. The CRS is embodied by the young actor Mathis Chevalier. Ket magazine was there to meet the team and discover this new project, full of promise.
We are in the courtyard of LaVallée and Marc – with a smile – welcomes us, eager to share with us his new project.
"By staging the love between a representative of the police and Othamne, a non-binary singer, I chose to carry high the colours of tolerance in circles still considered very homophobic," explains Marc. "A sensual cover of a song by Annie Cordy will allow us to move the codes on the side of past generations because we especially remember Annie Cordy as being funny. Today, this song in the voice of Othmane will be the flag of the Coming-Out in the Police. One more gateway to the message of living together".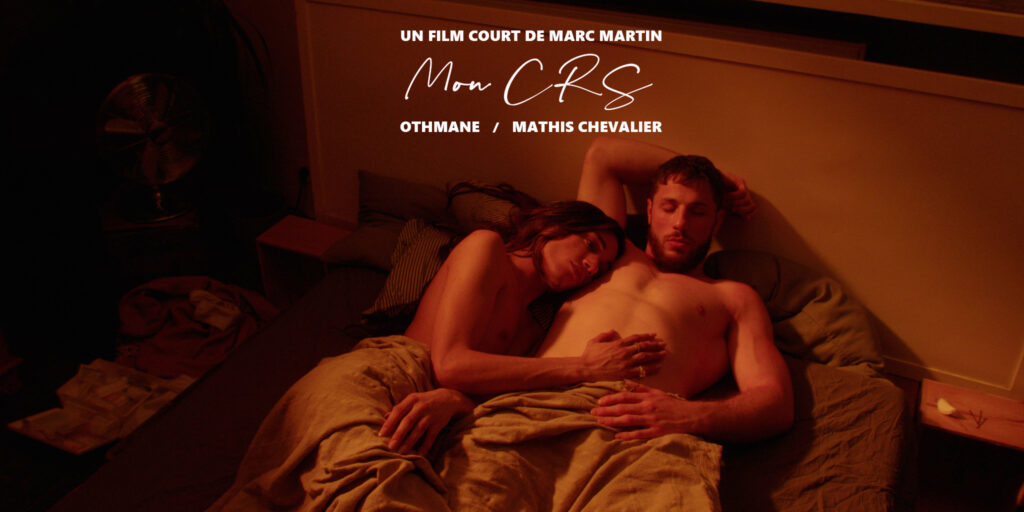 A budding actor and a non-binary singer embody an encounter
Mathis Chevalier is 23 years old – he has several titles of English boxing champion to his credit. Here, he tries a new kind of fight and the least we can say is that he lights up the screen and is happy to feature on the poster for this film.
"Normally I give MMA lessons in Grigny – a suburb of Paris," explains Mathis. "But I've also signed up for theatre lessons and I choose roles as far as possible that are the opposite of the 'macho' world in which I have existed so far".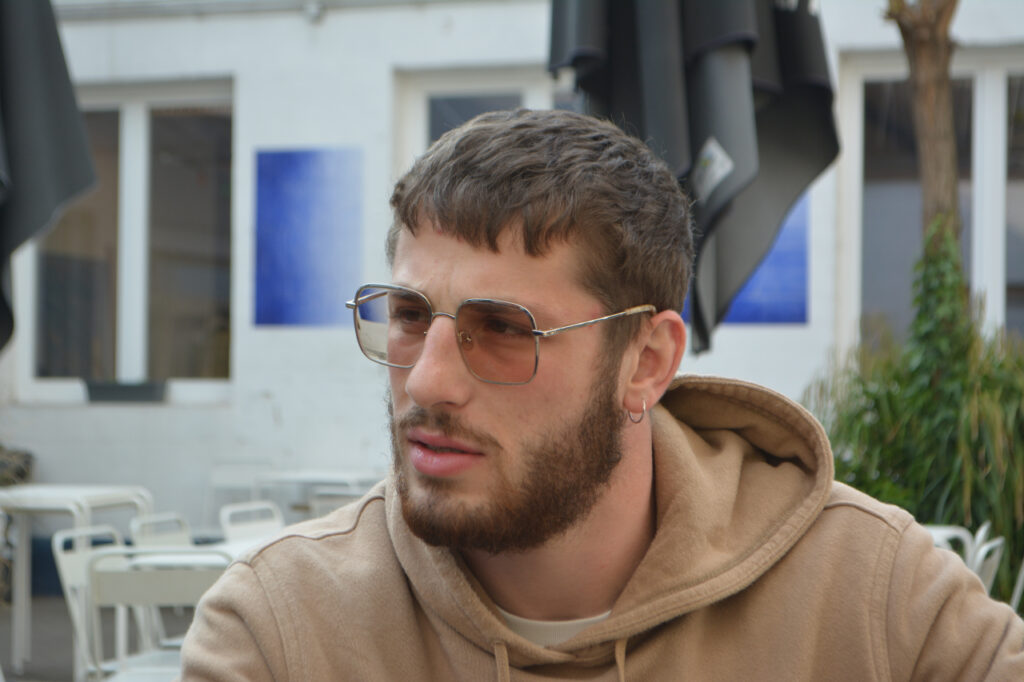 Othmane carries the song like a new standard. Of Moroccan and Algerian origin, as an effeminate child they were often the subject of ridicule. They took refuge very early in a world of fiction and glitter. Rejected by their family as a teenager because of their sexuality, they arrived in Paris with the ambition of succeeding in show business. Their androgynous and glamorous physique opened the doors of fashion and shapes their artistic approach.
"In this film, I play a cabaret singer," explains Othmane. "My androgynous and feminine allure delivers a message of otherness of which I am very proud."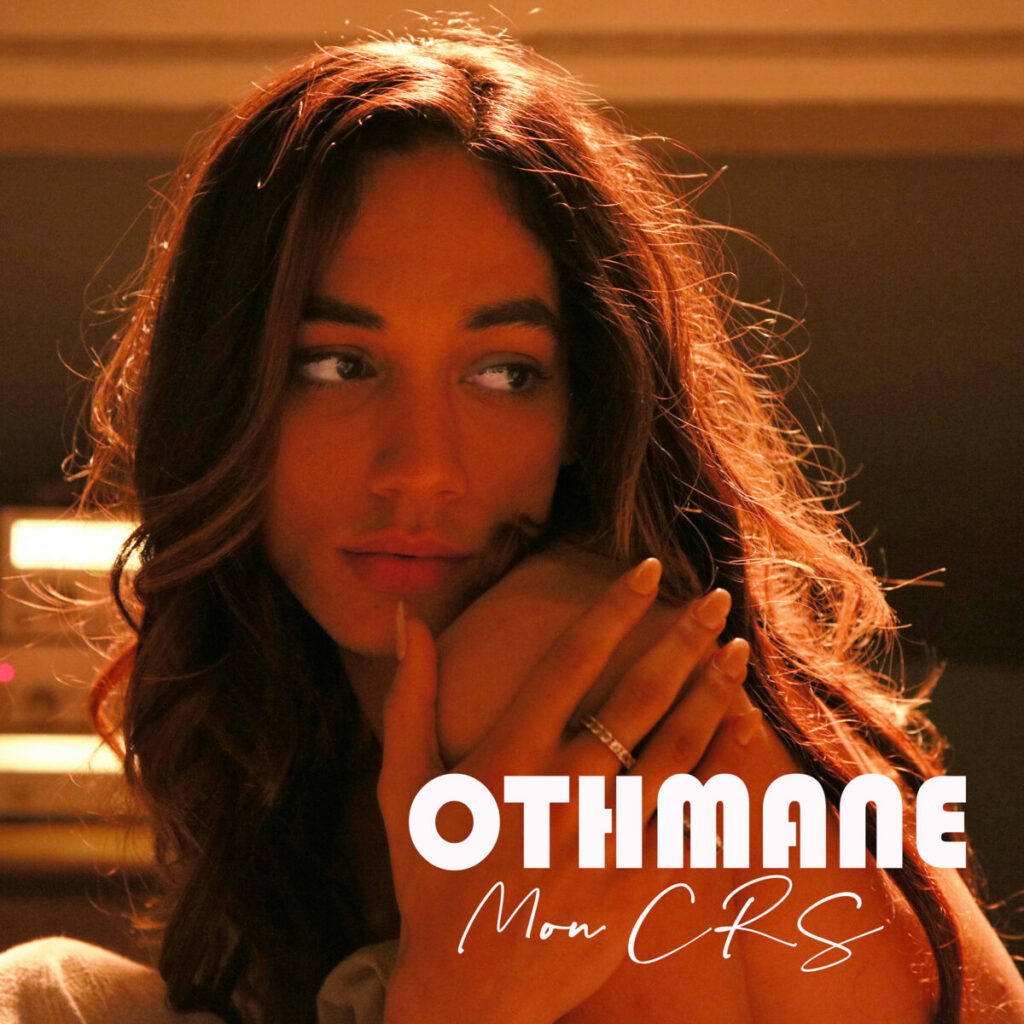 "I would like this short film to be seen as a kind of modern Romeo and Juliet, minus the tragedy," adds Marc. "It tells the story of two young people who will love each other despite appearances and prejudices linked to their respective particularities."
A revisited song, following an unlikely meeting with Annie Cordy in 2014
The soundtrack was found in Annie Cordy's seventies repertoire: "My CRS". Marc Martin – born in Roubaix in 1971 – was friends with the most famous of Belgian singers.
It was in 2014, during a meeting at the Wallonia-Brussels art centre, that the photographer first mentioned the project for this cover to Annie Cordy.
"It's a song that went unnoticed in the singer's career," says Marc. "I even wondered if she would remember recording it! On the contrary, Annie immediately grabbed the acapella chorus! With a sparkling eye, she told me that she particularly liked this song, as incongruous and unknown as it is."
Brought up to date musically, this fantasised ode changes tone and dimension today.
"And here is Annie Cordy becoming a posthumous spokesperson for non-binary people and coming-out – at the CRS!" concludes the photographer turned director.
Marc Martin the photographer who breaks the clichés
The film wants to move away from clichés linked to law enforcement and sexually marginalised people. Clothing has always interested the photographer Marc Martin in what he translates public or private representations. Professional or personal. In this clip, Marc Martin's fetishist eye does not dwell on the erotic potential conveyed by the uniform. It strives to reveal the person behind the outfit.
"It was important to go beyond the usual vision of the CRS," said Marc. "Similarly, non-binary people are too often associated with the caricatural image of drag queens and the underground world of the night."
This short film – Mon CRS – fights for the respect of LGBTQ rights and Marc Martin pursues his artistic commitment for the visibility of minorities in all the richness of their diversity.
After this afternoon spent together, we can only say one thing, we are already looking forward to Marc's return to Molenbeek to develop a new project there.
Mathis and Othmane performed the song on the main stage of the recent Pride celebrations in Brussels.
You can see a preview of the video here
Click here to download the track