Berlin-based Belgian boy, Louie Van Nieuwenborgh, has found a way to bring his passions together – fetish and food.
Flouxus is the result of Van Nieuwenborgh's roller-coaster weekends that blended kink-fuelled nights at clubs such as KitKat, Lab.oratory, and Berghain with chilled brunches at his flat in Kreuzberg.
Van Nieuwenborgh began sharing these Food + Fetish images on his Insta, and he's about to release a collection of 30 recipes that are ideal for entertaining kinksters.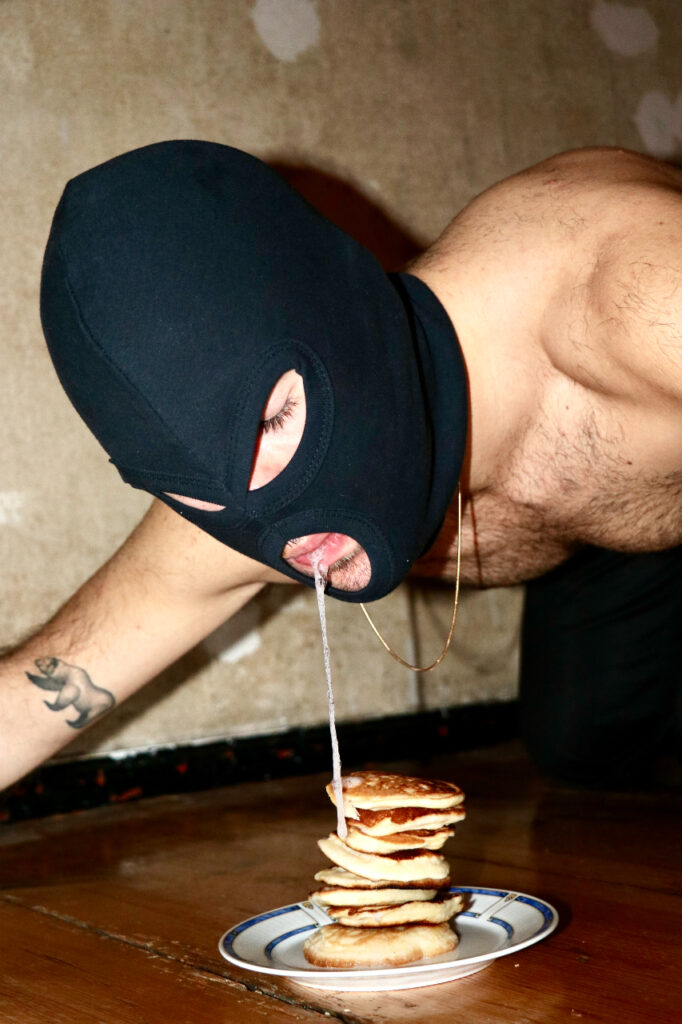 I caught up with Van Nieuwenborgh for a behind-the-scenes look at the Flouxus phenomenon.
What took you from Belgium to Berlin?
I graduated in 2018 with a business degree from Ghent University. Even though this degree is pretty useful, I didn't see myself working at a bank or a marketing department at big corporations like my peers would do. I felt a need to explore myself in a place where people with many different views from all over the world would move to.
I felt like I was lacking this while living in Belgium. Perhaps because I wasn't part of the creative community there – I'm pretty sure there are a ton of open-minded people in the bigger cities.
So, I applied for an internship in artist management and moved to Berlin during the summer of 2018. I was 21 at the time, and very naive and playful in many ways.
It was an instant wild ride – from week-1 onwards – and I haven't regretted it ever since. Although, looking back, I'd tell my 21-year old self to indulge a little less.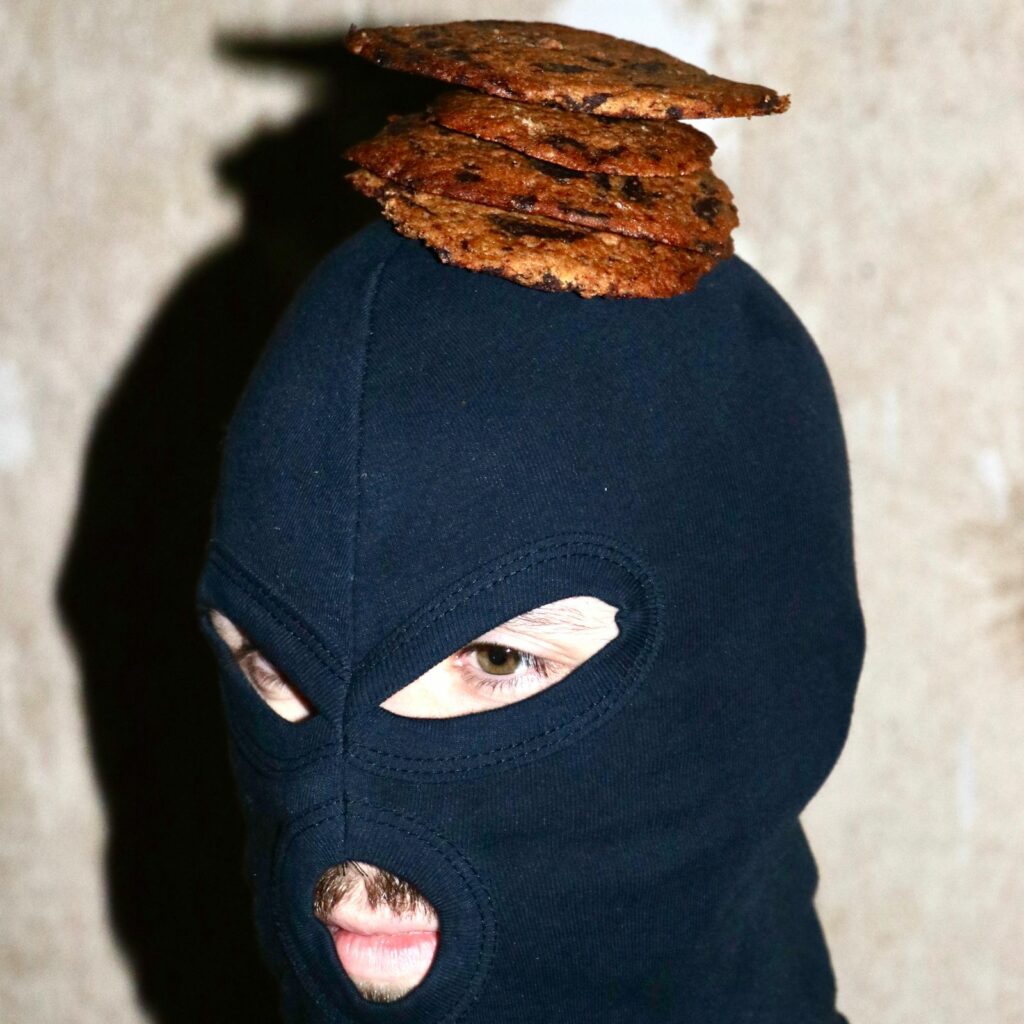 In your experience, how does clubbing in Berlin differ from clubbing in Brussels?
There's a general sense of open-mindedness in Berlin that's hard to replicate in another city. This stems from the post-cold war times, where freedom was the primary drive of Berliners.
Also, at that time, the city was considered a place for freaks, where nobody 'normal' would want to live.
My neighbour – who has lived in this building since the 80s – used to host raves in the basement of our building.
Even though things used to be a lot less regulated and more under the radar, this era has left a clear influence on the city. It's not uncommon to go to a queer party and see people having sex on the dance-floor, for example. Most clubs have a darkroom, drugs are generally accepted ,and people don't judge so easily here.
A lot of clubs – like KitKat or Berghain – have a door policy. Although it has become more of a pathetic game now to look a certain way in order to get in, I think it's very essential to have a door policy – not only for clothes, such as wearing fetish gear at a sex party, but also for having an open and kind mindset. If you're a drunk group of five cis guys looking to hit on 'hot chicks', you're very unlikely to get in. Or if you're behaving like a hooligan while queueing, of course you won't get in either.
These clubs are meant to be safe spaces, where you can't take pictures and anyone can do or be whatever they want, as long as you don't offend anyone. I think that's something to be cherished about the Berlin clubbing experience.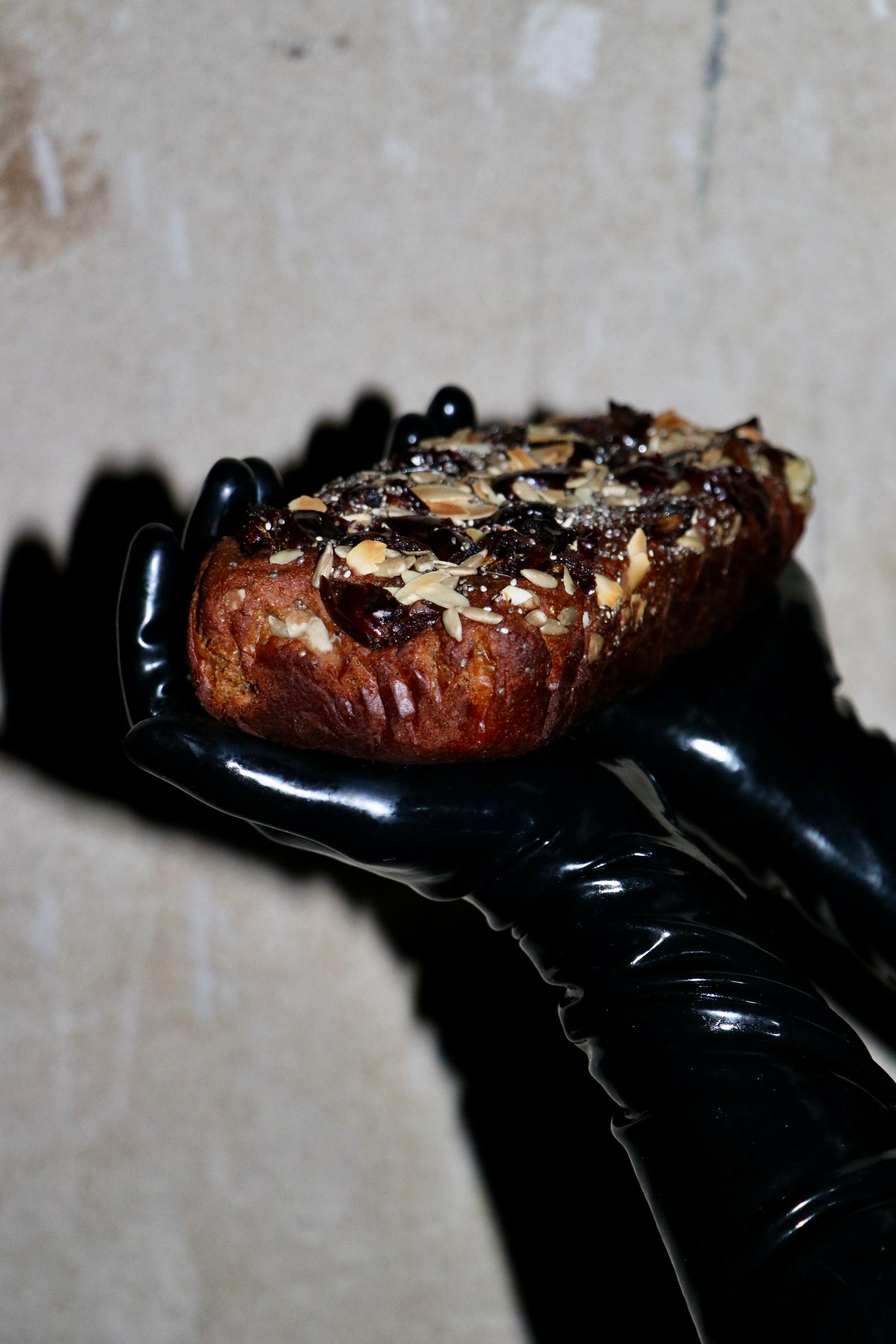 What are some of the challenges when cooking for kinksters and clubbers?
There are almost none.
That's the interesting part of my project, Flouxus – it combines something as common as food with a more niche thing, kinks.
I mostly develop recipes separately from the person I'll be shooting, because I draw my food inspiration from other sources than the kink world. Whenever I shoot someone wearing their kink outfit, they're genuinely indulging into my food. And then the fun part starts.
The kinksters can hold the food in whatever way they feel like, as long as they feel sexy, confident, and comfortable.
My absolute dream is to throw a fetish club night with tons of food and capture people doing the craziest things all night long. I'd blur their faces though, so that people know it's a safe space. It would be amazing to turn this into a book!
What are some of the foods or dishes that you find the sexiest?
Anything creamy, thick or juicy.
I recently poured a tahini-chocolate spread over the bald head of my friend Tonja, and damn – that was hot!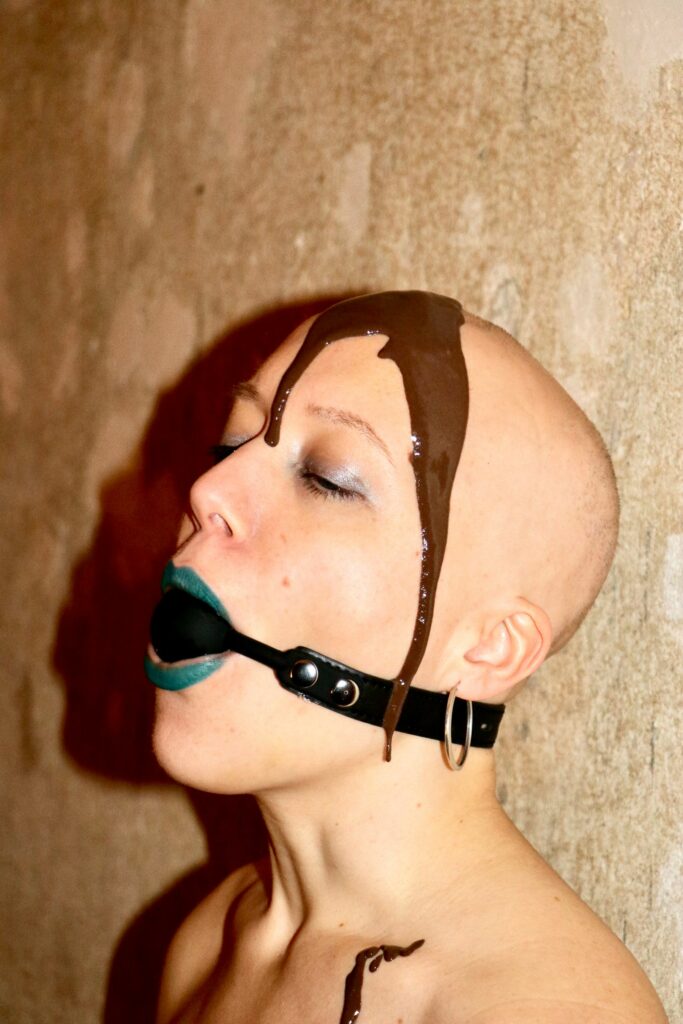 However, I think you can turn any dish into a hot kink pic – it's all about the energy of the model with the food.
My most recent creations for example are a polenta pear cake, red wine grape cake or flax toast. Each one of them in a kinky position.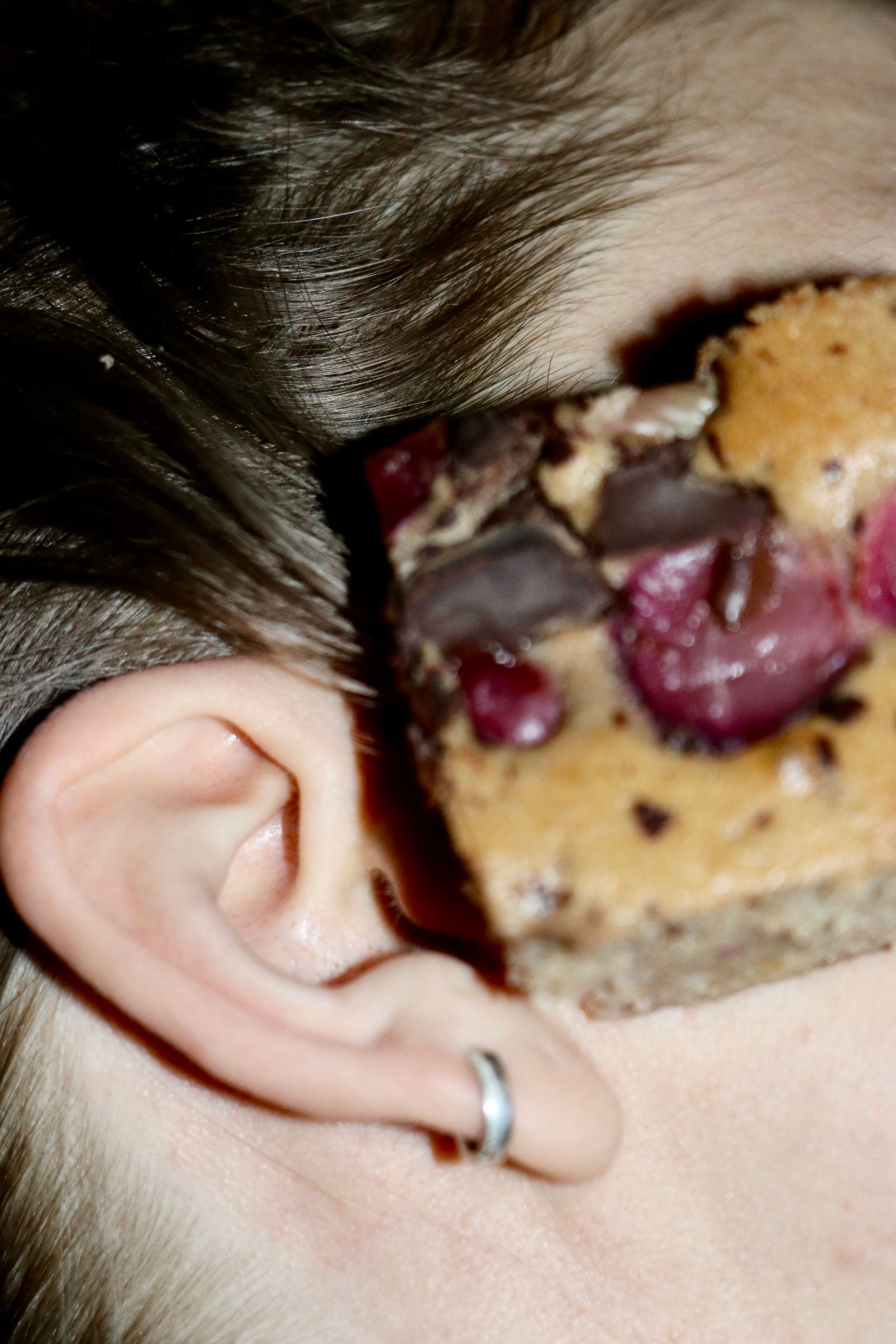 What's the ideal meal to eat before having a kinky night out in Berlin?
I swear by falafel or kebab.
It's most likely one of my biggest addictions here, and luckily it's a very cheap one.
How do you want people to feel when they're reading the Flouxus collection of recipes and photos?
I want people to feel inspired to get cooking AND explore their sexuality, as in "I would love to make this recipe" but also "wow, kinks are actually quite interesting. I might buy a rubber outfit cause it looks so hot".
The purpose of my project is to combine recipes – something a lot of people love – with kinks. Kinks are more common than most people think.
Kinks are still too much of a taboo subject – lots of people might have a kink but they don't tell other people about it because they're ashamed. There's no reason to be!
There's no reason to photograph yourself and send it to all of your colleagues, but everyone should be able to talk about it openly with people they can trust and relate to – whether that's friends, family, a therapist and so on.
Living in Berlin has allowed me to be open towards many things, especially when it comes to sexuality. The more you can talk about it and express it, the more you can be at peace with yourself.