Meet King Kovaci, a multitalented queer artist based in Brussels. Singing, songwriting, DJing or producing, founding collectives or hosting podcasts, you can't miss Kovaci's work and involvment in the queer scene. Isuf, by his first name, loves to include influences of his Albanian roots into his work and mix it with queer influences resulting in a beautiful cultural melting pot.
We've met with King Kovaci to discuss all of his activities and views on queer topics.
Tell us a bit about yourself. What has been your journey?
My name is Isuf Kovaci, also known as King Kovaci. I'm a singer, songwriter, producer, and DJ based in Brussels. I'm also the vice-president of Collectif Les Bastards, co-host of Queermongering, co-organizer of Propaganda, and co-founder of Transpédégouines. And I'm a parliamentary draftsman at the Parliament of Brussels during the day! 
I'm the child of Albanian immigrants who fled their home country to escape death and poverty in the oppressive dictatorship, and I carry that part of me proudly everywhere I go, because I'm constantly reminded of the islamophobia and xenophobia that my fellow Albanians endure every day, and it's really important to me that I represent Albania amidst often very bigoted people. I actually spent the last 20 years under the name Jeremy, because I grew up in very racist environments and « Isuf » sounded too Muslim and too foreign in white suburbia. It's only one or two years ago that I decided to introduce myself as my birth name again.
Every month or so, I get DMs from fake accounts on Instagram, from closeted queer Albanians who confide in me. They tell me about the dangers that they face, the fact that they can't express themselves or that they're in a very religious family. They all tell me that they're very inspired and hopeful seeing me, Albanian, gay, and out to my family (wasn't particularly easy), in a long-term relationship with a Turkish man, and expressing myself through art. It's the reason why I put my fears aside, ignore the death threats and keep being my true self. The more I'm visible, the more my queer siblings will be safe.
What are your current or future projects?
I'm doing a LOT lately. I've wrapped up directing "Hurler à la Mer" with Collectif Les Bastards almost exactly a year ago, and it feels like the train never stops moving:
I'm currently working on my first album, but it's a long process because I write, compose, sing, and produce everything myself in my home studio, and I'm my own worst critic. I'm also working with wonderful queer artists as a songwriter and producer. Listen to « Italo Daddy » by Chaild, I helped write that song! Then, there's all the work with Collectif Les Bastards, including a revamp of Hurler à la mer and other secret projects coming up…
Then, there's Propaganda. I'm the resident DJ and third wheel organizer of this wonderful drag and queer show that highlights performers with background similar to mine and the main organizers', Belligerency and Krasna. We really felt like our identities were erased and not celebrated at all in Belgium. Albanian, Balkan, Armenian, Caucasian (from CAUCASUS — not Karenland), Chechen, … they're just ethnicities that Belgian people have learned to fear. We wanted to shed light on that and celebrate the queer members of these nations who often must choose either one of these identities. I've heard many times that if you're gay, you can't be Albanian. We really want to showcase SWANA, Eastern-Southern Europe, and West Asia in Propaganda.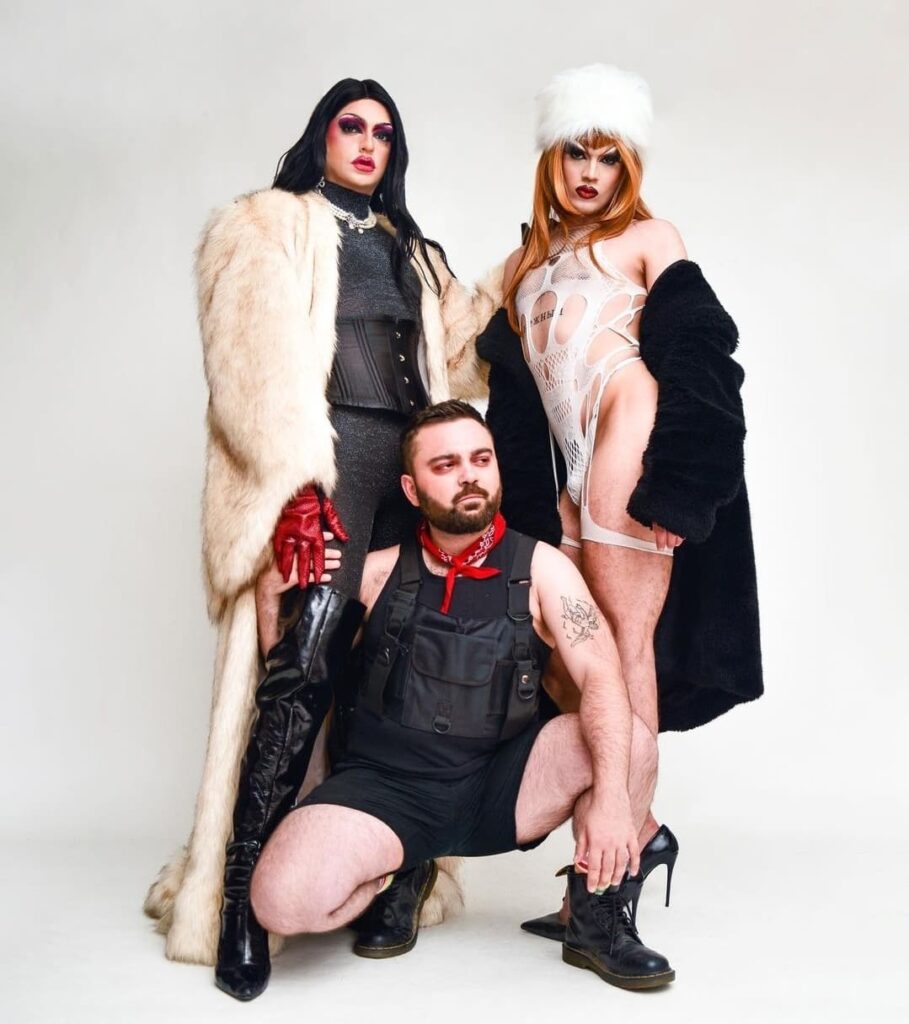 Then, there's Queermongering, which is the podcast/radio show hosted by Belligerency and myself, where we explore topics like fashion, second families, xenophobia, and personal experiences through the queer point of view, in collaboration with Radio Vacarme, a feminist and queer independent radio in Brussels.
Then, there's Transpédégouines, which is the brainchild of Collectif Les Bastards and several wonderful people. We joined forces with various activists to organize the first ever inclusive Pride march in Liège, and it's become a monthly event where we offer a safe space for the queer youth of Liège to exist, explore and enjoy because Liège is nowhere near Brussels when it comes to queer acceptance and/or safety.
Then, there's — no I'm joking, that's all (that I can disclose).
What does it mean to you to be a part of the Brussels queer community?
It just feels great. It means the world, but I also have survivor's guilt when I'm enjoying my privileges in Western Europe, while my queer siblings in oppressive countries are literally dying or facing immense danger. I'm grateful to be here.
Other than that, Brussels queer community has been the most welcoming, kind, fun, funny, fierce, political, open community ever. I love Brussels, and I love each and every queer that lives here. I've never been prouder of this city and this community that keeps reinventing ways to express themselves and to uplift others. Extremely inspiring and gratifying.
What are your queer influences?
My influences, in my music for example, are the fag hag icons like Lady Gaga, Lana Del Rey, Beyoncé, Madonna, etc. The pop girlies, the divas, but really the one who rocks my shit is Robyn.
Other than that, I'm extremely inspired by queer people who defy the laws. Anyone Muslim and queer, I will root for them. Anyone black and queer in a colonizer country or predominantly white country, I will root for. I get moved to tears when I see ethnic queer people celebrate their ancestral cultures and fight the oppressive system. This is also why the ballroom community is very inspiring to me: it's the ground of many queer and trans trailblazers and often the birthplace of modern pop culture before it gets colonized by white cis gay men, and then Western mainstream media.
What Brussels queer initiatives are you fond of?
There is so much going on now that I'm quite lost, and it's a good thing. I'm super happy that we live in a place where queer events and initiatives are so abundant that I can't even follow! But I will say that I'm very happy that my friend Bissi is doing queer-feminist yoga lessons at an affordable price. It's also amazing to see so many drag shows flourishing (Just the tip by Call me Brenda, Playback by Blanket La Goulue, Queeriosity by La Veuve, …). Most of all I'm happy to see that queerness is slowly taking the center stage, instead of cis white belgian gay men.