Nightlife has been at the center of LGBTQI+ communities since forever. Examining its different dimensions is a great way to talk about queer politics – Listen Festival presents Our Scene: A reflection on nightlife and beyond.
This year, Listen Festival presents Our Scene: two days to reflect upon nightlife and beyond with a free programme of talks, keynotes, panel discussions and more taking place at Beursschouwburg. During the festival, on Friday 31.03 and Saturday 01.04 Listen is extending the scope of its discursive programme even further by deep diving into themes that go beyond the music industry. Each day the activities will be accompanied by live concerts curated by Kiosk Radio.
Friday's discussion is curated by Som•m•e Of Us, a pluridisciplinary collective of Black curators, and topics like the power dynamics within club culture & the widespread presence of social justice ideology in nightlife will be discussed with speakers like Jean-Hugues Kabuiku, Mathys Rennela, Eric Cyuzuzo, Marie Umuhoza & Somto Offo.
We have caught up with Alex Sourbis, a curator of Saturday's LGBTQI+ themed discussions to find out more about the unique programme of Our Scene
Could you tell us a bit more about what we can expect on Saturday?
"Saturday's program is centered around the LGBTQI+ community and more specifically on queer politics and their relationship to archives and collective memory. History is often used by queer collectives to shine light onto the untold. Using it and queering it can help the marginalized communities in their struggles. That's what we are going to explore on Saturday."
Who can we expect to see on Saturday's panel?
"Without giving too much away, Amelia Abraham the author of 'We Can Do Better Than This' and journalist for The Guardian will be talking about re-reading the history from a queer perspective. Mia Melvaer (Mothers & Daughters, Brussels Almanack Dykes) will share the learnings in her use of queer archives within her work. Adam Zmith, the author of 'Deep Sniff' will take us into an introspective yet communal journey with the question: what collective memory do our bodies hold?"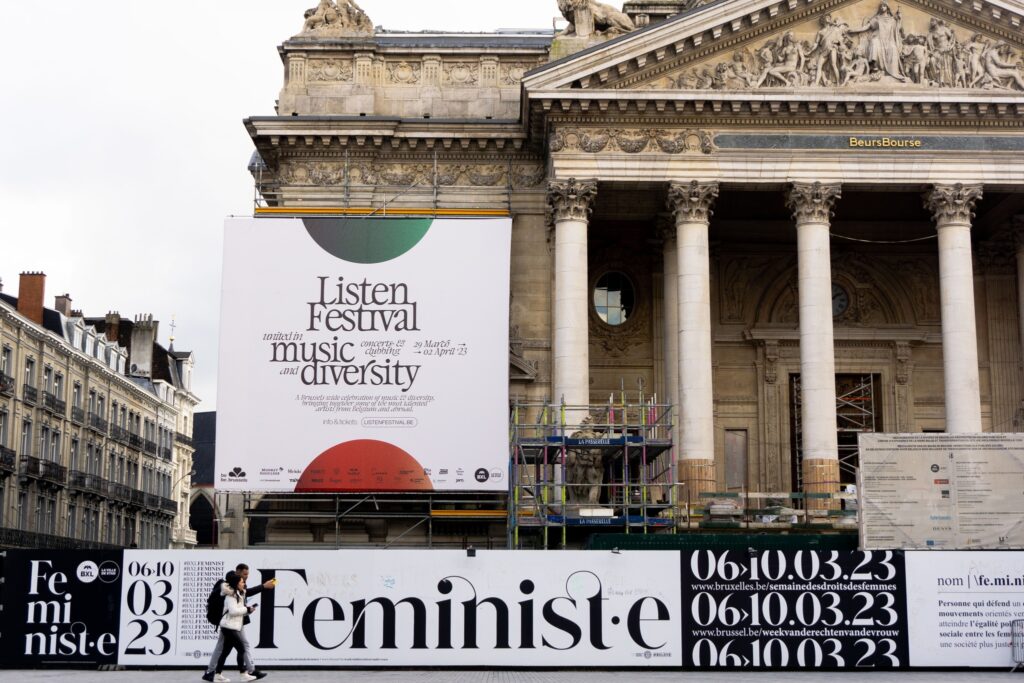 With the upcoming program, Listen has once again proved themselves as a unique festival where everything is well thought and speakers are equally well curated as the artists.
The two days of reflection during Our Scene are part of Listen Festival 2023 that is happening from the 29th of March until the 2rd of April. For its 2023 edition, Listen has once again assembled a unique combination of cutting-edge local and international artists in collaboration with a variety of local curators. During 5 days and nights, all ends of the city and the musical spectrum will be explored during the 21 events taking place in 15 different locations.
Our music scene has rarely been as debated and questioned as it is today and with Our Scene, Listen wants to organize a collective moment of reflection. As this reflection needs to occur in a mutual and inclusive way, Listen Festival makes room for the communities that have been at the center of these debates. The goal of Our Scene is to create a platform that connects these communities with industry professionals and everyone interested in the broader issues and topics that are part of the music industry. With a programme of different talks, keynotes and panel discussions Our Scene will make for an intriguing and eye-opening part of Listen Festival 2023.
More information about Our Scene and free registration for the activities: https://listenfestival.be/beursschouwburg-23
In addition to this Listen Festival is hosting four exciting free concerts together with Kiosk Radio at Beursschouwburg during Our Scene. Next to the concerts at Beurs you will also find a lot of Listen's international guests visit the Kiosk in the parc for special guest-shows throughout the weekend.
The complete programme for Our Scene at Beursschouwburg:
FRIDAY 31.03
· Imagining a post-work theory in culture : Keynotes by Jean-Hugues Kabuiku & Mathys Rennela (Technomaterialism collective)
· Safe(r) Spaces in Nightlife? A conversation with Eric Cyuzuzo, Marie Umuhoza, Somto Offor & Nala Revlon
· Kiosk Radio concerts by: Giulio Erasmus & Ssaliva
SATURDAY 01.04
· The Beats of Our Bodies by Adam Zmith
· Queering the archive by Amelia Abraham
· Local lesbian bar history for un/common futures by Mia Melvaer
· Queer collective memory & political action with Adam Zmith, Amelia Abraham, Mia Melvaer, Nadia Kara
Kiosk Radio concerts by: Salamanda & Zaäar