Next to being a judge on Drag Race Belgique, Mustii is a multidisciplinary artist. You will be able to see the actor in Hippolyte Leibovici and Michiel Blanchart's next movies. You can also listen to his last album "It's happening now" or on stage at "Les Nuits Bota" on May 7th.
Tell us a bit about yourself. What has been your journey?
My name is Thomas Mustin (Mustii is my stage name and the name of my musical project, it's simply a derivation of my family name), I've been living in Brussels for a long time but I studied acting at the I.A.D in Louvain la Neuve. I have always dreamed of being an actor since I was a child. I never wanted to do anything else since the first shock I had on stage during a theater class my parents signed me up for because I was a particularly shy child, not very comfortable socially… But paradoxically, the stage was a trigger, a revelation, and a therapy. Since I was 7/8 years old, I knew I wanted to make it my job. I finished my studies at the I.A.D in 2012 and since then I have had the chance to vary the roles between theater, television, and cinema. When I left school I played Benvolio in a bilingual "Romeo and Juliet" directed by Yves Beaunesne alongside famous Flemish actors like François Beukelaers and Evelien Bosmans among others… It was my first big theater tour in France, Flanders, and Wallonia. Still in the theater and more recently, I played the role of Hamlet between 2019 and 2022, directed by Emmanuel Dekoninck. It was a great experience because it is a wonderful role and so complex for an actor, it is a kind of grail. Moreover, the live music was an integral part of the staging, it was a relatively "rock" version of the play. On television, my first big experience was the series "La Trêve" ("the break") (season 1, RTBF/Netflix/France 2) which was a great success and beneficial for the world of Belgian series. After I played various roles on TV; I was able to play Patrick Dils on France 2 alongside Mathilde Seigner. The TV movie tells the story of one of the most important French miscarriages of justice, and this role was a highlight for me. For the cinema, I played in the period film "L'Échange des Princesses" directed by Marc Dugain for which I was lucky enough to win a Magritte for best-emerging actor in 2019, which reinforced the idea that I should continue to dig into this path.
Next to this, music became more and more important. In the beginning, I was just doing it alone in my student kot with my synthesizers. Then, little by little, it became obvious and I created my first rock band. I created my solo project MUSTII to master my ideas and desires. I've been singing since I was a kid. I was immersed in my father's vinyl collection (Lou Reed, Black Sabbath, Led Zeppelin, Rolling Stones). As a teenager, the discovery of David Bowie's entire repertoire instantly became an inspiration that still feeds me every day. I claim multidisciplinarity (like drag queens) and exchanges between different artistic forms. Theater and cinema inspire me in my music. I hate labels and categories. I prefer to create bridges. I think you can do mainstream as well as indie/alternative. I'm at a stage where I don't want to have to choose. Choosing is giving up and I don't want to give up anything. I want to taste everything, try everything as long as I stay honest with myself, and take pleasure.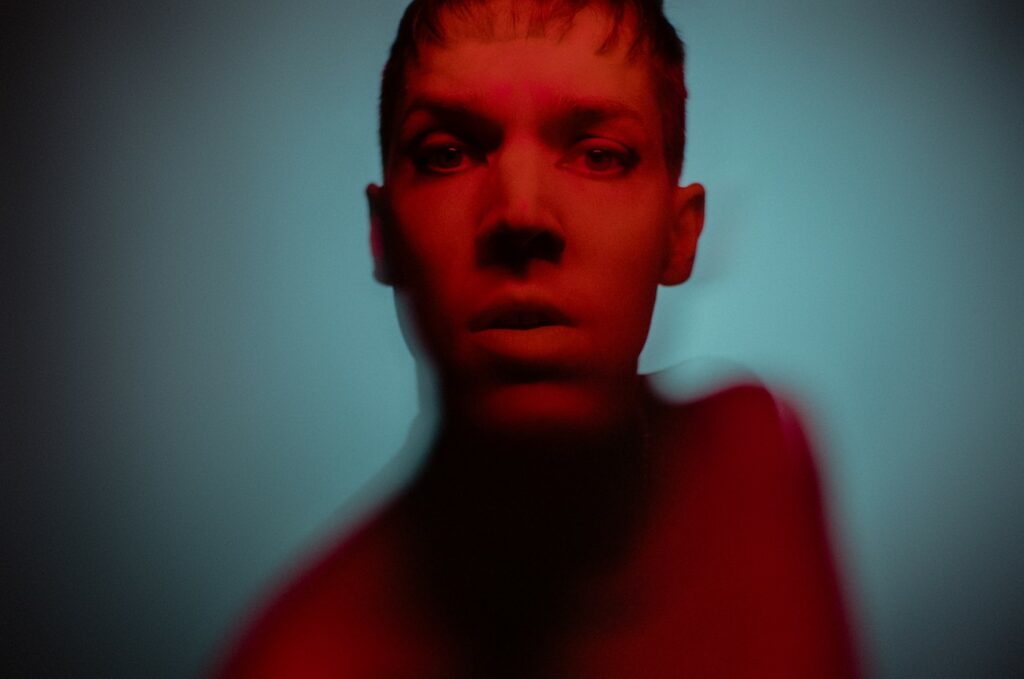 What are your current or future projects?
Recently, I was with Pierre Deladonchamps and Camélia Jordana in the feature film "Vous n'aurez pas ma haine". I just finished shooting the next short film of Hippolyte Leibovici "Beyond The Sea" which should be presented in a festival in a few months, I was very happy because his first short film "Mother's" was beautiful. The story of Beyond The Sea is also linked to the world of cabaret and drag queens. I am really liveing a very drag year. This spring, I will be starring in Michiel Blanchart's next film "La nuit se traîne" alongside Romain Duris and Jonas Bloquet. On the musical side, in January 2022 I released my last album "It's Happening Now" which was a tribute album to my uncle suffering from schizophrenia. I still have a few concerts to come such as the one on May 7th at the 'Nuits du Botanique'. I'm already in the studio preparing the next one! I still have the dream of directing my first short film.
Could you tell us about your journey as a judge on the first season of Drag Race Belgique? How did you prepare yourself? What did you learn? How did you feel after filming ended?
I honestly loved the experience. I went through every possible emotion. It was a new and exciting challenge because I've been a fan of Drag Race for a long time and I'm also passionate about the queer scene and the Belgian drag scene. I might have been a little scared at first, like I had imposter syndrome, asking myself "who am I to make a judgment?". Then I quickly changed my point of view. I had to go there as a real spectator with sincere spontaneity. I wanted to experience strong and intense emotions and I did! I didn't prepare myself. I'm a cabaret spectator. I went with my background as a performer/actor and musician, with my sensitivity, with the desire to share my feelings. I wanted to highlight these magnificent and complex artists. The drag scene is also a source of inspiration for me consciously and unconsciously. I am a sponge and therefore I drew a lot of things from it. Taking part in this show has only confirmed the respect I have for these artists. They handle the codes of pop culture and alternative culture like no one. It's fascinating and inspiring to see them so dedicated to their art. They have the urgency and the need to transcend themselves on stage because they somehow have an important message to deliver. The only small fear after the shoot is that this show will probably enrage and tense up the haters and the bigots. You have to be tough to deal with it, explain the codes, and try to keep a cool head.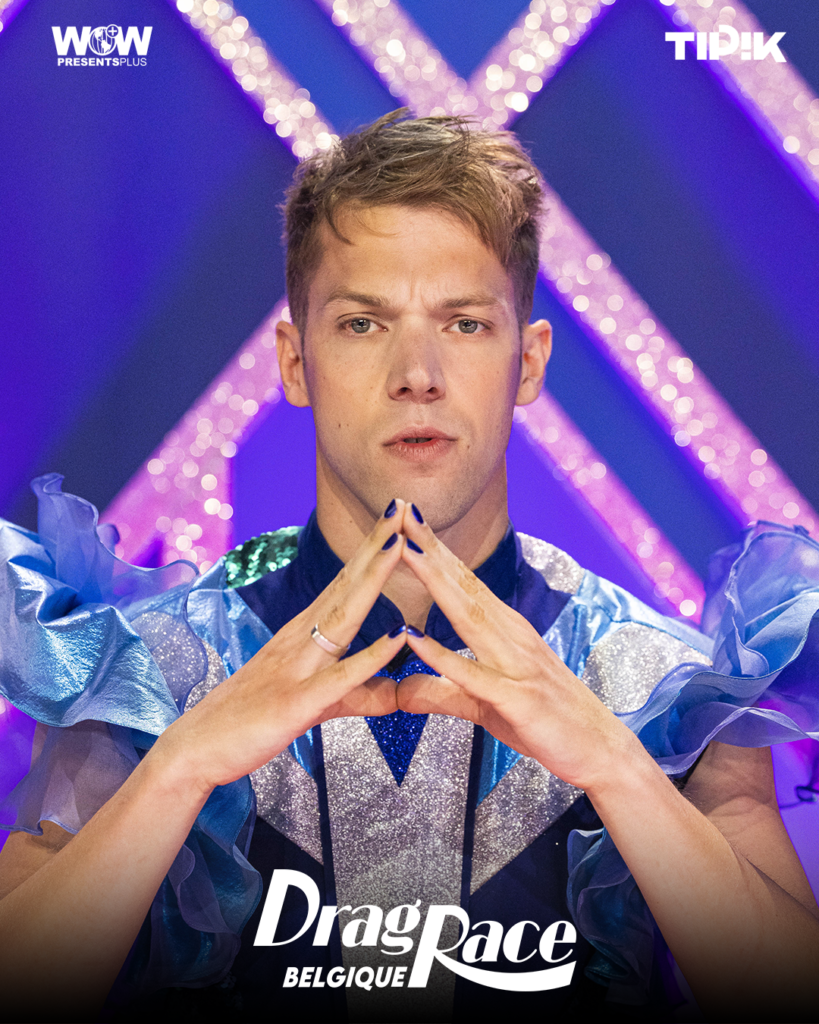 What did you think of the queens performances/talents during the show? What were you the most impressed by?
I think there are a few unforgettable moments in this season. The most impactful is when there is real coherence in the proposal and a magical unity between the look, the make-up, the attitude, and the acting. We are at a crossroads between the arts. We sometimes oscillate between visual art, fashion, design, and acting. I was overwhelmed by their talents and their strength but also by the solidarity they show and by the kindness and sorority which are the foundation of this show. Some of the looks and performances made a deep impression on me but for the sake of neutrality and because the show is still on the air, I won't mention them here. Congratulations also to the Flemish queens who knew how to give it all in this show without it being in their mother tongue.
What does it mean to you to be a part of the Belgian queer community?
It is such a multiple, complex, talented, and rich community. The more I advance, the more I become aware that there are battles to be fought because forms of judgment, harassment, and violence are still present in our societies. Being part of this community is a pride. It allows each one of us to have a place, a representation, and models. The new generation can feel free to be what they feel they are deep down in their guts. I used to consider myself as "bi", but the more I advance, the more I refuse labels, I like people, singular free human beings. We have the feeling (at least in Belgium) that this community can finally establish itself more and more, reveal itself, and live fully, but in a contrasted way, we also witness more acute forms of violence. Fear and ignorance are poison. As soon as their basis is a little shaken, the bigots block and attack. But their weapons are and will keep insufficient. We have to keep trying to explain that queers, lgbtqia+, the human beings registered outside of heteronormativity do not form a lobby to change the orientation of children or create propaganda. It has nothing to do with this obscure, conspiratorial vision. It is necessary to tell them that it is mainly a question of existing serenely, and fully. It is a call to empathy and to live together and in no case a way to impose anything. The road is long but it is up to us to lead it with fierceness, flamboyance, and determination.