Are you a lesbian, gay, bisexual, trans, intersex, or queer individual living in Europe? Your experiences and perspectives matter! The EU Agency for Fundamental Rights (FRA) has launched an extensive survey to capture the voices, views, and opinions of LGBTQIA+ people across Europe. This survey aims to drive policies that protect and promote the rights of LGBTQIA+ individuals. Now is your chance to make a difference and shape the future.
Share Your Story
The survey is open to LGBTQIA+ individuals aged 15 and above in 30 countries, including the 27 EU Member States, Albania, Serbia, and North Macedonia. It provides an opportunity for LGBTQIA+ people to share their experiences, stories, and concerns. By participating, you contribute to a comprehensive understanding of the challenges faced by the community.
Open Until End of July 2023
The survey will remain open until the end of July 2023, allowing ample time for participation. The results will be published in 2024, enabling the FRA to assess progress since the previous survey conducted in 2019. The insights gathered from the 2019 survey revealed that there is still much work to be done to achieve true equality for the LGBTQIA+ community in Europe. High levels of violence, discrimination, and fear of freely moving around as an LGBTQIA+ person persist.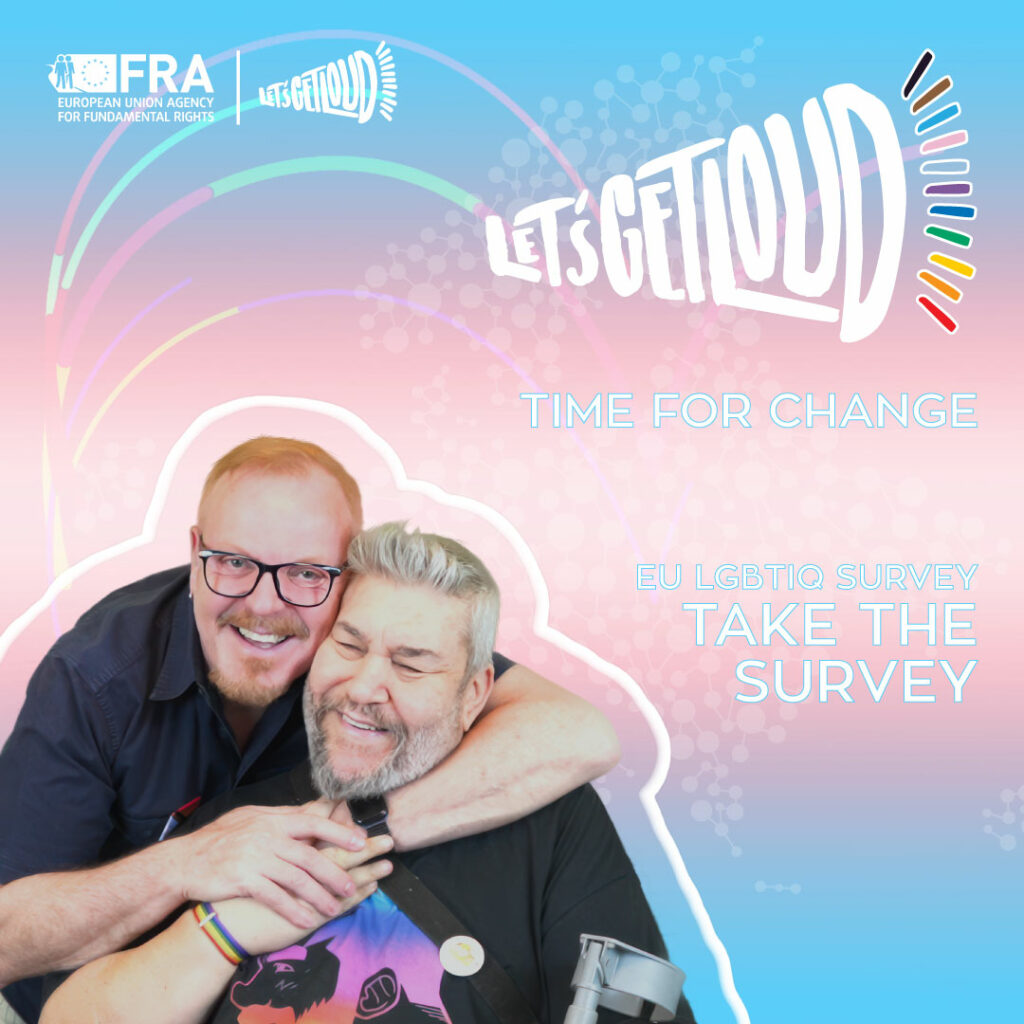 Driving Positive Change
The findings from the survey will play a crucial role in shaping policies and initiatives aimed at supporting and protecting our LGBTQIA+ community across Europe. The data will inform the development of equal treatment policies, creating a more inclusive society. These findings also influenced the European Commission's LGBTIQ Equality Strategy 2020-2025, emphasizing the significance of your participation.
Your Voice Matters
FRA encourages the entire LGBTIQ community to participate in the survey and share it widely among family and friends. By joining, you make your voice heard and contribute to positive change.
Easy and Anonymous
Participating in the survey is quick, easy, and anonymous. It takes just 20 minutes to complete, and your data is stored locally on your device, ensuring privacy and confidentiality. Once the survey is completed, the data is promptly deleted. Agilis and Metron Analysis, statistical consultancies, along with Homo Evolution, an LGBTQIA+ communication agency, are collaborating with FRA to conduct the survey, ensuring its accuracy and integrity.