One of the new retail experiences that you'll find in the Rainbow Village of Brussels is Smell Stories.
Established by husbands Kurt and Stéphane, Smell Stories is a unique opportunity to immerse yourself in the world of scent and fragrance. Whether it's perfume, candles, or soap – if you're looking for something that smells good, then Smell Stories is going to be able to find exactly what your nose is searching for.
"We've both always had an interest in the perfume industry", explains Kurt, as we chat over a coffee in the store. "But it was only when we started looking at available shop spaces in this neighbourhood that we began to visualise what our store could look like, and what products we could stock. Perfumes and scents just seemed the obvious choice."
A relaxed and welcoming store, there's nothing intimidating about walking into Smell Stories. One of the first things that you'll notice is that there's no immediately recognisable big-name brands. This is a window into the world of independent perfumeries.
"We wanted to create something different", says Kurt. "By working with smaller, independent perfume houses, we get to know the people and the stories behind the products. We get to build relationships, and share those insights with our customers."
Boutique scents don't necessarily mean extravagant prices. Most products in the store range between €75-€250.
Another point of difference is that the store is completely gender-neutral. Scents aren't categorised by gender but are grouped together by the dominant notes – options include leather, floral, citrus, spice, aquatic, and many more.
"A lot of people are fed up with the big perfume brands", adds Kurt. "At Smell Stories, people can explore independent perfume houses that are creating authentic products. Scents can have real emotional impact. We want to convey the stories of the artisans who create these scents. We also want our customers to enjoy the whole experience – fragrance should be fun."
Whether you're shopping for yourself or buying gifts, Smell Stories carries fragrance brands that you won't see everywhere. They also represent a number of Belgian perfume houses – you can leave the store with a scent that will always remind you of your visit to Brussels.
The store represents a new direction for both Kurt and Stéphane. Having built careers in the corporate world, launching Smell Stories gives them an opportunity to run their own business as well as work together.
"We met in 1995 and were married in 2010", tells Kurt, when we asked him how he and Stéphane were finding it to live and work together. "We thought that we knew each other pretty well, but working together is a completely different level. We have disagreements every once in a while, but we've divided the roles – I focus mainly on marketing and relationship management, while Stéphane looks after sales and performance analysis."
"We're both used to working in bigger companies", adds Kurt. "What's surprised us has been how quickly we can make things happen. We hold board meetings over dinner. We're enjoying being our own boss – we can get things done."
"Every smell tells a story", smiles Kurt, guiding me through the range on offer. "Everyone deserves a good scent."
Visit Smell Stories in Brussels
Rue des Teinturiers 15 Verversstraat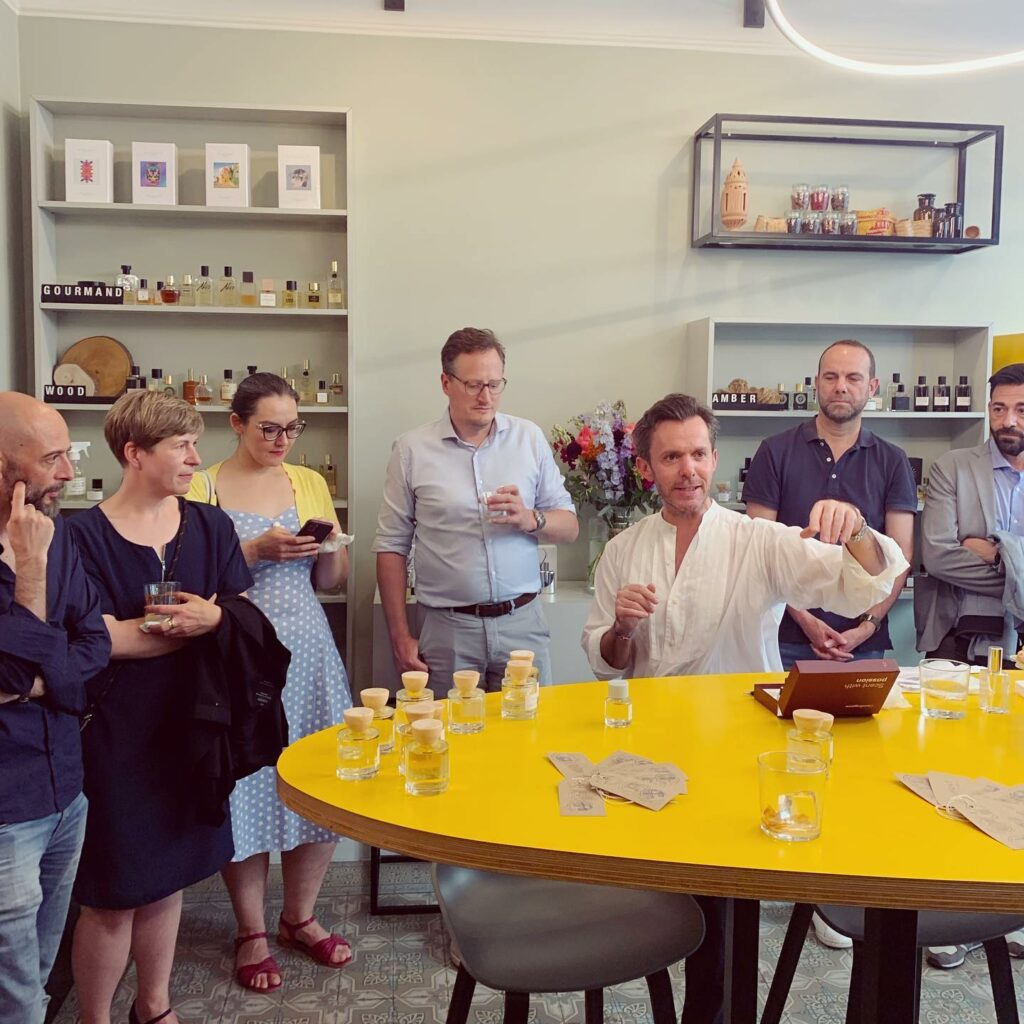 You may also like
| | |
| --- | --- |
| | Tattoo artist Weshmagul's work is often inspired by Manga and Anime, pop culture, and queer |

| | |
| --- | --- |
| | As his eyes catch the window, the man stops. He takes his phone out, a |