In the neighbourhood of Uccle, you'll find Gerald Watelet Interiors on Chaussée de Waterloo/Waterloosesteenweg.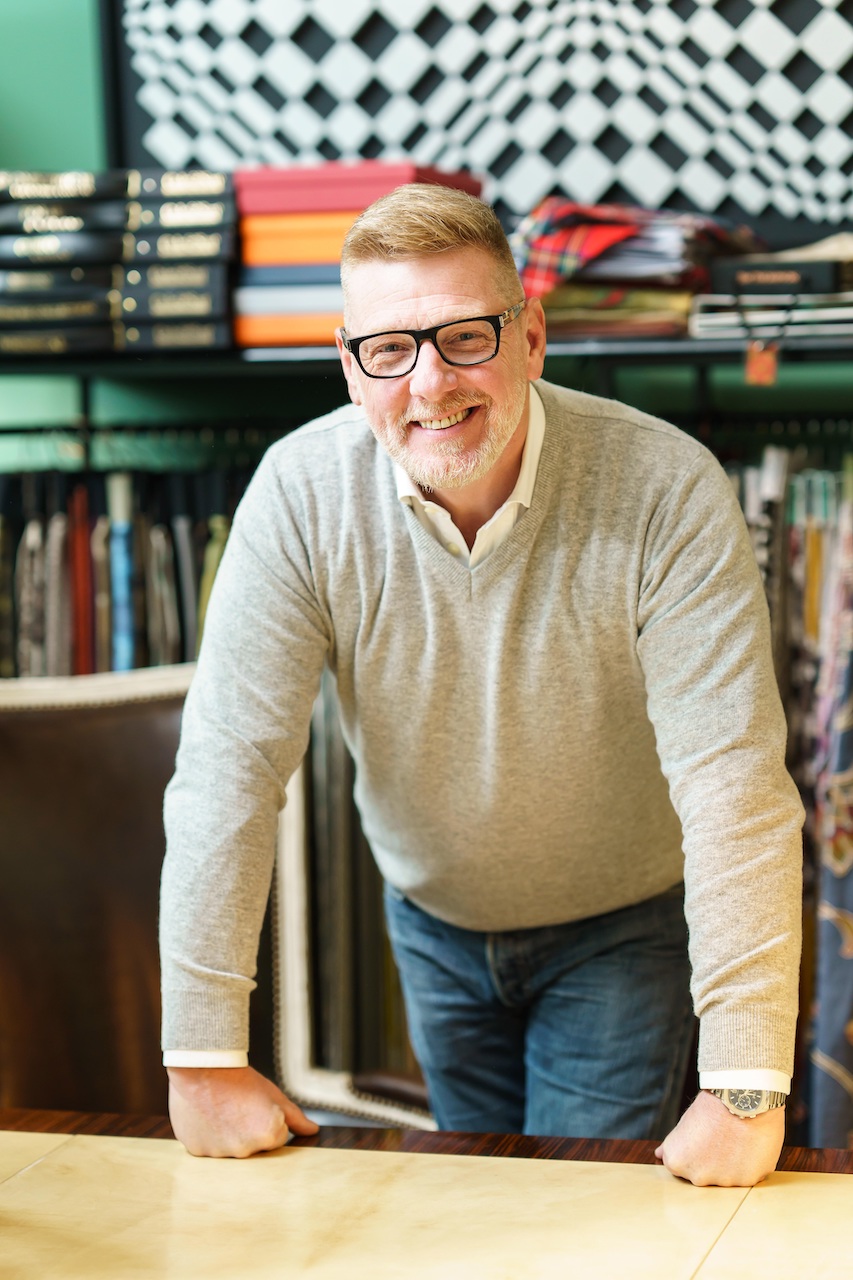 More of a showcase gallery than a store or boutique, visits are generally by appointment.
"This shop showcases everything that I love to do", explains Gerald, clearly pleased with the liveable space he's created. "It has a timeless style. I'm not interested in fashion – it's very boring and very annoying to try and identify what's on trend. It's a bit miserable to live like that, I'm not into that at all."
Gerald is one of the creative giants of Brussels. A renowned expert on food, couture, design, and the art of living, he's an accomplished television presenter and at ease in the public eye.
"Everything I do, it's all about comfort", says Gerald. "I like essential things. When I design a home, I'm not doing it to be in a magazine, I'm doing it for the person who's going to live there. When I'm designing clothes, you have to dress the body. With food, I'm the same – when I eat cabbage, I want to see cabbage and taste cabbage. Maybe I'm old-fashioned."
"I didn't study anything", shrugs Gerald, when we ask him about his influences. "I learn from what I like. I learn from books, magazines. I like classic style – Yves Saint Laurent, Givenchy, Balenciaga. Eclectic, but classic."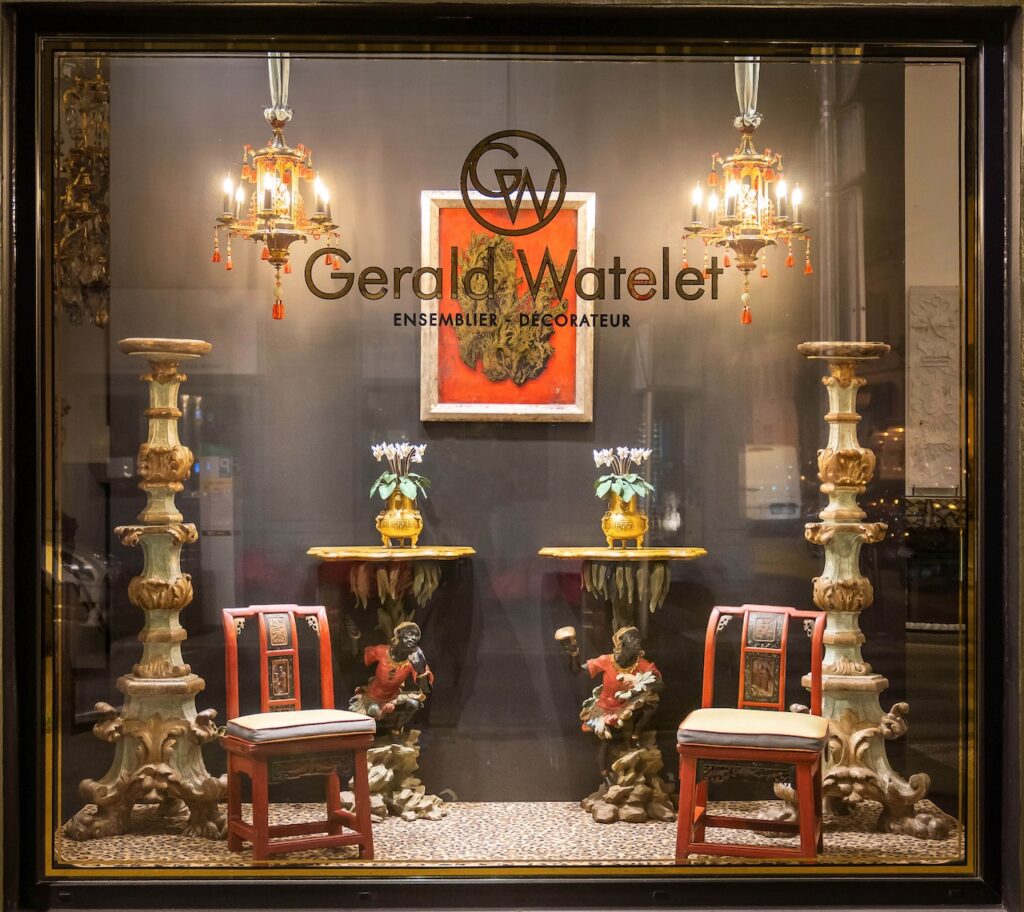 The shop is a busy hub for the numerous projects that Gerald has immersed himself in. The doorbell is constantly ringing, there's a steady flow of people arriving, conversations happening, decisions being made. It's a vibrant and energetic environment, matched by the bold and busy use of prints and decoration in the store.
"I was an only child", reflects Gerald, when we ask him about the confidence that exudes from his design choices. "I was extremely shy, but I was raised like a little king. I was surrounded by adults. I had asthma, so instead of playing sports I spent time in museums and reading books."
"It's like having a vision – when I arrive in a house, I want to change things", explains Gerald. "I've always been like that. I see the details. My mother was the same. It can be quite lonely. In a way, I became the victim of my critical eye. Nothing was good enough. When I had the fashion house, my friends were nervous as to what I would say about what they were wearing. These days, I'm more relaxed. I'm now very happy wherever I am."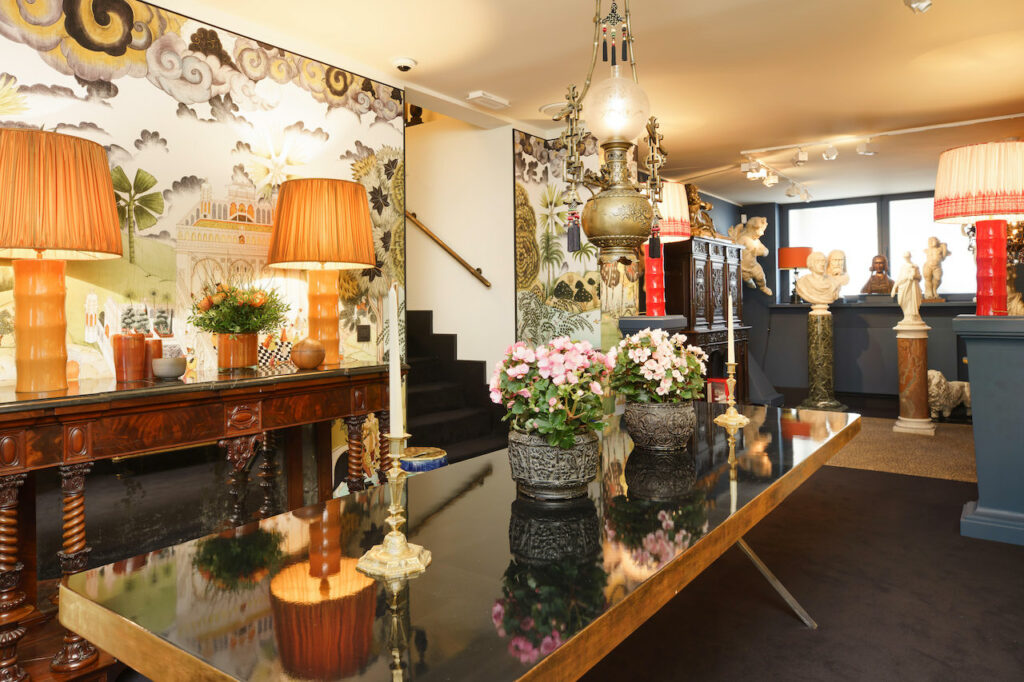 He speaks with warmth and energy – his English precision-perfect, occasionally searching for the right word or expression.
"In Belgium, we have an amazing common sense that fits perfectly with my attitude to life", says Gerald, when we ask him how his aesthetic connects to the city he calls home. "We're a trading people. We're used to people coming and going. We're adaptable. Brussels is a bit of a collision of worlds."
"I always put a lot of passion into what I do", shrugs Gerald, as our conversation turns to how he relaxes when he's not working. "I have very high standards – I put a lot of pressure on myself to meet these high standards, but I do it to please myself. I think it's the best way to live. I love gardening. I walk the dogs. I read a lot. I go to the cinema. But the busier I am, the happier I am. Doing something – like cooking or gardening – is the best way for me to relax. I like to see results."
Visit Gerald Watelet Interiors
Chaussée de Waterloo 885 Waterloosesteenweg, 1180 Uccle/Ukkel