I caught up with Damien, the current title holder, to find out what's involved in being Mister Bear Belgium.
Why did you decide to enter the Mr Bear Belgium contest?
I had two reasons to join the contest.
Firstly, I met one previous winner of Mister Bear – he told me about the title and the fun around the contest.
Secondly, and this is the main reason, I wanted to meet more people, and to make some new friends.
I moved to Brussels just before the pandemic – most of the networking possibilities were shut down soon after I arrived. So, by being a candidate, I already felt like a winner! I'd met so many great people during the campaign.
One of the main themes of Mr Bear Belgium is body positivity – what does Body Positivity mean to you?
It means a lot!
Since I was 10 years old, I suffered a lot from negative comments about my weight and my body. I was a shy and fat teenager, more intellectual than a sporty guy. Over time, I learnt how to accept my body and to love my personality.
A year ago, I had some serious health issues – I had to lose weight to stay alive. As a result, I became more active and began taking care of my body.
So, behind what you can see today, there is someone who has been a victim of fat-shaming. Even though my physical appearance has changed, the experience remains with me.
For me, advocating a body positive attitude is absolutely essential. You can't judge or give an opinion on a person's appearance.
I also avoid using filters on social networks, and try to look as natural as possible. I have many flaws and I take them with me – they help to build the real and genuine person that I am.
How did it feel when you were announced as the winner of Mr Bear Belgium?
I was already feeling super-good after the show that the candidates and I did on the stage. We had a wonderful night and also a wonderful Pride together.
Somewhere in the back of my mind, I was thinking that I might have a chance to be on the podium, but I didn't expect to win.
When it was announced that I will represent the Bear community for the next year, I was both shocked and happy at the same time.
I had a few minutes where I absolutely didn't know what I was doing – I was on stage, saying thank you, waiting for the hugs, taking pictures. Then I went down into the crowd to thank them – that was amazing.
What are the responsibilities of Mr Bear Belgium?
Mister Bear Belgium is the visible face of the Belgium Bear Pride and of all the Bears in Belgium.
I'm invited to represent our community in various places and at events.
I've already had the chance to be part of a panel discussion of different Belgian rainbow houses to get a deeper knowledge of their local needs and goals for the future.
I'll also be supporting different projects during the year. There will be more details to come about these projects, we're still defining them within the Bear Committee.
I will also represent the Kingdom of Belgium and their Bears abroad by visiting our European friends – Luxembourg, Germany, the Netherlands, France and some other destinations to come. We have to show that Belgium and Brussels are the places to be on the European gay scene.
Is Brussels a good place to be a bear?
If we were ever going to have a place in Europe where a Bear can be the Bear he dreams, it definitely should be the capital of Europe!
Brussels is a multi-city – cultural, gender, gastronomy, cruising, lingual.
This is a great place to meet a lot of different bears – as well as guys that aren't bears. Brussels is a city where everyone can be themselves, discover and experience the life that they want.
The Bear community is well-known for being open-minded and welcoming. Any new Bear in town will easily find new friends.
What advice or guidance would you give to young gay guys who might be struggling with their body image?
Young and not young – we can all face this issue, whether we're 15 or 55 years old!
I'm not an expert or any sort of coach – the only thing I can share are my experiences from my life.
First of all, you have to be conscious that you don't live for others, you live for you. We're all unique and beautiful. If someone doesn't like you, that's their issue, not yours.
Don't think the social network filters are real. Don't think all influencers and celebrities have a sweet life.
Be proud of all your daily achievements – cooking, studying, meeting with friends, your job.
Don't change the wonderful person that you are.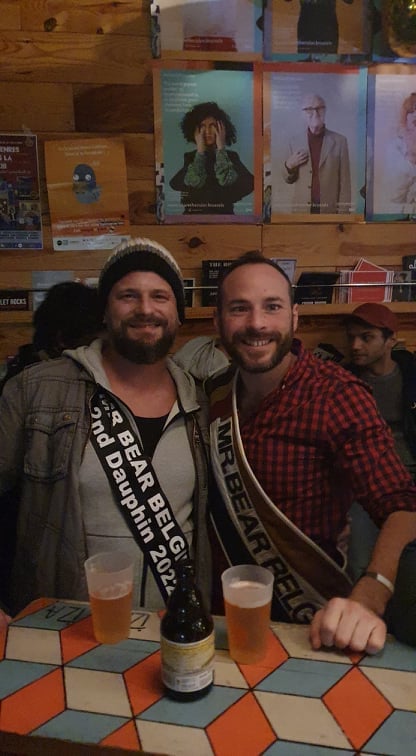 Behind-the-scenes with the Bears
I caught up with Dimitri De Vreeze for a behind-the-scenes look at what the girthy guys get up to at Mr Bear Belgium.
"This year, we had seven candidates competing for the title of Mister Bear Belgium – that's the most we've ever had…" explains Dmitri, when I ask him about the process for selecting Mister Bear. "There was a lot of interest in this year's Bear Pride."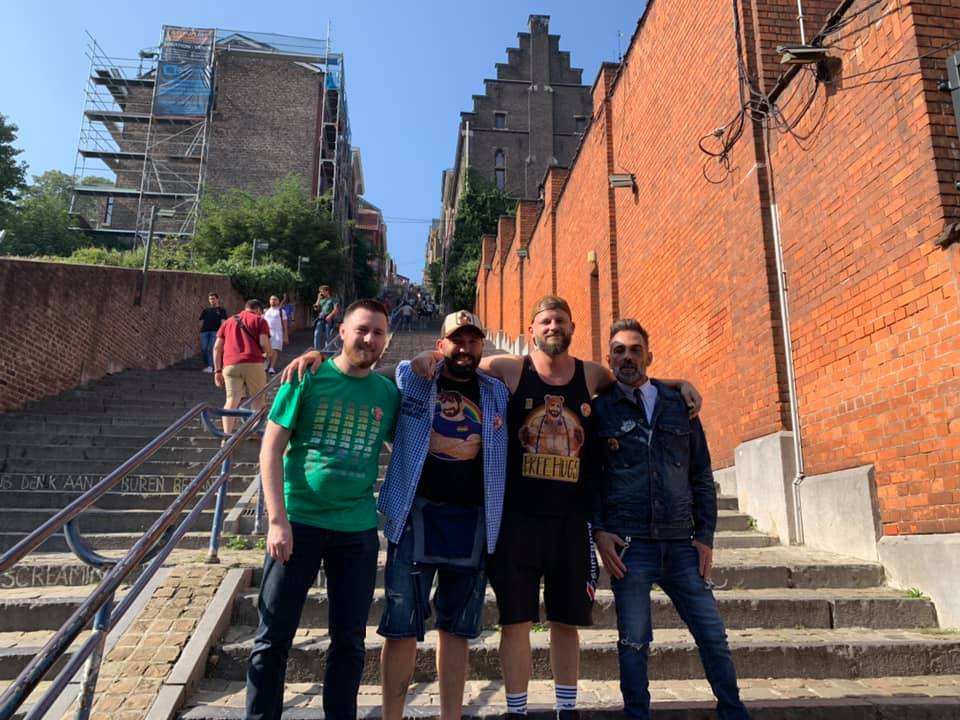 "In total, we had around 2,000 people participate in at least one of our events…" adds Dmitri. "Most of those were from Belgium, but our network is very strong with other Bear communities across Europe. We had a lot of guys come from Amsterdam, Paris, Cologne, and Luxembourg. We had around 500 people at our main party."
"Our events have been growing each year – we have a solid group here in Brussels, we take care of each other. Our Bear Body Positive project has been picked up by other bear groups, so we can say that we're showing the way. Our Bear Paw becomes bigger and stronger because we make a lot of effort in diversity – inviting LGTBQI+ to our activities. For example, Pink Screen Festival will show a film especially for us. The rugby team – who are mostly bears – are also helping out and are part of our community."
"Every candidate that competes for the title of Mister Bear Belgium proposes a project for a good cause or something that will enhance the bear community. This year, we invited Mister Bear Hungary to join us in Brussels – it's important to us to demonstrate how we support LGTBQI+ rights."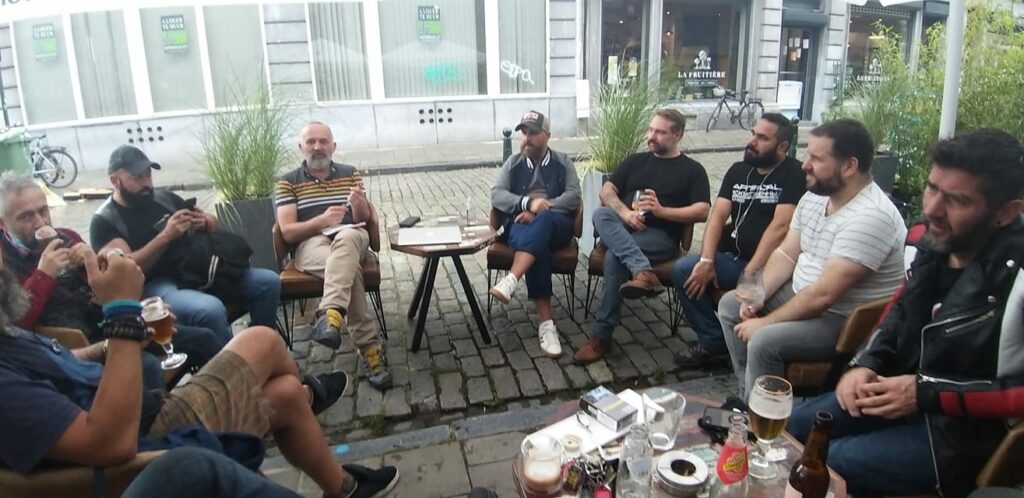 "Ever since I was very young, I've felt most comfortable being around guys that are bears…" explains Dmitri, when I ask when he personally started to identify as a Bear. "Bears don t judge how you look, and no one expects you to have a 'perfect' body. Plus, it's often the social side of things that attracts people to the bear community. Bears are social guys, we're interested in culture, and we're very welcoming."
What does it take to be crowned as Mister Bear Belgium?
"Mister Bear needs to be able to engage with people – he needs to be approachable and also listen to others…" explains Dmitri.
"He helps to bring our community together socially, and builds a team that works together to deliver his selected project."
"The project might be something like a health campaign, helping people in need, or providing self-defence classes."
"Looks don't matter when it comes to selecting Mister Bear Belgium – he might have a belly, a beard, he could be young or old."
"This year, our seven candidates that competed were all very different – they're not all stereotypical bears. We feel lucky that each of them felt comfortable enough to present themselves as part of the event."
Find out more and get involved in Belgium Bearpride Brussels