Where to start? Between a brand new book "Scandale !", an EP "Divinités", a documentary "Queerying Nature" or a performance for MàD festival at Théâtre National and many upcoming projects, Camille Pier is really busy. You can call them Camille, Pierre Rococo, Nestor or even Josie. Let's discover a little more about them.
Tell us a bit about yourself. What has been your journey?
I am a poet, singer, and illustrator. My poems come from the slam scene and my songs come from cabaret, but today I write mostly for the theater. Self-taught in drawing, graduated in literary studies, and trained in dance and music since childhood, I mix different languages and genres to create artistic rituals.
I grew up in the 90s in a small village in Wallonia. It didn't take me long to move to Brussels. I was assigned a girl at birth and came out as trans-male at 27. I always knew I was a boy, but not as masculine as I needed to be able to talk about it. At that time, we didn't talk about trans-identity, let alone non-binarity, especially not for those who had been assigned women. I was raised by the family that gave birth to me, I was loved at home and never lacked anything. But from the age of 7 to 14, I was subjected to violent bullying at school. As a child, I thought there was something wrong with me, that I couldn't be the little girl they expected me to be, and that my family probably loved me for the wrong reasons. Adults couldn't help me. I took refuge in reading, drawing, and an imaginary world largely inspired by TV. At a very young age, I took courses at the academy and spent most of my time in the library. These spaces of refuge built me more solidly than school.
When I started to "date" and play the role of the girl they saw in me, the harassment stopped. So I was excited to be a drag queen of sorts for those years, dressed in huge, deeply cleavage-baring dresses, jewelry in my hair styled like a wedding cake, and lots of makeup! I took physical theater classes in conjunction with my literature studies. I danced, played music, wrote poems and songs every day, but depression chased me like a curse that was put on me at a young age. Humor was a way to save the day. Once I graduated, I ran away to discover the nightlife!
In 2011, I moved to Brussels and started performing as a cabaret artist at the same time as I started doing slam. Repeated and mysterious injuries held me back from learning to dance. Even today I have to be careful not to ask too much of the cracked bones in my feet. I focused my creation on writing and then drawing. This time of retreat had a huge impact on my performances. I explored more forms of transvestism, the mixture between poetry and movement, the fractures between what we say and what we show, and between what we think and what we feel.
In 10 years of practice, I have collaborated with artists from a wide variety of disciplines, with various theater, cabaret, dance, and slam collectives. By repeatedly jumping from one genre to another, I have built up a multilingual style, mixed arts, and merged genres. My coming out as trans in 2015 was the best thing to help my mental health and artistic career. The encounters with adelphic artists, queer collectives, and trans associations have carried me enormously in my process of creation and helped me find work. I worked as a cultural programmer for the Pride Festival but today I am a full-time multidisciplinary artist. My pleasure is to make dialogue between different languages (drawing, music, dramaturgy, movement, and poetry) to join all the pieces of my patchwork in an artistic ritual of repair.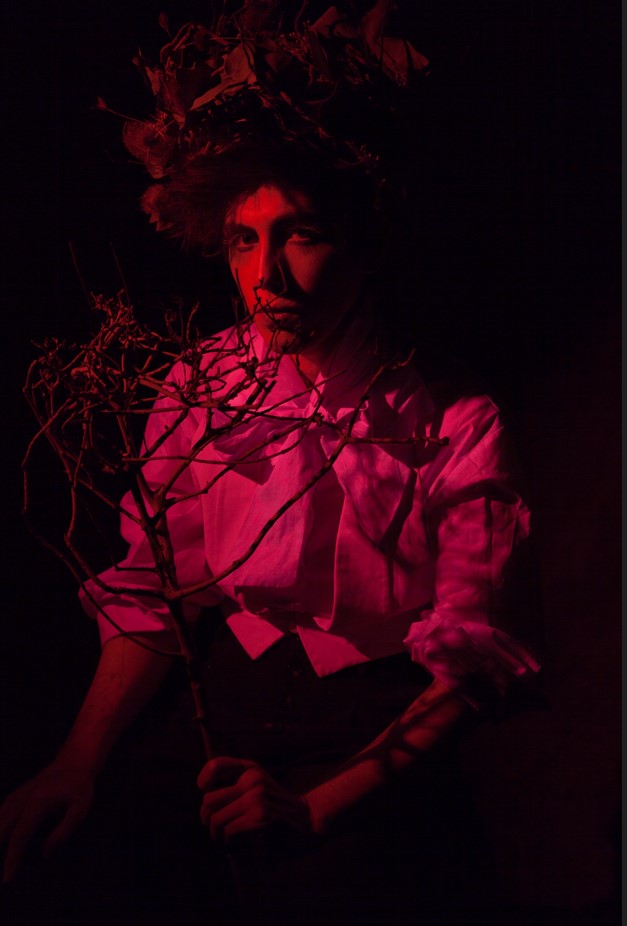 What are your current or future projects?
This autumn has seen a lot of leaves fall. I have just published a collection of illustrated poems at L'Arbre de Diane publishing company: "Scandale !". It tells the story of a cabaret character who dreams of becoming real. In September, I released an EP called "Divinités" under the name Pierre Rococo; I collaborated with Les Hommes-boîtes, Hicham, Gynoos, and Clem Thomas. I plan to release an album on March 14: "C'est déjà le printemps". Since this autumn, I am writing a new show about the cabaret and its mutations over the last 10 years. For the moment, it's a recital of urban tales, radical fairytale adventures, and anecdotes disguised as legends. With biologist Leo Palmeira, I co-wrote a show called " "La Nature contre-nature (tout contre)", a scientificomic lecture on sexual diversity in animals. Since 2015, this stand-up drag lecture has been performed all over the French-speaking world, in theaters and schools. We published the text as an illustrated book in 2016. On March 22, we will release a documentary directed by Aline Magrez: "Queerying Nature", where we interview scientists and artists around the world on the subject of natural diversity. I appear in this film as part of this scientific and artistic transmission. Besides all this, I give writing workshops, I create murals or illustrations, and finally, I give training on the inclusion of trans people in the cultural sector.
What does it mean to you to be a part of the Brussels queer community?
Brussels literally saved me. I grew up in the village of Oleye in the flat countryside. I studied in Liege near the dirty cathedrals and developed my artistic universe there. Nowadays I live in Ghent by the water and the canals. The queer community of Ghent is fantastic, but it's in Brussels that I met my first adelphs. I lived there for ten years and I found new, inspiring, and positive role models there for the first time. It was also in this city that I met the "Not Allowed" troupe with whom I performed for over a year. It is in Brussels that I met and worked with the association Genres Pluriels, that I hanged at the RainbowHouse bar before programming the Pride Festival. I am grateful for this city, its queer community, and all that is possible in it. For me, being a part of it means never feeling alone again, and never letting shame happen. If I let myself feel ashamed, it's like being ashamed of all of us. I tell myself this often and it helps.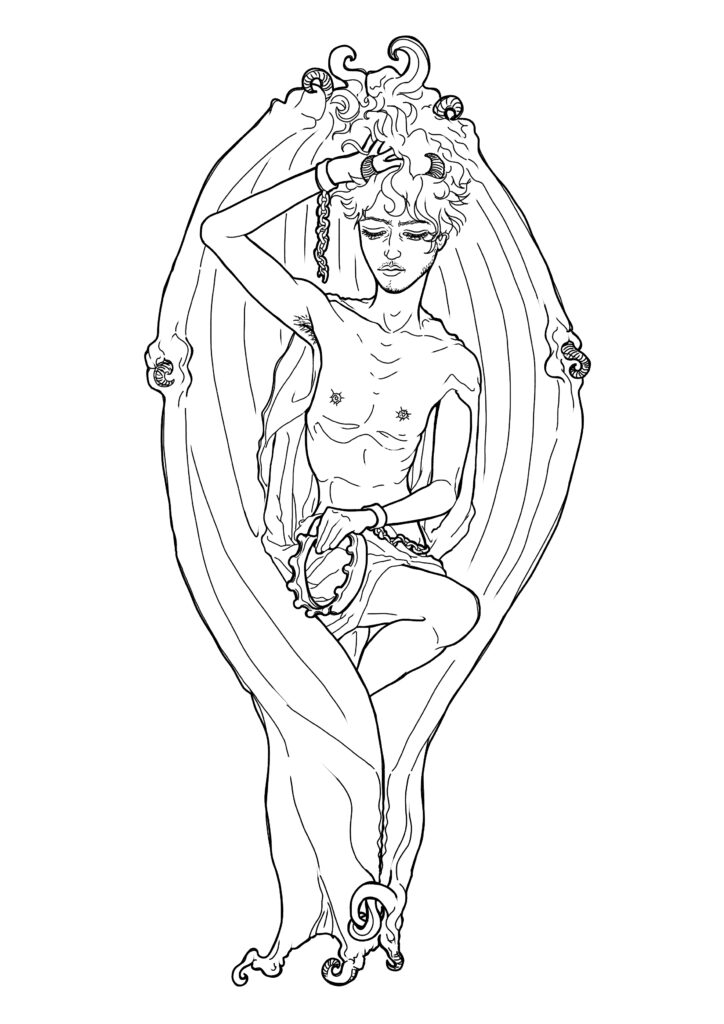 What are your queer influences?
My first models were cabaret performers, cartoon or movie characters. With time and a slow deconstruction, they turned out to be very problematic and not at all rewarding… but they were the only representations that could be found during my childhood in the 90s and 2000s. Now my role models are much closer to me, more real, fighting against discrimination and even against the forms of rejection or exclusion that we can carry in ourselves. I admire, in my everyday life, all these real people, these artivists of everyday life, my friends, my loves and queer adelphs… There are two of my jedis, as I call them: Nora K or "Éphélide de mots" who writes poetry and creates erotic-culinary performances, Léa Scope who creates the clips of my project Pierre Rococo but who is also a textile artist and makes costumes from recycled materials. There is King Baxter, Lylybeth Merle, La Veuve, Grib, Blanket la Goulue : my adelphs of the Nocturnal Kingdom.
What Brussels queer initiatives are you fond of?
I am very admiring of everything that happens within the walls of the Brussels Art & Pole. This school of dance, pole dance and aerial disciplines is also an alternative cultural center. It questions, explores, reinvents and invokes the potentials and powers of our sexualities, of our non-conforming creative powers. I will be giving erotic writing workshops there starting in February… I, who am very modest and aceflux, feel totally confident to accompany there the erotic writing of other people. I see them from here in search of reappropriating their bodies, their desires, in the expansion of their limits or the delimitation of their infinites. I can't wait for spring!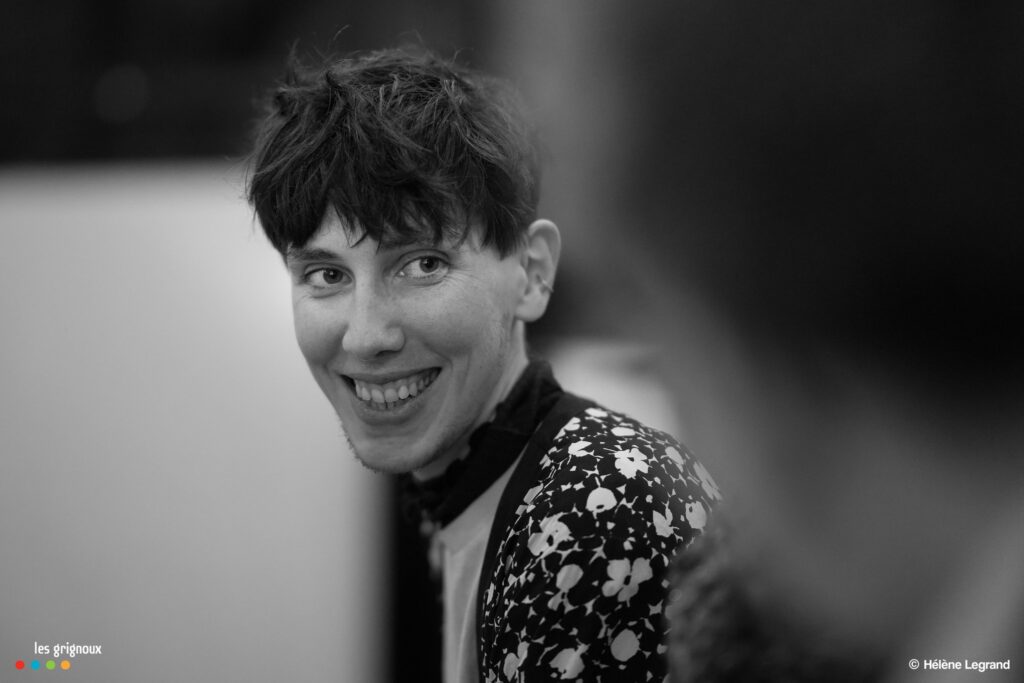 Picture credits: Jérémy Sondeyker, Hélène Legrand, Anne-Sophie Guillet, Koen Van Buggenhout, Samir Sam'Touch et Anne Flore Mary