The time has come to go back to the movies ! Next to all new releases waiting for a year to come out, CINEMATEK and Pink Screens Film Festival are offering us a series of cult queer films to make us gag. Our Story's program includes none other than John Waters' "Pink Flamingos" with the iconic Divine, "Bound" of sisters Lana & Lilly Wachowski and the very French and sexy love story "Presque rien" from Sébastien Lifshitz. And that's not all, the So Bad It's Great program focusing on classic Z movies also includes some gems that immediately speaks to the queers. Benjamin asked Johan Vreys, communication and community manager for CINEMATEK to explain us a bit more :
How did the idea to create a program of movies in collaboration with Pink Screens come to life ?
Since December 2017, OUR STORY, a project involving CINEMATEK and Pink Screens Film Festival, has been diving into the queer and LGBT archives and cinematic collections: Classics, never-before seen and little-known treasures will be the lights guiding us through our history and memory.
This project is especially inspired by the American Outfest UCLA Legacy Project, which has been committed to preserving and saving LGBTQI cinematic works since 2005 and is a collaboration between the OutFest Film Festival and the University of California UCLA. This project was presented at the OUR STORY session in March 2018 through The Watermelon Woman (1996), a restored film by Cheryl Dunye that is considered the first fictional feature film made by and representing an African-American lesbian.
How did you proceed to make the selection of movies ? 
We would like to thank Pink Screens volunteer Fred Arends who has been collaborating with us on the programme and providing the introduction to the films over the past years. This summer three Our Story-screenings are planned:
Friday 11.06: 'Presque rien' by Sébastien Lifshitz, from the year 2000, also known under the English title 'Come undone', revisits a passionate summer holiday love affair. If last year you really enjoyed Eté'85 by François Ozon you have to check out this film too.
Thursday 08.07: 'Bound' by Lana Wachowski, Lilly Wachowski, USA, 1996. Bound is not just their first film, but it might be their best complete effort to date. A still very fresh and original take on the "film noir" genre with the typical and topical examination of identity. They fearlessly portray lesbian attraction.
Thursday 19.08: 'Pink Flamingos' by John Waters, USA, 1974, starring Divine. The legacy of John Water's Trash Trilogy remains quintessential to the history of queer cinema: through juxtaposing gross-out humour with everyday Middle American imagery, Waters became an influential queer figure in developing queer exploitation cinema and established himself as an influential figure of queer humour. Decidedly anti-homonormative, the film relishes marginalised identities within the LGBTI community. As a result of this legacy, contemporary queer comedies are often likened to his aesthetic. A must see film.
These three films were already part of our planned screenings before the pandemic lockdown. During this summer we will rethink the way we organize screening related to the importance of representation of minorities or marginalized groups.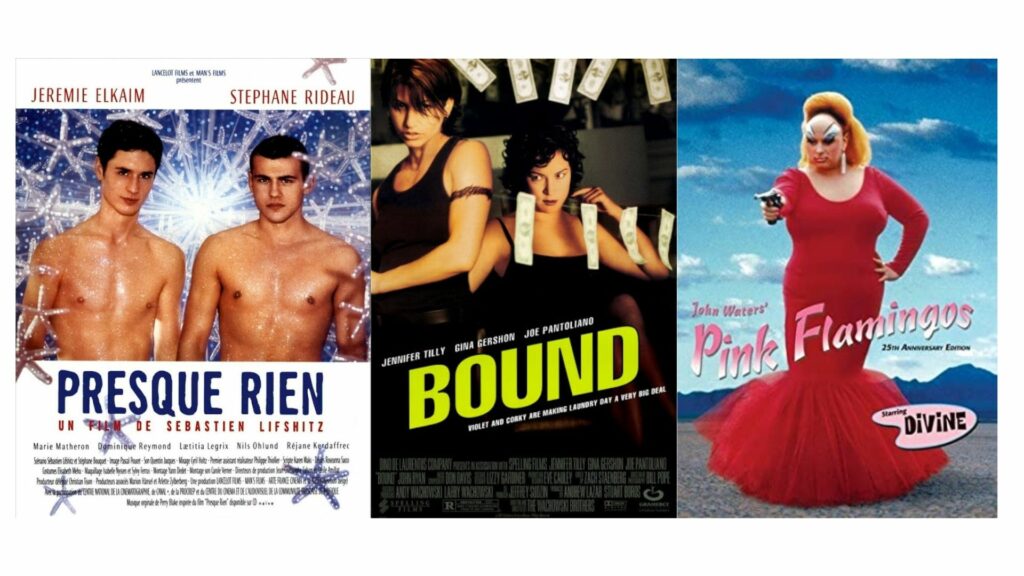 KET Magazine loves queer movies, can we hope for more of them at Cinematek in the future ?
We love all movies and all people at CINEMATEK. One of our founding fathers, Jacques Ledoux has put our institution already on this mission to make marginalized cinema visible too. His EXPRMNTL festival gave for instance a boost to the career of directors such as Kenneth Anger. We also play more queer films outside of this specific collaboration. I would like for instance to also draw you attention to our film cycle So Bad It's Great including queer canon films such as Xanadu or Mommie Dearest and digging even deeper with Plan 9 from Outer Space by Ed Wood, a queer filmmaker portrayed by Johnny Depp in the Tim Burton film Ed Wood. We offer to watch the original films projected form vintage 35mm film, a rare and exclusive experience for only €5.