LGBTQI+ choirs are a fantastic way for people to come together, share their love of music and singing, and connect with each other.
In the world of queer choirs, it doesn't get much bigger than the Various Voices International LGBTQI+ Choir Festival.
Various Voices is an event that is held every four years.
In exciting news for Belgium, the city of Brussels has been selected as the host for the Various Voices festival in 2026.
The bid to bring the Various Voices festival to the capital of Belgium has been led by local LGBTQ choir, Sing Out Brussels! The bid was supported by Visit.Brussels.
Sing Out Brussels! is an LGBTQI+ choir that was formed in 2018.
"We see ourselves as the singing ambassadors of the Brussels LGBT community, both in Belgium and abroad…" explain Marina Belotti and Christophe Cordier, who are responsible for the Various Voices 2026 project. "For a year and a half, we prepared our bid to host this festival, which brings together around one hundred choirs and almost 4,000 choristers from all over Europe, but also North America, Asia and Oceania."
"Brussels, the capital of a country that is at the forefront of LGBTQI+ rights, has always been open to diversity", says Frédérick Boutry of Visit.Brussels. "In addition to illustrating the values of openness that the Brussels-Capital Region promotes, this festival, with over 10,000 overnight stays in Brussels, will have an extremely positive
impact on Brussels' tourism sector, which is very good news."
The highlight of the festival will be the Let Your Heart Be Heard evening – to be held in the European Quarter. That evening, all the participating choirs will perform a piece composed for the occasion.
The festival, organised over five days in June 2026, will be open to the city and its population. In addition to concerts planned in venues, free events will take place in the open air – there will be singing on the Grand-Place, as well as in the capital's streets and parks.
"For 18 months, the pandemic has silenced choirs and cultural life…" explain Marina Belotti and Christophe Cordier. "Brussels' tourism sector has also suffered enormously. This project, which aims to bring together the LGBTQI+ community and the population of Brussels around mutually-held values, helps us look to the future and gives us a lot of hope."
Who are Sing Out Brussels?
I caught up with Christophe Cordier for a behind-the-scenes look at life in an LGBTQ choir.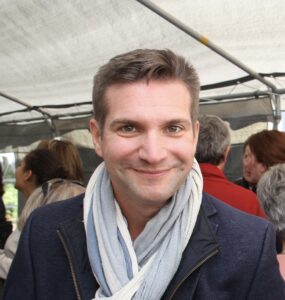 When was Sing Out Brussels! established?
We established the choir in 2018.
Our founders had been part of other choirs, but we wanted something that had a bit more freedom.
How many members do you have?
We currently have 65 active singers. We also have some members who used to sing with us but have remained with the choir to volunteer and support our activities.
Do you have to be a really good singer to join Sing Out?
You don't have to be able to read music or have any specific skills, but you do need to have a good voice.
We communicate in English, French, and Flemish, and our rehearsals are in French and English. We have a number of people in the choir who only speak English.
We recruit new members each summer – there's an audition process.
It's all detailed on our website, but we ask that people send us a self-tape of a song that they have prepared. We then invite people for an in-person audition to ensure that they're a good match.
We have a waiting list – each year, about 70 people apply to join. We usually accept between 10 and 20 people each year.
When did you discover and start to explore your passion for singing?
I was 10 years old when I started to sing in choirs.
As a gay kid, I wasn't good at sport or comfortable with other boys. When I discovered singing, it was like a liberation for me – I was good at it, and it helped me a lot to get some self-confidence and to make friends.
Music and singing are really important for my wellbeing.
What's involved in preparing for the Various Voices festival?
We have to plan everything. The festival is organised by the local choir. We have to book venues, plan the concert, organise the hotel bookings, and we have to look for sponsors.
We have a lot of partnerships for this project, so we're not alone. But there's a lot to do.
What do you hope that people feel when they're part of Sing Out?
There are a lot of choirs out there, but not a lot of LGBTQ choirs.
In an LGBTQ choir, you can really be yourself.
We choose songs that are relevant for our community – we think a lot about the lyrics of the songs we want to sing.
Sing Out is a safe space for LGBTQ people – it's a good place to meet people and make new friends.
All of our members bring something special to the choir – not just their voice – but they also get a lot back, such as wellbeing and community spirit..
Find out more about Sing Out Brussels! and the Various Voices festival